I may be a bit biased, but this may be the best video about one of the best cities in California ever. Sacramento has an international airport (SMF), as well as their own professional sports teams like the Sacramento Kings (basketball), Sacramento River Cats (minor league baseball), and Sacramento Republic (soccer). The capital of California states is home to half a million people, which means there is a diverse variety of things to do in Sacramento. I'll show you the best places to visit, including my favorite Sacramento restaurants, nightlife, and attractions. Watch now to learn what the locals like!
First things first though: we like to call Sacramento "Sac" or "Sactown." so don't be surprised if you hear locals referring to the city this way.
What to Do in Old Sacramento
Sacramento made a name for itself back in the 19th century as a top destination for the gold rush. Many sailors would abandon their ships in the San Francisco harbor to find new opportunities in Sacramento. Today, old Sacramento still gives you that old timey feeling with horse carriage rides, historic wooden buildings, and even treasure hunting.
Old Sacramento is situated on the Sacramento river waterfront, where you'll find an abundance of restaurants, entertainment, and attractions.
Delta King
The Delta King is a 265-foot river boat that has been converted into a hotel and restaurant. It originally made trips between San Francisco and Sacramento, serving dinner items such as a sirloin steak for $1.00, prime rib for 65¢, and chicken gumbo for 25¢.
The fair is a bit more expensive than that, but you are still invited to spend the night on the boat! You can also book a Suspects Comedy Mystery – an interactive dinner show, complete with crimes to solve!
Central Pacific Railroad Passenger Station
If you love trains (or even just like them a little), check out this reconstructed train depot! You can see vintage locomotives and railroad cars, and learn more about train travel in the 19th century.
Things to Do in Downtown Sacramento
Just a short walk from Old Sacramento is Downtown Sacramento. It's the new hub for next level entertainment, fresh local foods, and energy efficient experiences.
Golden 1 Center
During basketball season you can catch a Sacramento King's game here, but you can also see a concert almost every weekend. And what's especially unique about Golden 1 Center is their commitment to protecting the environment.
The arena received the highest level of global recognition for environmentally conscious buildings and organizations. The arena plans to source 90% of the food and drink concessions from businesses and farms within 150 miles of the arena.
Cal Expo
Whenever you visit, there will be something happening at Cal Expo! (Kind of like fests in Germany…) They host cultural celebrations, as well as the California State Fair in July. In the spring, you can tour the farms. And you can attend all kinds of concerts throughout the year. Plus, you can visit Raging Waters water park during the summer!
What to Do Around Sacramento
Folsom Lake
If you're visiting during the late spring or summer, go to Folsom Lake for water sports, camping, grilling, and hiking! You'll find yourself surrounded by locals soaking up the sunshine. Before you visit, you may want to check the state park's website to reserve a group picnic site, or to check up on any construction.
Thunder Valley Casino & Resort
Just a short drive northeast of the city, Thunder Valley Casino & Resort is an easy weekend getaway from Sac. If you're not interested in gambling, they have a golf course, a spa, concerts, shows, three restaurants, a buffet, and a food court.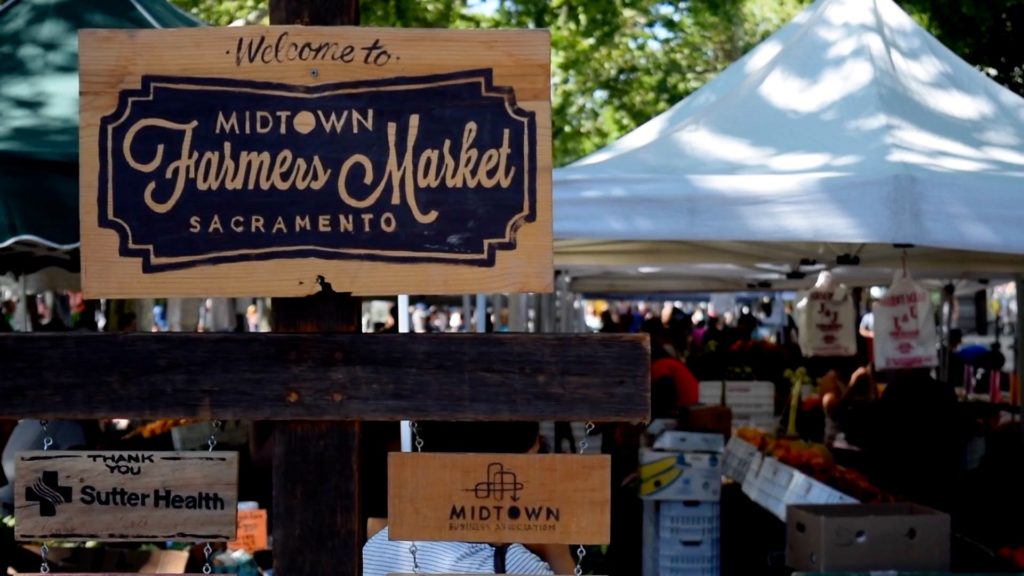 Where to Eat in Sacramento
Midtown Farmer's Market
On Saturdays you can visit the Midtown Farmer's Market for local produce and artisan goods. There's even a kid's play area and live music, and they occasionally have chef demos as well.
Beach Hut Deli
This deli is not just a favorite of mine, but a destination for all Sactown locals! This franchise serves up made-to-order sandwiches with the highest quality ingredients available. My personal favorite is the Surfin Bird: turkey, avocado, bacon, and cream cheese with all the regular toppings.
Does this restaurant look familiar? I also recommend it in my San Diego video!
Mikuni Sushi
The first Mikuni location opened in Fair Oaks in 1987, when sushi wasn't nearly as trendy. Today, the restaurant chain has eight thriving locations! But they offer more than just sushi – they also have noodle soups, salads, and larger main dishes.
Bacon and Butter
Named after the two best sources of fat, you have to show up early for breakfast at Bacon and Butter! Pancakes, loaded avocado toast, and chicken n' waffles are just a few of the delicious menu options.
Broderick 1893
This burger joint started as a food truck and opened its first brick and mortar location in 2012. But beyond burgers, Broderick 1893 is also experimenting with combinations like banh mi fries and bacon mac n' cheese. It's also serving up vegetarian and vegan burger options, so everyone can enjoy themselves!
Punch Bowl Social
Punch Bowl Social has it all: great food, drinks, bowling, karaoke, VR games, billiards, an arcade, and more! This is a great place to unwind and catch up with friends, or to pre-game before heading out into Downtown Sacramento.
There are so many things to do in Sacramento – we hope you get a chance to our enjoy our city! And check out the videos below to finish planning your California vacation
---
RELATED VIDEOS