Visiting a local farmer's market is a great way to spend a Saturday! And if you live around USAG Bavaria Grafenwöhr, the Weiden farmer's market is exceptional. They have all kinds of local produce, gifts, bread, meat, and other seasonal treats every week.
American Living in Germany: Know Before You Go
One of the most important things to know about living in Germany: cash is king! But if you forget, you can go to the Sparkasse on the southwest side of the marktplatz.
You also need to bring your own bags or basket, just like when you shop at your local grocery store. Some vendors will have bags to package individual items, but they likely won't have a bag to hold all of your things.
If the market isn't an easy walk or bike ride for you, there are some options for parking. The Tiefgarage Allee P2 right across from MAX + MUH has 300 parking spots and a bathroom! It's cash only (of course), and from 8am to 8pm, it costs €0.90 for the first hour, and every additional hour is €1.20.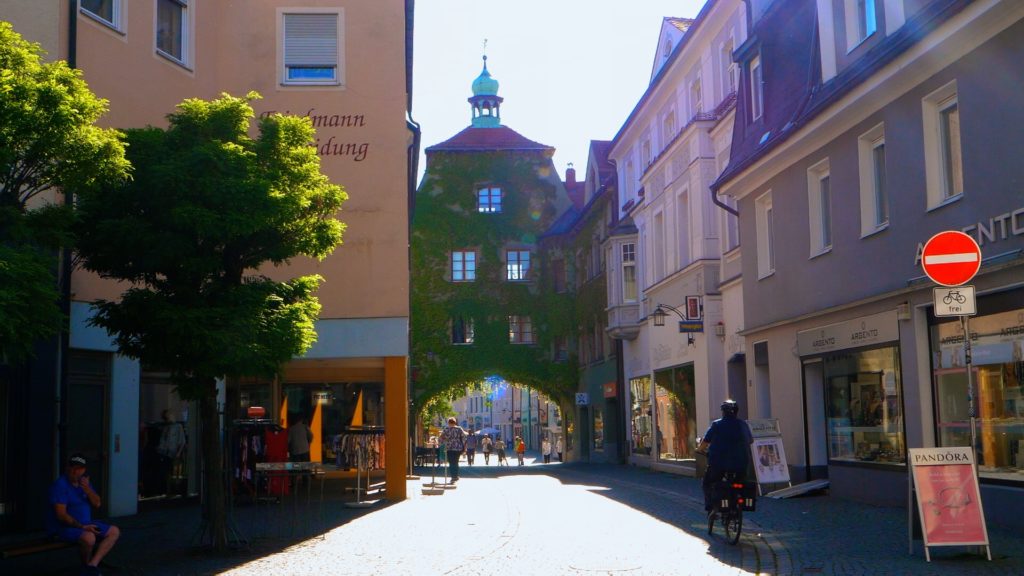 I also recommend that you practice speaking German at the market. And you don't even need to know that much. If you know your numbers and the names of what you want, you're all set!
But I have a few additional words that may be helpful:
• Stück(e): piece(s)
• Schale: basket (ex: ein schale erdbeeren = a basket of strawberries)
• Tasche: bag
• Mehr/weniger: more/less
All the vendors have varying levels of English, so even if your German sucks, they will always appreciate the effort!
About the Stadt Weiden Farmer's Market
As soon as you step into the marktplatz, you can feel the sense of community. Throughout the day, you'll see the restaurants bringing cappuccinos to the farmers while the vendors visit each other's stalls.
Most of the vendors are local – some from within a 20-kilometer radius. But you'll also see some vendors come from as far as Regensburg! And you will find some vendors are always at the market, such as the pasta man and the owners of IBO.
When to Go
The farmer's market (bauernmarkt in German) takes place every Wednesday and Saturday in the Weiden marktplatz starting at 7am. And this is a true bauernmarkt – it stops at 12:30pm!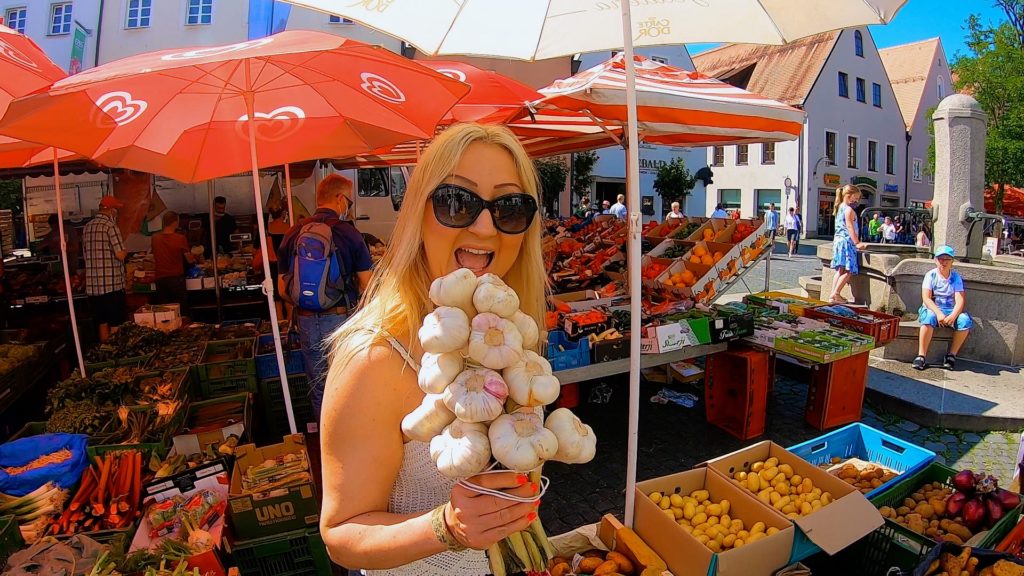 The earlier you arrive, the more variety and options each vendor will have. Plus, you'll beat the crowds!
If you're an early morning person, grab a coffee and pastry at a local konditorei before visiting the market. Or do as the locals do: have a beer and a scoop of gelato for breakfast!
Looking for somewhere to eat in Weiden? There's plenty of amazing restaurants to try! Or stop by Nina & Velja's food truck on Wednesdays in the market while shopping for groceries.
What to Buy
If you're really ambitious, you can get almost all your groceries from the Weiden farmer's market!
Most bakers sell your standard breads and semmeln, but during holiday seasons, you can also pick up some special desserts or loaves.
The butchers are extremely popular with their cases full of meat! You can get large cuts of pork as well as freshly sliced cold cuts. And you can also place special orders if they don't have what you need.
Pro-tip: The butchers will often give a big slice of gelbwurst to young children if you come to their stalls (but you should also buy something from them)
Some vendors will just sell one thing. For example, in the spring, you may see the asparagus farmer selling an assortment of white and green asparagus, and nothing else! There's also a gentleman who has a pull-cart full of potatoes. Occasionally he may have another type of vegetable, but usually just potatoes.
Pro-tip: 1 kilogram is 2.2 pounds, which means 500 grams is 1 pound (more or less)
And around Easter, you'll see some vendors selling flowers, wreaths, and handmade egg ornaments. Or closer to Christmas, you can place a special order for a cut of meat from your favorite butcher!
When in Rome (Or in This Case, Weiden!)
In addition to buying ingredients for cooking, some vendors also sell snacks and ready-to-eat bites. Most of the butchers will offer leberkäse mit semmel, which is their hot dog-like meat loaf on a bread bun with mustard. You can also get a classic brezen from any of the bakers.
Or, if you're feeling adventurous, try the horse sausage with mustard. It's not as fatty as a regular brat, but it's still pretty good.
The best thing about going to the Weiden farmer's market is building relationships with the vendors. It's a great way to practice your German and learn more about local customs or ways of preparing food.
For example, one time I asked for kale, and the farmer got really worked up about how Americans living in Germany ask for kale when it's not in season. As it turns out, kale is best in the winter after the frost so that it's not so bitter.
Frequently Asked Questions about the Weiden Farmer's Market
Where can I get a Weiden Farmer's Market shopping bag?
I bought mine at the Edeka E-Center by the Kaufland. It was just 2€!
When is the Weiden Farmer's Market?
It takes place every Wednesday and Saturday from 7am to 12:30pm. They often take a break the last two weeks of December for the holidays, and some may not come again until spring time.
Are there other farmer's markets near USAG Bavaria?
Absolutely! Ansbach has theirs at the same time as Weiden, as well as Amberg (which also has one on Friday). Garmisch has one on Thursday and Friday, and Regenbsurg has theirs on Saturday.
Shop Like a Local at the Weiden Farmer's Market
If you want to immerse yourself in the local Bavarian culture, you should go to the farmer's market in Weiden in der Oberpfalz. Just don't forget to bring a bag and cash!
Want more tips on living in Germany? Subscribe to my Youtube channel and follow me on Instagram!
---
RELATED VIDEOS