Garmisch, Germany may not be a big city, but it has plenty to offer for visitors! In the winter, head to to the Bavarian Alps for skiing and snowboarding, and in the summer, hike through the natural wonders of the area. But no matter what time of year you visit, Edelweiss Lodge and Resort will be ready!
Things to Do in Garmisch, Germany
You can visit the highlights of Garmisch in a weekend, but to really enjoy your visit, take a few days to appreciate it all!
Partnach Gorge (Partnachklamm)
Partnach Gorge was historically used as a way to transport lumber, but now its natural beauty can be shared (safely) with visitors from around the world! There are two ways to get to Partnach Gorge. You can take the Eckbauer Bahn, which runs small cable cars up the mountain. And once you reach the top, you can hike down to the gorge. Alternatively, you can take a horse and carriage and relax the whole way there.
Either way, it's a site to see!
Speaking of which…
Höllentalklamm Hike (Höllental Gorge)
The Höllentalklamm wanderung or "Hell's Valley Gorge Hike" isn't as terrifying as it sounds, but is another amazing gorge to hike through right outside of Garmisch. In fact, the start of Höllentalklamm is less than a 10min drive from Edelweiss Lodge & Resort in the city of Hammersbach, Grainau. Unlike the Partnach Gorge, the Höllentalklamm is only available for hiking during the snow free season. You can visit the gorge from May till the end of October.
The Höllentalklamm is a rapid flowing stream from the Hammersbach torrent. The gorge sits right between two huge mountain ridges high up in the mountains of the Alpspitze. Before you enter the gorge, there's quite the hike up to this remarkable little hut called "Höllentaleingangshütte." At nearly 1,047 meters, sit and enjoy the view with Bavarian beer, sausage and sauerkraut, as well as a Kaiserschmarrn pancake with apple sauce and berries!
Getting to the Gorge by car?
There are two main parking lots for Höllentalklamm, the closest one is Wanderparkplatz P2 (Hammersbach in Grainau) which is about a 5min walk to the start of the hike. If there's an open space here, take it, otherwise the second parking lot, Wanderparkplatz P1 (Zugspitzstraße in Grainau) is about a 15min (scenic) walk to the start. Although there are many ways to get up to the Höllentalklamm, the fastest and most efficient way (on the German side) is from the Kapelle Hammersbach. You'll start the climb right near a bus stop close to this small white church.
Getting to the Gorge by train?
Your destination station is Hammersbach (Zugspitzbahn). From here, walk 5mins to the start of the hike near Kapelle Hammersbach.
The hike itself can be split into three phases.
Phase 1 – The Hike to Höllentaleingangshütte
This will take you about 2hrs and is your first official rest stop with a restaurant and bathroom (bring cash for both). The first 30mins of the hike is an uphill battle, take your time, bring proper hiking shoes and plenty of water (there's a natural water spring for drinking on the hike up).
Phase 2 – Höllentalklamm Wanderung
Once you've rested, gone to the bathroom, and had your beer, you'll pay about €5 to get into the gorge. The entrance fee also gets you admission into the Höllentalklamm museum inside the gorge. You'll want to bring a rain jacket (even in the summer) due to the cold temperatures and wet environment inside of the gorge. Similar to the Partnach Gorge, you'll encounter numerous waterfalls above your head, wet caves and bridges, as well as ice chunks. The hike of Höllentalklamm takes about 45mins to complete, but the path is narrow and slippery, so walk slowly and take your time exploring.
Phase 3 – The Hike to Höllentalangerhütte
Still not tired? If your legs have had enough, turn back around and start making your descend. If you still have gas in the tank, hike another 30mins into the Höllental valley for gorgeous views and the newly renovated Höllentalangerhütte. This hut is another resting stop where you can eat and sleep for the night. Check for times and availability here.
See my detailed video guide to climbing Höllentalklamm along with other attractions above. No matter which phase you make it to, the Höllentalklamm is extremely rewarding. The hike to Höllentaleingangshütte alone, paired with a homemade Kaiserschmarrn pancake makes this attraction well worth the struggle and one of my favorite things to do in Garmisch!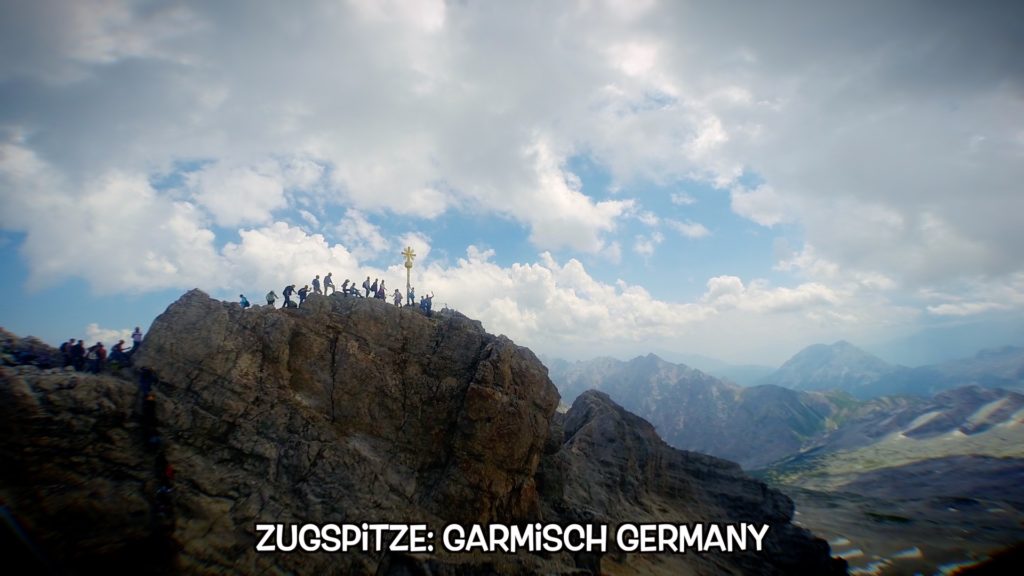 Zugspitze: The Highest Mountain in Germany
Standing at 2,962 meters, the Zugspitze is the highest point in Germany. You can climb it, but you can also take the ski lift for a quicker, easier ascent. Once you're on top of the mountain, you can cross into the Austrian Alps or even sled (because there will be snow, even in the summer).
Speaking of snow, did you know you can stay in an igloo at the very top of the Zugspitze! We froze our a$$ off, but it was TOTALLY worth it.
Cultural tip: the edelweiss flower could only be found in the Alps, and so it became a symbol of bravery and devotion because of how dangerous it was to retrieve one. Today, it is still the symbol of the German army mountain brigade.
Alpspitzbahn Mountain
The Alpsptizbahn sits side by side with the Zugspitze. This mountain peak is a little smaller than the Zugspitze standing at 2,628 meters. Like it's bigger brother, you can climb it or take the mountain cable car up to the Alpspix, a moderately terrifying observation deck that looks over the peak.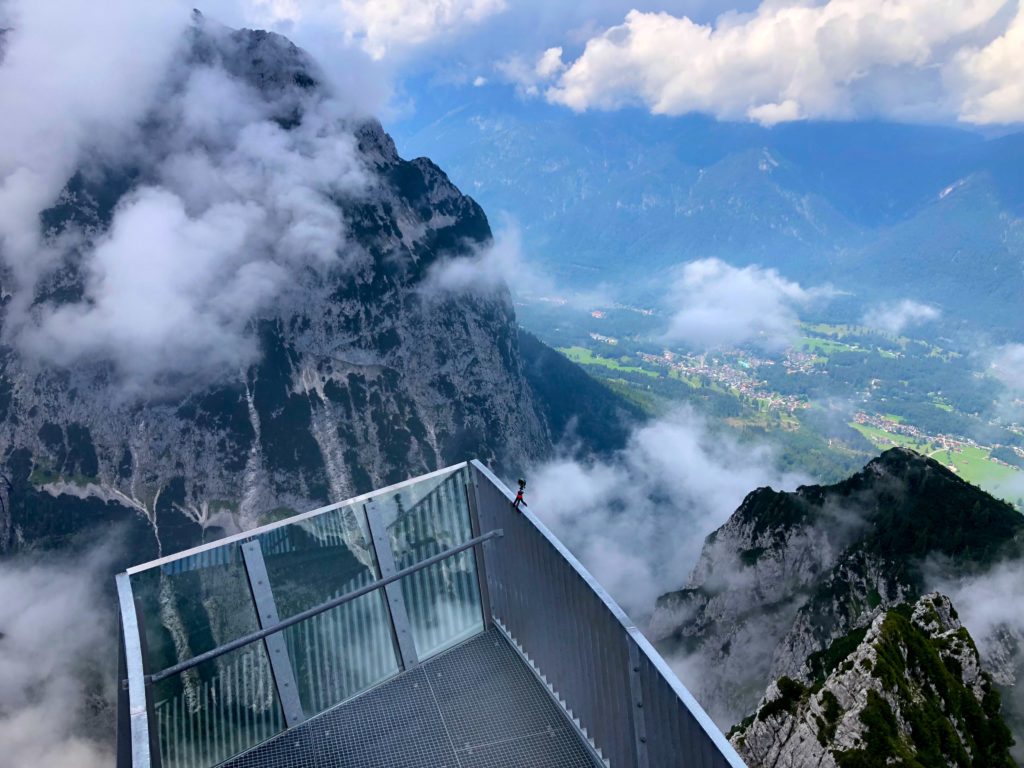 After getting over your fear of heights, consider sitting down for traditional Bavarian food and drinks at Restaurant Alpspitz. Since the weather is completely unpredictable and constantly changing at this elevation, you'll find meals for the winter and summer season such as gulaschsuppe (goulash soup), variety of pastas, hot & cold drinks, and Bavarian delicacies. If lines get long or you're in a hurry, you can even take snacks and drinks to go. I recommend sharing a table with strangers outside to take in spectacular views of the mountains.
When the weather is clear, both the Alpspitzbahn and Zugspitze provide incredible landscapes of Germany. To make sure you don't waste time or money going all the way up to these mountains to just see clouds, check out the weather via webcam BEFORE you buy your ticket.
This is also important for your mountain cable car trip. Although a little pricey, the mountain cable car is the fastest most efficient way to transfer you to the top/bottom. Keep in mind, the Alpspitzbahn is significantly cheaper of an attraction than riding the cable car to the Zugspitze. Get your money's worth by taking the cable car when it's clear, so you can atleast get a chance to experience the ascending/descending views of Garmisch while riding in the cable car.
Ok, let's talk about getting to the Zugspitze & Alpspitzbahn. One of the only times I complained while vacationing in Garmisch was when I was stuck in traffic! Many of the attractions in Garmisch (such as the Höllentalklamm and both these mountain peaks) have only one or two ways to enter/exit, which means the traffic can be long and painful. Not to mention literally everyone in Garmisch is trying to park at the same parking lot, so it can get a little congested and frustrating.
To avoid traffic, parking, and parking fees consider taking the Bayerische Zugspitzbahn. We took this train directly to the Alpspitzbahn and Zugspitze mountain cable cars and it only cost about €2.50 per person on a one way ticket from the Hausberg train stop. Oh… there's free parking at Hausberg too!
The train ride is relaxing and super scenic, you can even see Edelweiss Lodge & Resort on the way to the mountains! Keep in mind, the train leaves hourly so plan out your day based on the train timetable.
If you do decide to drive, look for parking availability signs that say "Frei" (parking free or available) and "Besetzt" (parking unavailable). These signs will be posted in several areas way before you get to the actual parking lots, so if you notice they're full, consider the train option.
Eibsee
After spending time in the highest points of Germany, make your way to the bottom of the mountain to relax at the Eibsee. If you looked out your mountain cable car window while riding to Zugspitze, you probably already noticed the majestic aerial views of the lake. The Eibsee is right below the Zugspitze and is the biggest, most popular lake in the Garmisch area.
To make the most of your time at Eibsee, rent a boat to take on the water, or consider hiking around the trail that goes all the way around the lake. Choose between a row boat, pedal boat, slide boat, stand up paddle, or the 20min "Reserl" motor boat experience. The captain of the "Reserl" will entertain you with facts and stories of the lake, and will show you the best places to settle for swimming.
Some of the best views of Eibsee are from the middle of the lake. Discover crystal clear waters and shades of aqua turquoise blues. On a clear day, you can even see the peak of the Zugspitze along with the cable cars that go up/down on the German and Austrian side.
The hiking trails will uncover picturesque moments all the way around the perimeter of the lake.
When you start to get hungry, check out seeRestaurant EIBSEE Pavillon for traditional Steckerlfisch. Although a little intimidating (for me), the Steckerlfisch is a delicious grilled Mackerel "fish on a stick." I recommend trying the fish with squeezed lemon, paired with potato salad and your favorite Bavarian beer. Take your food to the outdoor seating area overlooking the lake for a truly pleasing Eibsee experience.
Pflegersee
If large crowds, parking fees, and traffic isn't your idea of a perfect lake experience, then try checking out one of the many smaller lakes in the area such as Pflegersee. The Pflegersee has a more local vibe to it, as it's not nearly as popular to toursits compared to the Eibsee and other well known lakes in Garmisch.
You'll still find gorgeous landscapes of Alpine trees, mountains, and an abundance of gigantic fish! The locals joked that the large fish are the designated life guards of the lake but won't bother you. Speaking of lake creatures, we also ran into the local frogs and water snakes which scared the hell out of me the first time we encountered it. But not to worry, we were assured once again by the locals that they swim with the water snakes all the time, they're vegetarian and harmless (still terrifying to me though).
If the reptiles are too much for you, Pflegersee has row boat rentals to protect you from the "harmless" sea creatures. You can rent a boat here for less than €5 and there's way less distance to cover than the Eibsee.
You can find a traditional Bavarian meal at Berggasthof Pflegersee, but I recommend enjoying your food/drink below the restaurant in the outdoor lawn chair area. Although a terrible flavor combination, I took advantage of an apple strudel with whip cream, ice cream and a beer.
Neuschwanstein Castle
The drive from Garmisch to Neuschwanstein Castle is just an hour! The castle was constructed by King Ludwig II, but he died before it was finished.
Because Ludwig had generated so much debt with his numerous construction projects, the government completed the castle, staged the rooms in a fashion Ludwig would have liked, and then immediately made it a tourist attraction.
For the best view of the castle, head to Marienbrücke. If you're afraid of heights, I highly recommend not going on this bridge. And don't forget to visit Hohenschwangau Castle as well! Hohenschwangau was the summer residence of the royal Bavarian family, and therefore has more history than Neuschwanstein.
Pro-tip: there are bathrooms by the parking lot, which you can pay to use. But if you can hold it, there are free bathrooms up the hill at Neuschwanstein.
Sommerrodelbahn
This summer toboggan run is a great activity for everyone, and gives you a beautiful view of the valley. Take in the scenic views, and enjoy a beer between rides! You'll find this coaster right next to the Garmisch Olympic Ski Jump.
Alpine Coaster Oberammergau
For a longer toboggan run right outside of Garmisch, the Alpine Coaster in Oberammergau will not disappoint. Since it's about 30mins away from Garmisch, I would consider riding this attraction on your drive out of the city. You can easily make this a "pit stop" as you make your way back home. Be prepared, the Alpine Coaster Oberammergau is a longer wait (1hr for me) than the Sommerrodelbahn.
You'll first need to wait in line to get a ticket, then you'll wait for the next ski lift to take you up to the track. After about a 15min ski lift ride, the final line awaits you to board the coaster. If you're patient, the long anticipated toboggan run is worth every minute!
Stay at Edelweiss Lodge and Resort
Edelweiss Lodge and Resort is a cozy European getaway with the comfort of an American-style hotel.
It not only has pools and a hot tub, but there's also American-sized laundry facilities and a small gym. You can also reserve tours, trips, and sporting equipment through the resort.
Edelweiss Lodge & Resort Room Options
There are actually 7 types of rooms you can choose from at the lodge.
No matter your family size, each room is spacious and comes with a large screen LCD TV, WiFi (except the cabins), closet, luggage storage, fan (no A/C), security safe, heaters, and your own patio/balcony.
You can also find a laundry facility and ice machine (except the cabins) near all the rooms, and each room comes with 220V outlets.
*Most rooms have queen beds as king beds are limited
Standard Rooms – Sleeps 4 adults, has two queen beds, mini fridge, private bathroom, separate vanity sink, private patio/balcony
Junior Suite – Sleeps up to 6, two queen beds, pull out sofa, private bathroom, patio/balcony
Deluxe Junior Suite – Sleeps up to 6, separate bedroom with two queen beds, pull out sofa, unobstructed views, patio/balcony
Loft Suite – Two levels, sleeps up to 6, separate bedroom with two queen beds, pull out sofa, two private bathrooms, two patios/balconies
Deluxe Loft Suite – Two levels, sleeps up to 10, separate bedrooms with two queen beds and one king bed, two pull out sofas, two private bathrooms, two patios/balconies
Dog Friendly Rooms – Standard, Junior, or Deluxe Junior Suite. Must be reserved in advance with an additional dog fee per room, per night. Two dog limit.
Vacation Cabins at the Campground – depending on what option you choose, the cabins can sleep up to 6, include private bathrooms, fully equipped kitchen, BBQ grill, and a DVD player.
Learn more about the campground below!
Edelweiss Lodge & Resort: Vacation Cabins
If you're an outdoor person who'd rather stay in a cabin instead of a huge resort, then the Edelweiss campground aka "Vacation Village" is just for you.
There are currently three options for staying in the vacation village:
– Bring your own tent/RV
– Rustic Cabin
– Deluxe Cabin
You can learn all about prices, availability, and campground amenities here, or check out our FULL tour of the deluxe cabin below.
Frequently Asked Questions About Garmisch and Military Resorts
While anyone can visit Garmisch, there are a few rules about staying at military resorts. Have a question? Let us know in the comments!
Who can stay at Edelweiss Lodge and Resort?
Edelweiss is only available to members of the U.S. Armed Forces and authorized personnel. You can learn whether or not you are considered "authorized" on their website. If you're retired military, check out their special Retiree European Escapes Packages and let them do all the planning for you!




If Edelweiss is fully booked, check out a cheaper option at Army Lodging – Garmisch. This hotel is located nearly across the street from Edelweiss, and offers "bare bone" amenities. However, the room/bathroom are large and clean, there's a pull out couch for kids in a separate living area, mini fridge, and TV with DVD player (Ask about their free lending library of movies). Downsides: Unlike Edelweiss, the front desk isn't manned 24/7 and you may need to be on official travel to stay there. Either way, it's worth a try for an affordable way to enjoy Garmisch. We've also enjoyed our stays in the city at either Hotel Rheinischer Hof or Wittelsbacher Hof Swiss Qualtiy Hotel.
What are the best day trips from Garmisch-Partenkirchen?
The Partnach Gorge and Neuschwanstein Castle are easy trips from Garmisch. If you enjoy skiing and hiking, definitely visit Zugspitze for an all-day activity! There's also Munich & Innsbruck.
What are the most popular things to do in Garmisch-Partenkirchen with kids?
All of these activities are great things to do with families in Garmisch. But if you just want to spend the afternoon relaxing, did I mention Edelweiss Lodge and Resort has a pool and GIANT hot tub!
What are some of the best Garmisch restaurants?
As mentioned, there are great Bavarian delicacies surrounding the lakes and on the mountain peaks, but if you venture in the city, here's some other recommendations. If you're into pasta, you MUST go to La Spelonca. We ate here two nights in a row because we knew the food would be exceptional. The owner comes from Sicily and dishes out some of the best Italian food I've ever had.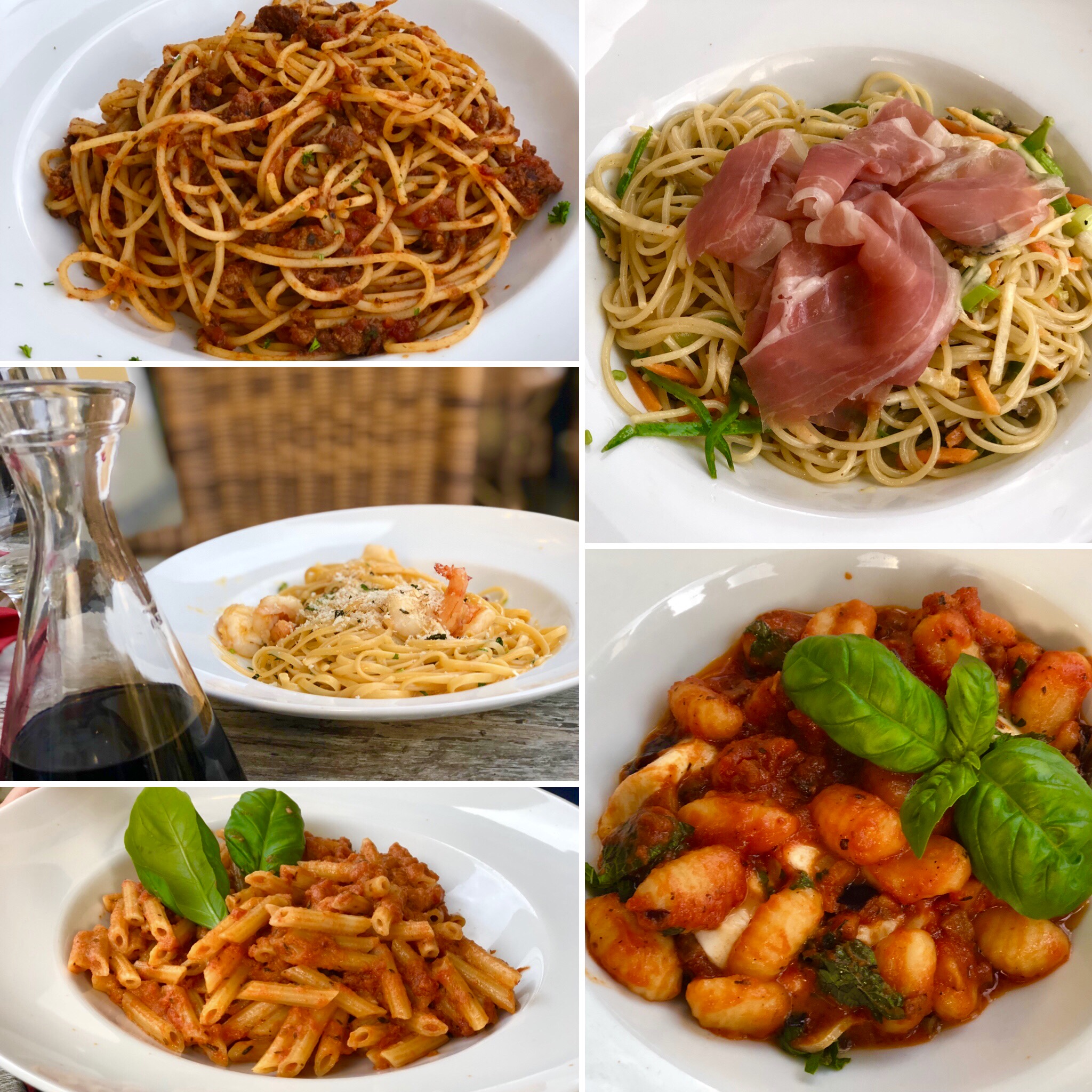 For big burgers & fries, mixed drinks and even a boss philly cheese steak sandwich, check out Shaka Burgerhouse. As a California boy who grew up on burgers and fries, I was pleasantly surprised with the execution of this burger. You should also definitely check out Bungalow 7 & The Local Cure for GREAT food!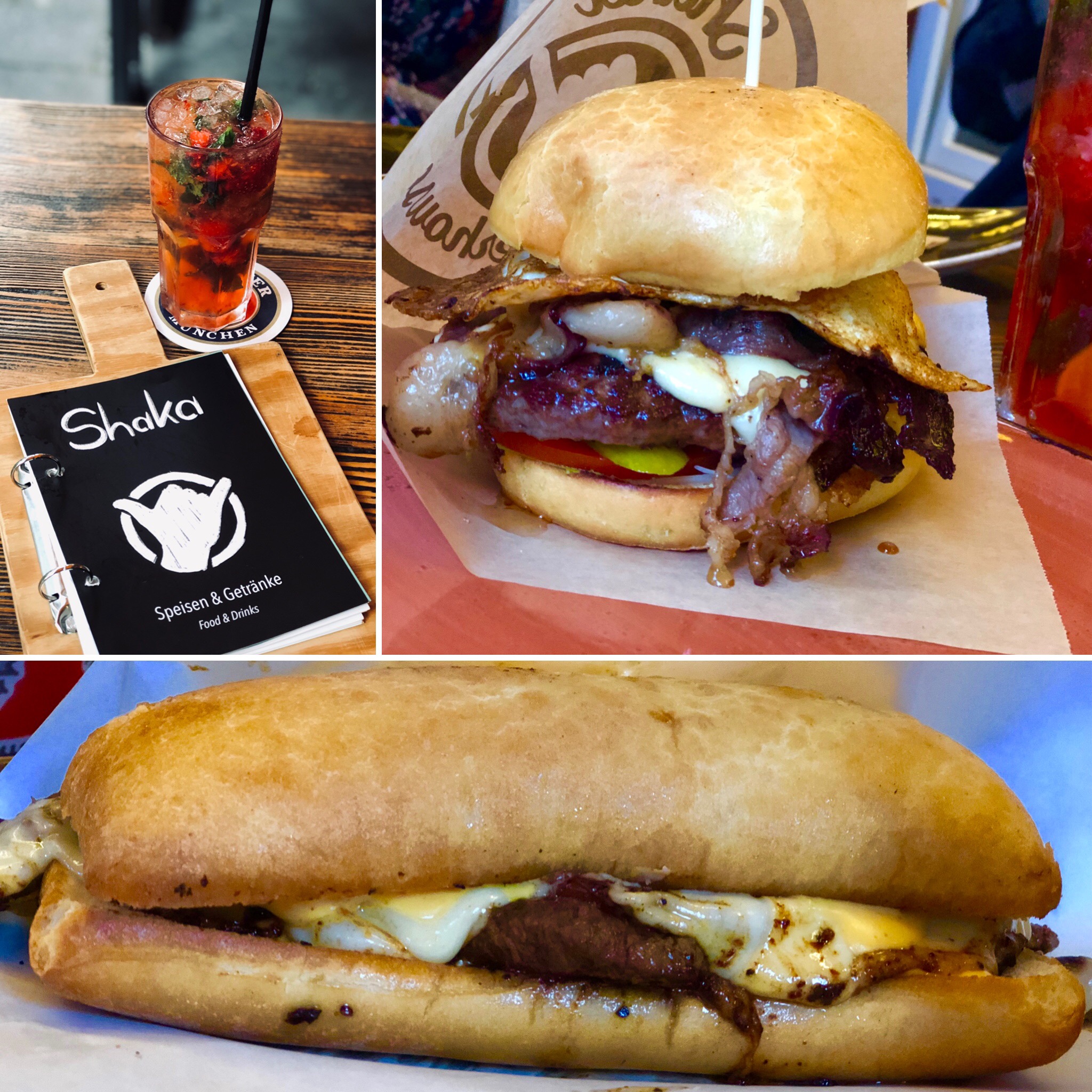 If you're staying at Edelweiss Lodge & Resort, then there's no doubt that you've come across Pullman's restaurant. Since COVID, I think it's worth mentioning that they've combined the breakfast buffet and restaurant into a new remolded Pullman restaurant which serves delicious meals throughout the entire day.


What is there to do at Edelweiss Lodge & Resort in the winter?
Edelweiss has an incredible winter sports program located at their private Hausberg Lounge. You can learn about their entire ski and snowboard school in the video below!
Bring the Family to Garmisch!
For Americans living in Germany (or anywhere in Europe), visiting Garmisch is an easy weekend getaway. So what are you waiting for? Visit Garmisch, Germany for an adventure-filled weekend!
Looking for more travel advice? Subscribe to my Youtube channel and follow me on Instagram! Or browse through the related videos below.
---
RELATED VIDEOS