As an American living in Germany, I need my burger fix (not to be confused with Bürger). A lot of burger restaurants have popped up around Weiden these past few years, but there's one that stands out above the rest: Nina & Velja's Kitchen.
They have always served quality, affordable food, but they have spent the past few months perfecting their burgers. And let me tell you – they are damn near perfect. Take it from an American.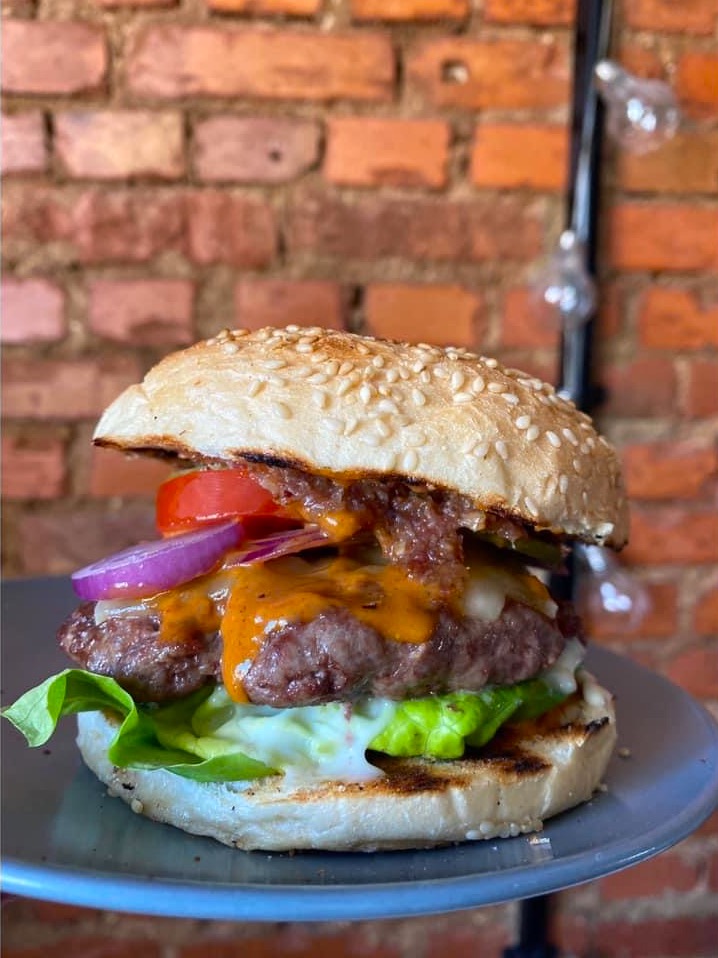 How to Craft the Perfect Burger Experience
First, Nina & Velja's offers a variety of burgers at a quality that you just can't get anywhere else in the area. So no matter what kind of flavor or cuisine you're craving, you'll find your fix here.
Second, everything is made fresh. They get all their ingredients on a near-daily basis from local providers.
Then they make everything from scratch. From hand-cut fries to in-house brines, they craft every element of their burgers.
And you can't have a perfect burger experience without a side! Their fries really tie the whole thing together.
The 5 Elements of the Best Burger in Weiden
You may think a burger is just another meal. A quick way to satiate your hunger.
But like any dish worth blogging about, there's more to a burger than meets the tastebuds.
1. Buns
You may see the buns as just a mechanism to deliver the goods. But without a high-quality bun, your burger will simply become an unrecognizable pile of ingredients on your plate.
You don't want a bun that gets soggy easily. It has to hold up to all the greasy, saucy goodness that you're about to consume.
Plus, it should have a bit of character: a hint of sweetness for a BBQ or Hawaiian flavor, or a crunchy texture to contrast the other soft ingredients.
Nina & Velja's sources all their buns from a local bakery, and then they toast them on the grill before assembling the burger. Think of it as a warm, crunchy hug that brings the party to your face.
2. Patties
The patty is arguably the most crucial component to a burger. In fact, it may be the defining feature of a burger.
Nina & Velja's Kitchen acquires their burger meat from local butcher Weidener Metzgerei. Their meats are farmed in Bavaria, and they place orders once a week to ensure the product is fresh.
The chef then cleans, cuts, and trims the meat to prepare it for the house-made brine. After brining in a mixture of garlic, fennel, salt, peppercorn, and water, he grinds it all together and mixes it with spices, according to the burger style.
And the burgers are always made fresh! No frozen patties gathering freezer burn here.
3. Vegetables
Just like the meat, the organic veggies are locally sourced every week, too! And with so many farmers in the area, why not?
Pickles can be more than just gherkins and cucumbers. Nina & Velja's pickles all their onions, beets, carrots, cucumbers, and fennel. A perfect complement to a greasy burger!
But don't underestimate a piece of crisp lettuce and raw onion slices between the patty and buns. A fresh element in a burger keeps it balanced.
4. Sauces
Sauce is the unspoken champion of a burger. Sure, a burger can taste fine without it, but the right sauce can make your burger truly memorable.
Nina & Velja's Kitchen makes all their sauces in house: aioli, vegan aioli, chorizo, and bacon jam to name a few. The bacon jam is a crowd favorite, and simply consists of maple syrup, sugar, apple juice, apple vinegar, and onion.
And these sauces aren't restricted to just the burger. They go great with sides as well…
5. Fries
To complete the best burger in Weiden, you have to have a side! All their regular fries, potato wedges, and onion rings are made daily in house.
And if you want to get really crazy, you can put them on your burger, too. It's a judgement free zone.
About Nina & Velja's Burger Menu
While all the burgers are handmade and fresh, that's just the beginning of what makes Nina & Velja's burgers delicious.
They regularly offer an assortment of Mexican, spicy chicken, Korean BBQ, classic cheeseburger, BLT, Greek, and vegan falafel. Each one has a deliciously unique twist, like the Spaniard 2.0: a surf & turf beef patty, squid rings, chorizo, relish, lime aioli, pickled onion, arugula, and lettuce on a wheat bun.
And during COVID, they've offered a special burger every week to keep things interesting! But you can also order the traditional burgers like the classic cheeseburger (add bacon for bonus points).
What's for Dinner Tonight?
During COVID, you can email them before/until 2pm or call them after 4pm for delivery or pick up. Just keep in mind that there's a €5 surcharge for deliveries outside of Weiden, and they only deliver within a 10-kilometer (6.21 miles) radius from the restaurant.
Are you ready to have the best burger in Weiden? Nina & Velja's is ready for you!
For more tips about living in Germany, subscribe to my Youtube channel and follow me on Instagram
---
RELATED VIDEOS