Paris is an obvious travel destination for many people. But how do you make your first time in Paris the best trip ever? The options are overwhelming!
Luckily, we have a few tips to help you plan like a pro.
Americans Living in Germany: Know Before You Go
The train from Kaiserslautern (aka K-Town Germany) is just short of 4 hours. The drive can be anywhere from 4-5 hours, and if you do drive, I highly recommend staying outside the city (more on that in the FAQ). Driving in Paris is a nightmare!
For Americans living closer to USAG Bavaria, flights from Munich or Nuremberg to Charles de Gaulle are frequent and affordable. You can certainly drive, but it will take you anywhere between 8 to 10 hours. And a train will take even longer.
And before you even leave your house, buy your tickets online in advance for the big attractions. Depending on your length of stay, it might be worth looking into all-inclusive packages and tickets (like the Paris Pass), which comes with transportation access, museum entries, and tickets to specific attractions (some include river cruises, too!).
And, as always, bring your tourist passport! Hotels will photocopy your passports when you check in (AirBnB hosts are supposed to take down your information as well). And even if they don't, you'll need it for your flight if you're flying, or at random checkpoints if you're driving.
Things to See in Paris
You may have a list already of all the things you want to see in Paris, but let me tell you about each one to help you plan the perfect Paris getaway.
The Louvre
You can easily spend an entire day at the Louvre and not see everything. It was originally a castle, but was converted into an academy, and then finally a museum in 1793.
I highly recommend booking tickets in advance and figuring out what exactly you want to see. The museum is huge!
Also, if you're in a wheelchair, you get front line access to take pictures in front of the Mona Lisa.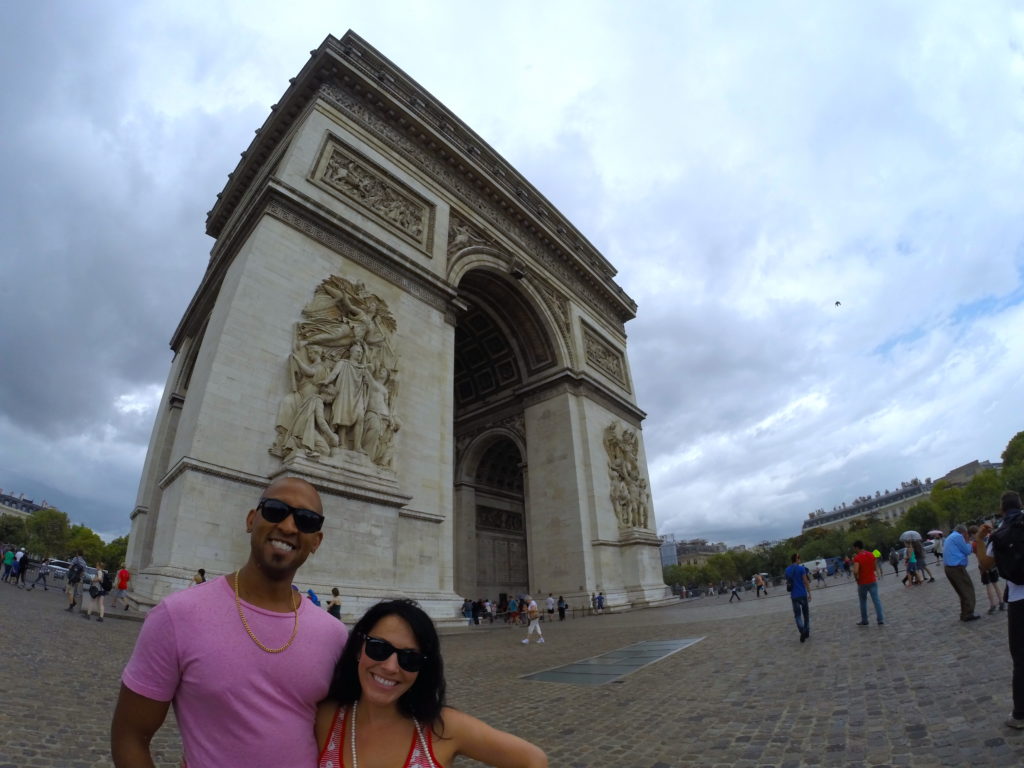 The Arc de Triomphe
The Arc de Triomphe stands in the center of the Place Charles de Gaulle, the famous intersection of 12 roads in Paris. It's one of the main reasons I recommend not driving in the city!
Napoleon commissed its construction in 1806, but it was completed during King Louis Phillippe's reign in 1836. Today, you can visit the Arc, go to the top for a spectacular view, and pay your respects at the Tomb of the Unknown Soldier below.
Napoleon's Tomb at Les Invalides
Originally constructed as a hospital for elderly and unwell soldiers, Les Invalides is now home to monuments and museums about French military history. There are dozens of tombs, but Napoleon's is certainly the most grand.
Sacre-Coeur
Sacré-Cœur is a basilica at the summit of Montmartre, the highest point in Paris. Throughout the centuries, Montmartre had been a place of worship for various religions. And in the late 1800s, Sacre-Coeur was built as "penance" for France's defeat in the Franco-Prussian War.
Today you can tour the church, see "The Savoyarde" (the largest bell in France), and relax on the stairways. Be sure to enjoy the view while you're up there!
Sainte Chapelle
If you're into stained glass, you can't miss Sainte Chapelle! And even if stained glass isn't your thing, I still recommend taking a peek inside.
In contrast to Sacre-Coeur's Romanesque-Byzantine style, it's a Gothic-style cathedral with towering windows. Can you believe it was only built in seven years?
Pont Alexandre III
Walk across Pont Alexandre III to see some amazing sculptures and views of the city! Take a stroll over the bridge on your way to Napoleon's tomb from des Champs-Élysées.
Notre Dame
Seeing the famous cathedral is an absolute must for anyone's first time in Paris. You've seen pictures of it, but seeing Notre Dame in person is a whole different experience.
It took 300 years to build the cathedral, and it's considered one of the greatest examples of French Gothic architecture. But in April 2019, a fire ravished "Our Lady of Paris." As of 2020, the monument is still under construction – authorities hope it will be open for the 2024 Olympics.
Moulin Rouge
Prepare yourself: the Moulin Rouge has very little in common with the 2001 movie. Built in the late 1800s, people from all walks of life frequented the famous red windmill to watch women dance the Can-Can.
You can still see cabaret performances, but there's no photography allowed. So for now, you'll have to use your imagination…
And while you're in the neighborhood, consider visiting Sacre-Coeur – it's just a 15-minute walk away!
Palace of Versailles
The Palace of Versailles is a worthwhile trip outside of Paris! Originally the royal residence, it's now a testament to the wealth that the royal family accumulated.
If you're visiting Paris in the summer, I recommend arriving right before the sun sets. You can tour the ballroom and Hall of Mirrors before watching the incredible fire show on the lawn!
Disneyland Paris
Regardless of whether you travel with family, friends, or your spouse, Disneyland Paris should be on your list of things to do! If you want to know more about how to do it right, watch my video. In short: you should set aside at least one full day to visit the happiest place on Earth.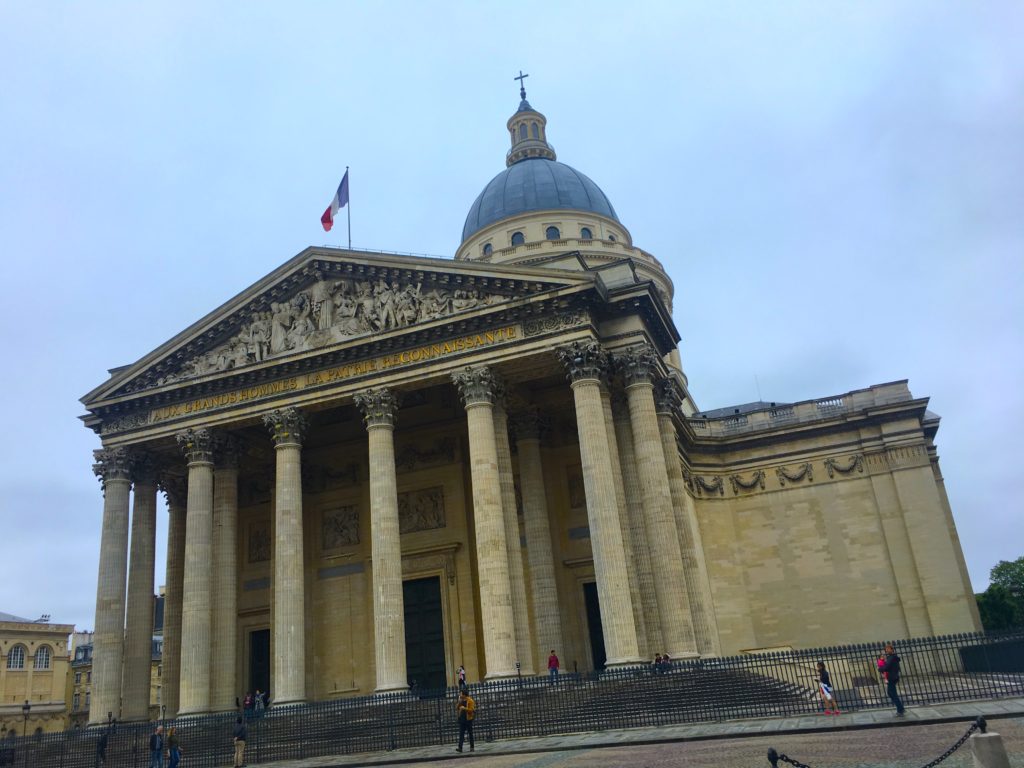 Pantheon
The Panthéon houses tombs of various French figures, from the philosopher Voltaire to the scientist Marie Curie. It has also functioned as a church over the years, which is why you'll find various religious paintings inside and around the building.
Eiffel tower
You didn't think we'd skip this one, did you?
It's nearly impossible to spend your first time in Paris and not catch a glimpse of the Eiffel Tower. It was built for the 1889 world fair in commemoration of the French Revolution. And while it doesn't necessarily serve a function, it's one of the most widely recognized structures in the world.
The Eiffel Tower lights up every evening from sunset to 1 a.m. (2 a.m. during the summer), coupled with the light on top. You can see the glimmering 10-minute show during the first five minutes at the top of the hour.
I'd also recommend the restaurant in the Eiffel Tower – very romantic and delicious! Place du Trocadero is one of the best spots to take a picture, but expect a crowd.
Other Fun Things to Do in Paris
Now that we've covered the popular sites in Paris, you should consider doing some things in the city that aren't as tourist-y.
Get a tattoo
If you want to start collecting travel tattoos, I recommend choosing small icons that are sentimental, inexpensive, and don't take long. You're there to experience the city – time is precious!
I went to American Body Art at 7 Rue des Innocents. Easy and quick!
Ride a bike around the city
You can rent bikes or scooters pretty much on every corner, and they're really easy to use. Companies have apps for you to download so that you can see the bike lock locations and availability.
I recommended renting bikes at night when it's less crowded. Plus, it's a completely different city in the evening, and it's great to explore by bike or scooter!
Take a river cruise
Treat yourself to a unique tour of Paris while dining on the Seine river. This is definitely one of the most romantic things to do in Paris! Especially if you can serenade your date.
Frequently Asked Questions About Seeing Paris
If it's your first time visiting this incredible city, I've answered some common questions. And if you still have questions, let me know in the comments!
Make Your First Time in Paris Romantic and Memorable
No matter when you visit Paris, you'll find something to love! And don't worry if you can't fit everything into your first trip. Just enjoy yourself in the city of light and love!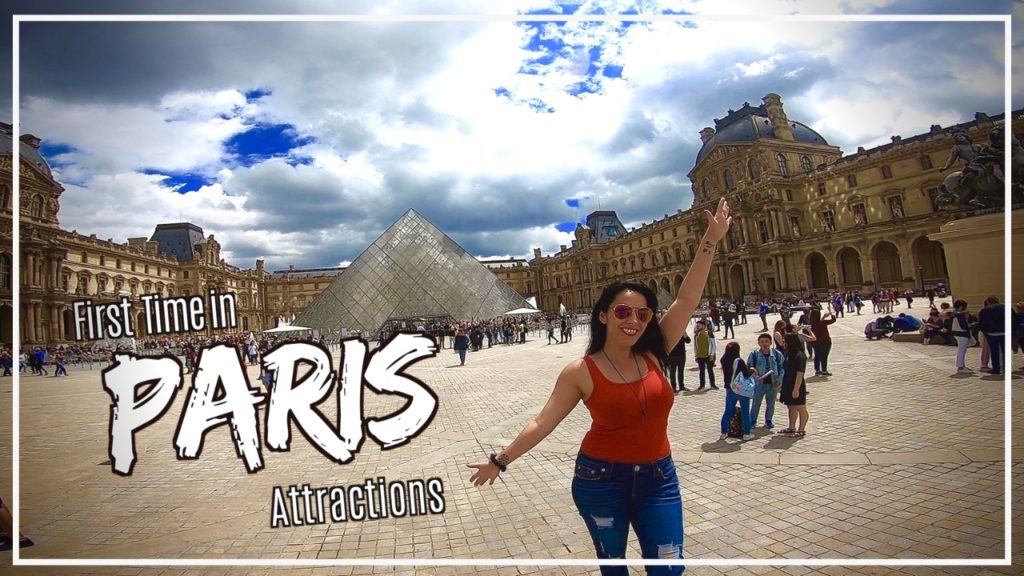 Want more travel tips? Subscribe to my Youtube channel and follow me on Instagram
---
RELATED VIDEOS