San Francisco is full of attractions, colorful people, and iconic bridges, but one of my favorite things about this city is the San Francisco restaurants! But we couldn't fit them all in one day. I followed two locals all over the city to find out where I can eat the best food in San Francisco. Our idea was to try one or two of the best menu items of food in the top restaurants as a progressive meal so we wouldn't get too full. So here were our recommendations from our first day of eating all the best food in San Francisco.
San Francisco Fish Company (Ferry Building)
San Francisco Fish Company is committed to sustainable fishing. As a result, their daily menu depends on the season, the weather, and the fishing restrictions. But you know you're eating the best, environmentally friendly fish! If you're a fan of oysters, stop by to get freshly shucked oysters for $2 each. Eat them plan or top them with a mignonette or cocktail sauce.
Humphry Slocombe (Ferry Building)
Humphry Slocombe Ice Cream opened its first location 2008. You can sample every flavor they offer, but we highly recommend Secret Breakfast: bourbon ice cream with cornflakes! You can also find pints of their ice cream in select shops throughout the Bay Area.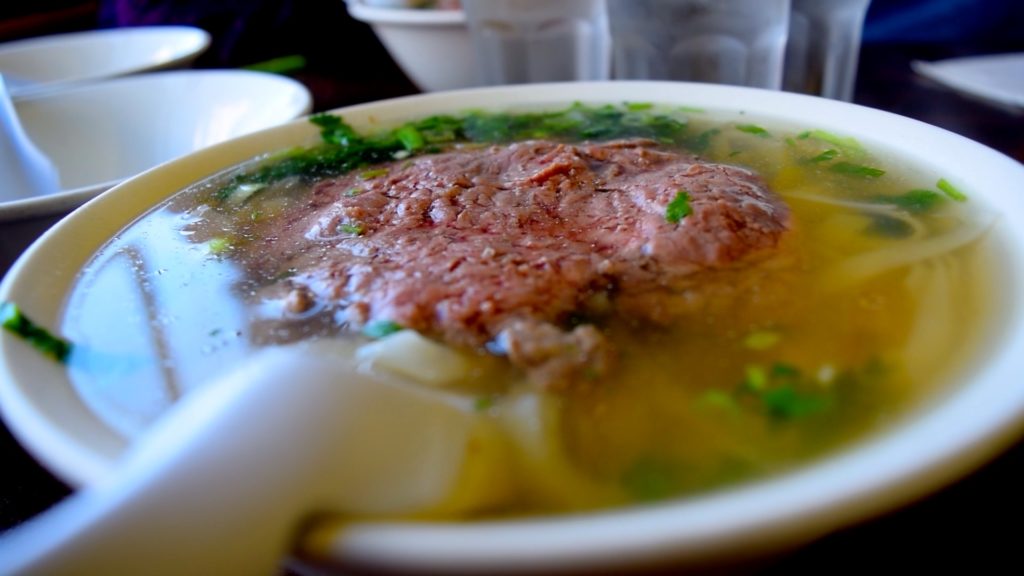 Turtle Tower (Civic Center)
The Vietnamese pho you know probably comes with a side plate of bean sprouts, Thai basil, cilantro, and limes. But at Turtle Tower, pho is served the northern way, where owner Steven Nghia Pham is from. So of course I had to get a bowl of pho noodle soup (and you should, too).
The Chairman (Food Truck)
UPDATE: The brick and mortar location on Larkin has closed, but the food truck is still operating. The Chairman is serving up Chinese steamed baos with a variety of toppings. We chose the pork belly with no regrets.
Brenda's French Soul Food (Polk Street and Eddy)
The next San Francisco restaurant was definitely a favorite for me. The menu reflects Brenda's upbringing on the West bank of New Orleans, with a little French accent here and some extra Cajun flair there. A must eat in SF, Brenda's French Soul Food has shrimp n' grits, crawfish beignets, gumbo, and so much more! But they don't take reservations, so either show up early or be ready to wait.
Bob's Donuts (Nob Hill)
San Francisco has seen hundreds of restaurants and shops come and go, but Bob's Donuts has been a cornerstone since the 1960s. They make donuts the way they've always made them: no fuss, just fried. Bob's Donuts is known for their apple fritter and their novelty giant donut, but we opted for a glazed donut – simply perfect.
Nick's Crispy Tacos (Russian Hill)
Nick's Crispy Tacos is a great place to gather with friends and watch the game. But if you're not into sports, they've still got great food! Their tacos are so loaded, they use two tortillas to keep all the contents together. We chose the fried fish taco and the carne asada taco – I couldn't pick a favorite!
Smuggler's Cove (Gough Street at McAllister)
It may seem kitsch, but this pirate-themed bar is truly a fun time with great cocktails! The rum, the tiki decor, the fresh ingredients, and the exotic cocktails at Smuggler's Cove are a great escape from the busy streets of San Francisco. I recommend the Trade Winds: rum, coconut cream, apricot liqueur, and London dry gin.
House of Prime Rib (Nob Hill)
When you visit San Francisco, make sure to reserve a table weeks in advance at House of Prime Rib. This traditional English-style restaurant doesn't follow food trends – it's been a San Francisco establishment since the 1940s, serving the best quality beef available. For $45.95, you can get a House of Prime Rib cut of steak, creamed corn or creamed spinach, mashed or baked potatoes, Yorkshire pudding, and "the salad bowl." And be sure to bring your appetite: if you can finish your entire steak, they'll offer you smaller pieces of steak for free to top you off.
---
RELATED VIDEOS