If you're looking for Marrakech day trips, a visit to the Atlas Mountains is easy and worth your time! They're a mountain range that separates the coast line from the Sahara desert, stretching 1,600 miles (2,500 kilometers).
Most hotels will offer excursion packages, but you can also go on your own adventure. We've compiled a few things for you to visit while you tour the Atlas Mountains near Marrakech.
Tour an Olive Mill
The olive oil brand you use is most likely Italian, but multiple countries throughout the Mediterranean produce olive oil – including Morocco! The country is one of the largest olive oil manufacturers in the world.
As of 2018, Morocco is the fourth largest exporter of olive oil. So be sure to visit one of the mills to experience part of Morocco's economy!
Visit A Berber Village
The Berbers are an ethnic group native to northern African countries. Most currently reside in Morocco, Algeria, Tunisia, Libya, and Mauritania.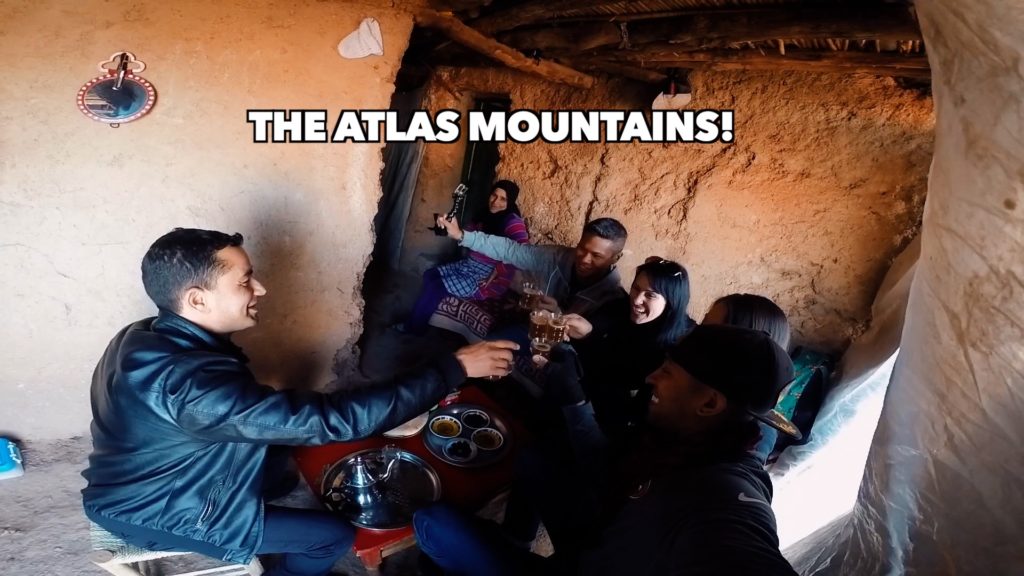 As a result, there isn't necessarily one unified Berber culture – it's now a medley of various influences over the course of centuries. And due to some cultural and political strife, much of the Berber culture is lost or has completely evolved, such as language and customs.
As part of your day trip to the Atlas Mountains, we highly recommend visiting a Berber village. if you take a tour, it will likely include an introduction to a family who will prepare bread and mint tea for your visit.
But even if you don't take the tour, residents are very warm and welcoming. You should take the time to visit and meet new people. Because meeting new people from different cultures is why you travel, isn't it?
Enjoy a Moroccan Lunch
You have to have at least one meal as part of your Atlas Mountains Marrakech visit! Our tour took us to a bed and breakfast with a beautiful view.
For lunch, we had chicken tagine – a dish you'll see numerous times in Morocco. A tagine (or sometimes spelled tajine) is a ceramic pot with a coned lid. When cooked over a charcoal fire, the cone contains the steam so that the condensation drips back down to the bottom of the pot.
Our Moroccan chicken tagine was slow cooked with spices and dried fruits, and served with bread. And then afterwards we enjoyed an apple pie with mint tea (of course).
Visit the Atlas Mountains Marrakech
Mint tea, cookies, bread, more tea…it's all waiting for you in the Atlas Mountains!
---
RELATED VIDEOS