Marrakech, Morocco will invigorate your wanderlust to a whole new level! The colors, aromas, flavors, and sounds are unlike anything you've experienced. When you visit Marrakech, you may feel overwhelmed by your desire to explore. But don't worry – we've outlined a few suggestions for what to do in Marrakech.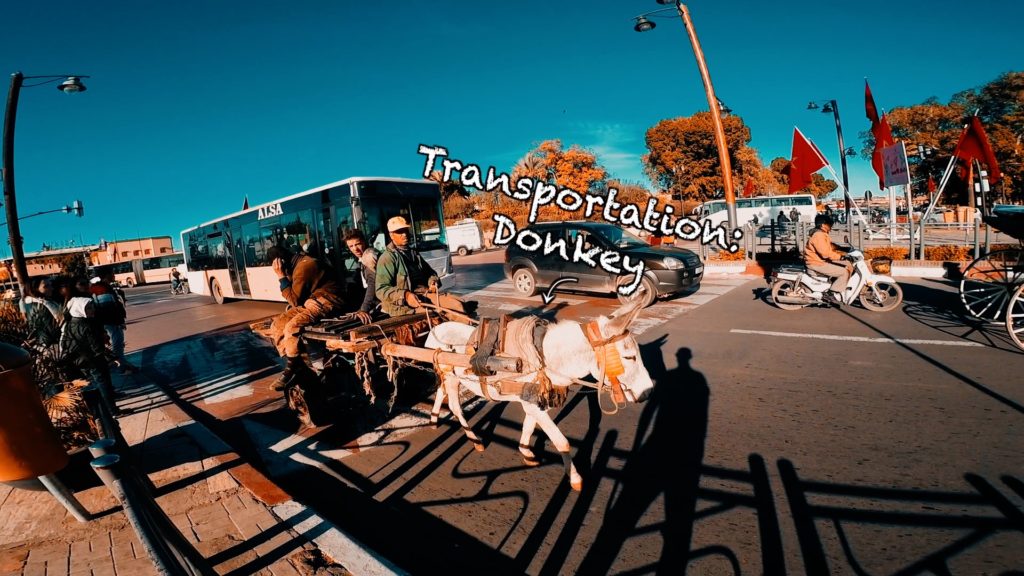 Transportation in Marrakech
If you're not already staying in Marrakech (or sometimes spelled Marrakesh), the city is a 10 hour train ride from Tangier, or just over a 3 hour train ride from Casablanca. And once you're there, you can get around by foot, by car, by horse carriage, by bus, by scooter, by donkey cart…
You can experience it all in Marrakech!
What To Do in Marrakech
When you visit the city, you can easily plan your day with things to do in Marrakech, or simply wander through the streets and take in the experience.
Koutoubia Mosque
Built in the late 1100s, Koutoubia Mosque is the largest mosque in Marrakech. Originally it was completed in 1157, but because the mihrab was not facing Mecca, it had to be rebuilt. You can visit every day between 9 a.m. – 6 p.m. for free.
Bahia Palace
Bahia Palace should definitely be on your list of things to do in Marrakech! It was built in the mid 19th century for Si Moussa ba Ahmed, and then housed the resident general of France in the early 1900s.
You won't want to miss the incredible details and colors in the architecture. You can visit every day between 9 a.m. – 5 p.m. for €7.
Souks
A souk is a marketplace, and they come in all shapes and sizes! Souk Semmarine is the largest, and Souk Place des épices has all the spices you'll need to recreate your favorite Moroccan dishes.
But keep in mind: you're expected to haggle with the shopkeepers. So don't be shy! It's all part of the fun.
Rooftop restaurants
When the sun shines almost every day of the year, you have to enjoy a rooftop experience! Sip on mint tea while the city bustles beneath you, and maybe you'll hear the call to prayer.
We recommend going to Nomad, but there are tons of restaurants and cafes that you can visit. They even have hats you can wear so you don't get sunburned.
Indoor restaurants
If you don't like sitting in the sun, you can also eat inside one of the many restaurants in Marrakech. Many will have dance and music performances throughout your meal. But if you're shy, you may want to visit a smaller, quieter restaurant – the performers will come up to your table!
Ready to Visit Marrakech?
Whether you want to vacation somewhere new or just spend a winter weekend somewhere warm, we highly recommend Marrakech. It's quite different from anywhere you visit in the United States or Europe – but that's what makes it worth visiting!
---
RELATED VIDEOS