Living in Germany isn't always beer, brats, and brezen (pretzels). Sometimes it's even better! Monte Kaolino in Hirschau, Germany is an amusement park with roller coasters, pools, obstacle courses, and more.
What to Do at Freizeitpark Monte Kaolino
You can easily spend an entire day at this park and never do the same thing twice (but you definitely should). Below I've highlighted just a few of my favorite activities. There's also a playground, a mini golf course, a high ropes course, a roller skating course, and a campsite!
Monte Kaolino
The sand mountain itself is 150 meters high (492 feet) and offers sand skiing, sand boarding, and free climbing. So if you're itching to hit the slopes in July, you can get your fix on this man-made mountain. And this is also where the Blaster Run takes place!
Fun fact: the gigantic sand dune is a result of mining kaolin, a clay mineral used for making ceramics, cosmetics, and paper.
Segway Tours
If you want to know more about the kaolin mines, sign up for a segway tour of Monte Kaolino. Tours last anywhere between 40 minutes and 3 hours, and no previous segway experience is required!
Monte Dünebad
Beat the summer heat in this collection of outdoor swimming pools! While the pools are only open under certain weather conditions, they're heated by solar panels and eco-friendly gas. There's also a 50 meter long (164 feet) water slide and a diving pool for all the daredevils!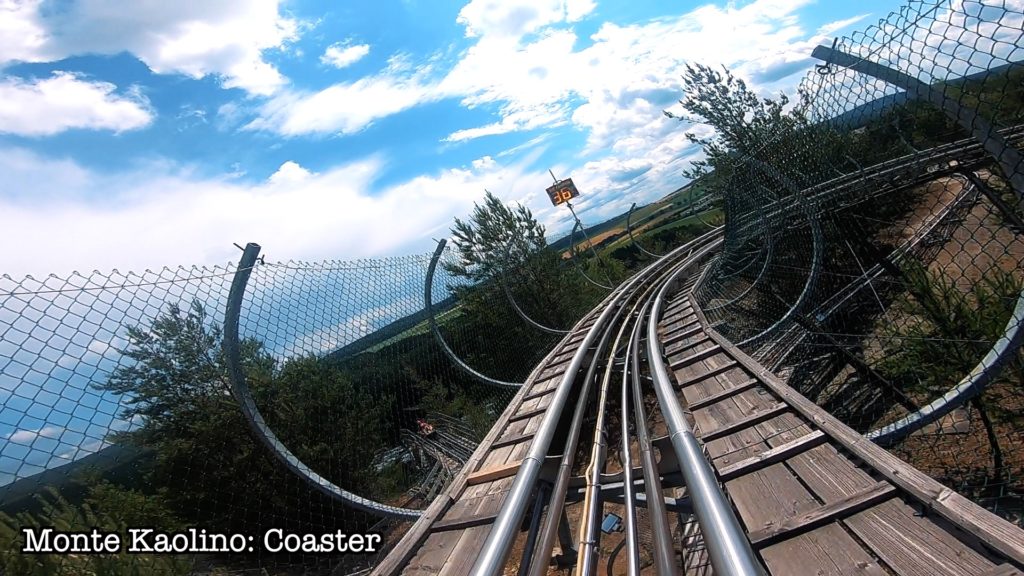 Monte Coaster
This is by far my favorite activity! But it's not like a roller coaster you'd find at a traditional theme park. The toboggan car on this roller coaster holds up to two people with just a couple seat belts.
Once you finally climb the mountain, it's a quick ride down to the bottom! The roller coaster takes you through some wooded areas with some beautiful views of the the Bavarian countryside.
Where to Eat at Monte Kaolino
One of the only places to grab a full sit down meal at Monte Kaolino is Piazza Del Monte. You'll find large portions of traditional Bavarian food here as well as small bites for kids. I was pleasantly surprised with the presentation and taste of my chicken salad and spätzle dish.
You have to try the cheesy spätzle dish while living in Germany! Think of it as an elevated version of an American kraft mac and cheese dish.
When to Visit Monte Kaolino
Monte Kaolino operates from the Easter holidays through the end of the autumn holidays. It's open 2 to 6 p.m. on weekdays, and 10 a.m. to 7 p.m. on weekends. But during October and November, it's only open from 2 to 5 p.m. on weekdays, and 11 a.m to 5 p.m. on weekends.
Keep in mind that they also extend their hours for holidays: they're open from 10 a.m. to 6 p.m. during school holidays, and from 10 a.m to 7 p.m. on Bavarian holidays. (If you've been living in Germany for a while, you'll know that Bavaria may recognize holidays that the rest of Germany doesn't!)
An all day ticket is €4 for adults and €2,50 for children under the age of 18, but starting at 5 o'clock, tickets are just €2,50 for adults and €2 for children. Children under the age of six enter the park for free.
Come enjoy your summer in Hirschau with family and friends!
---
RELATED VIDEOS