Mykonos Island is just one of the must-see islands of Greece! The coast is lush with people, architecture, and food. There are plenty of things to do in Mykonos, but even just walking through the town feels like an adventure.
Your day will never feel wasted simply sitting on a bench and watching the boats in the harbor. But I do recommend you at least try one of the things on my list!
American Living in Germany: Know Before You Go
Mykonos is a small, beautiful island in the Aegean Sea, and perfect for a long weekend getaway!
But if you're planning a long European vacation, I recommend just a couple days in Mykonos. There are so many islands and places to visit in Greece! And if you really want to hit up all the hot spots, consider taking a cruise.
As always, remember to bring your tourist passport when you travel. Your SOFA passport allows you to live in Germany, but it doesn't give you the same travel rights as an EU citizen.
Also, many beaches attached to restaurants or clubs will require payment for access. There are some that you can visit for free, but they may be a little more inconvenient to reach. More on than in a bit!
Where to Eat in Mykonos
While seafood lovers will get their fill, Mykonos Island also offers lamb, chicken, beef, and pork, all marinated in various spices and served with your favorite carbs. And late into the night, you can continue the party at a seaside club to soak up the views.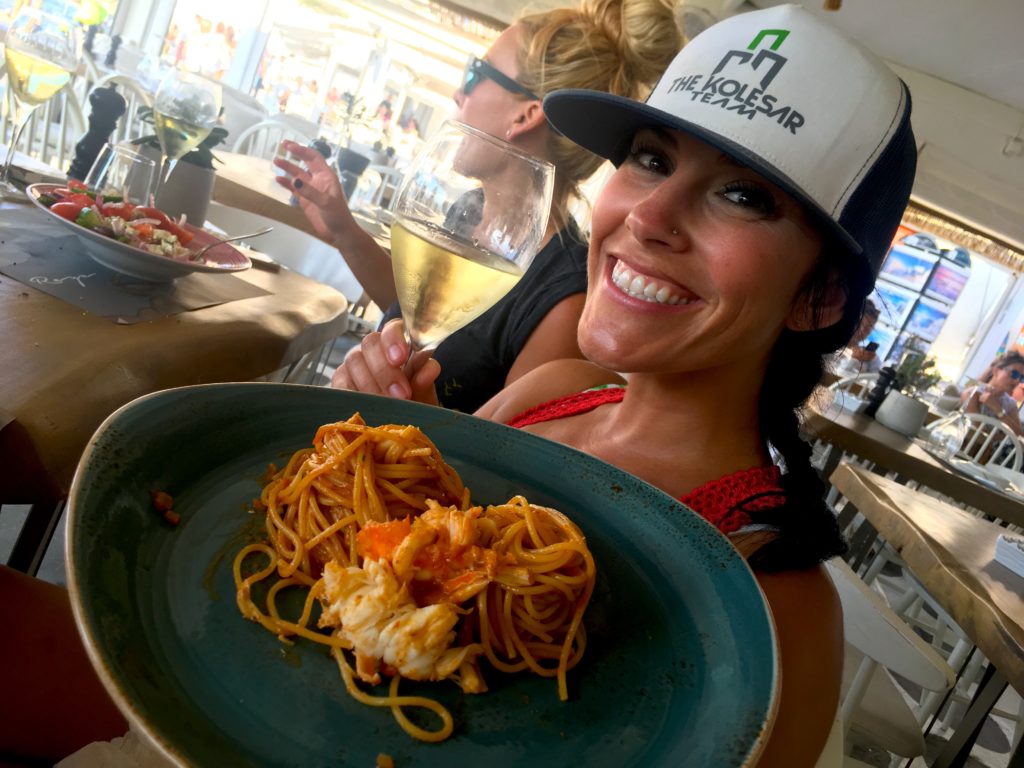 Raya
Mussels, fried calamari, fresh catch of the day, beer, wine, grilled chicken, lamb shank, lobster…it's all great, but the staff makes this restaurant the right choice. They're pleasant, quick, and happy to have you! And if they offer you island shots at the end of the meal, your answer is always yes (it's on the house).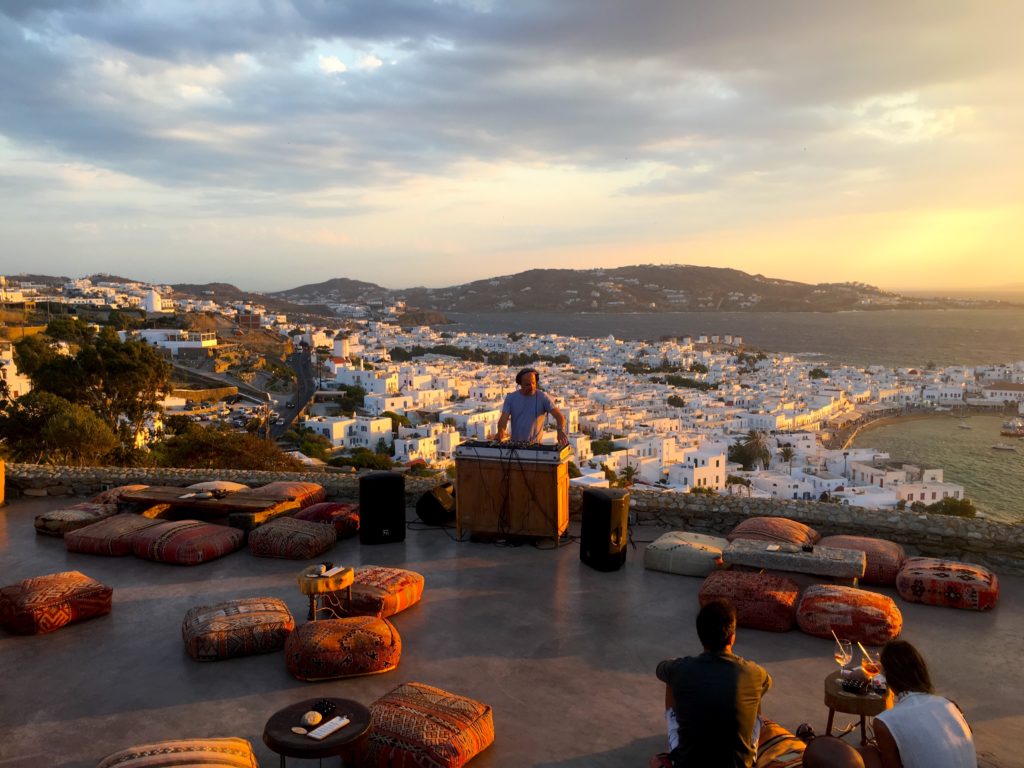 180 Degrees Sunset Bar
As you can probably guess from the name, this bar has an incredible view of Mykonos Island, complete with sofas, beanbag chairs, and swings.
Make the hike up to 180 Degree Sunset Bar for appetizers and cocktails with a sunset view! But get there way before the sunset crowd so you can actually find a seat. And stay all night as the DJ plays a mix of deep house and electronic music.
Best Mykonos Beaches
These are a couple beaches I recommend visiting if you just want to relax.
Paralia Agios Sostis
Paralia Agios Sostis is great for a quiet day at the beach, but you'll need a car to get there. It's one of the more secluded Mykonos beaches you can visit.
If you want some relief from the sun, bring an umbrella – you won't find any shade. And fair warning: you may see a couple nudists walking around!
While you're at Agios Sostis, you should go to KiKi's Tavern. It's very popular, so make a reservation when you arrive and then go chill at the beach!
Then, before your reservation approaches, I recommend sending someone from your group to the restaurant to check the status of your table.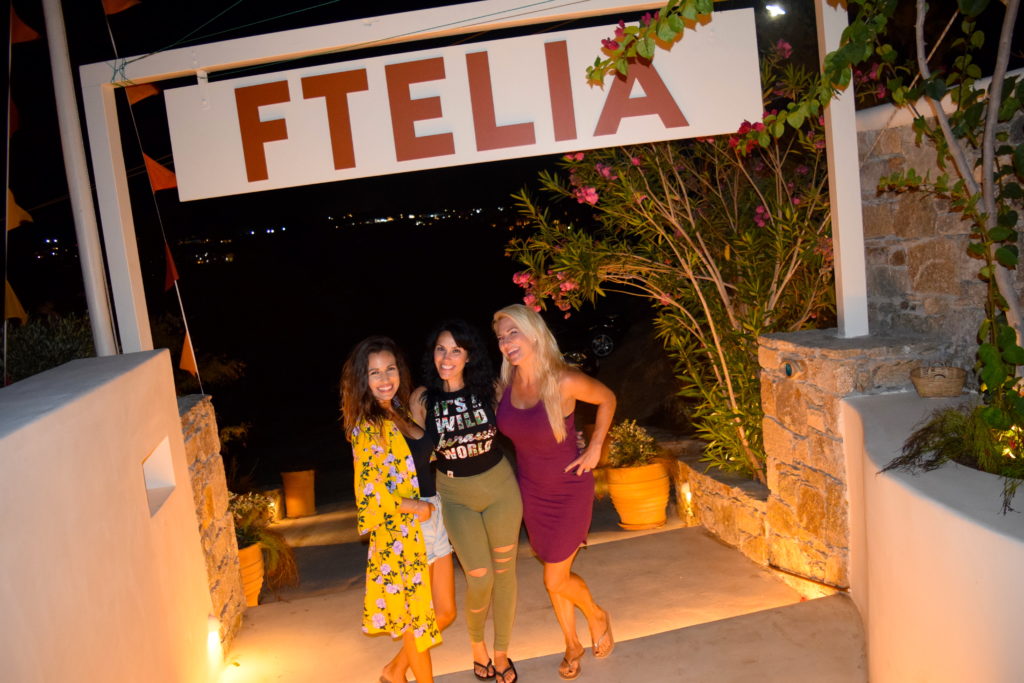 Paralia Ftelias
Paralia Ftelias is another quieter, relaxed beach. Depending on where you stay, it's a quick drive or a healthy walk (it was around a 30 minute walk from Mykonos Dream Villas).
While you're there, you can eat at the Ftelia Beach Club. It's a great spot to have a refreshing bite and a cocktail while looking out at the cove.
Best Clubs in Mykonos
Mykonos beaches are a great place to party all day and night!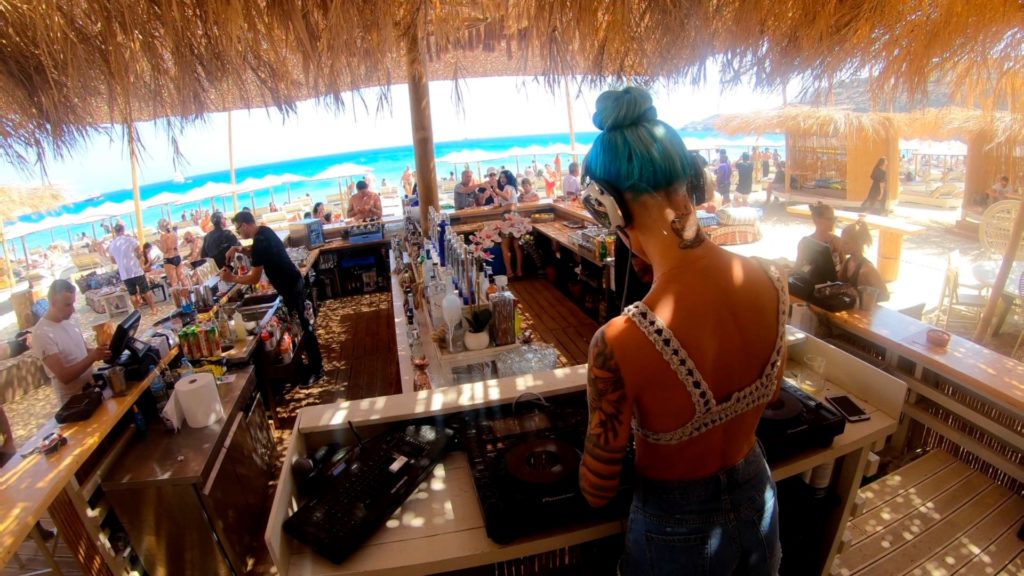 Lohan Beach House
It may seem unusual to pay to visit the beach, but trust me, it's worth it – you'll get a recliner, a shade umbrella, food and beverage service, and access to working restrooms. Plus, there are options available for large groups, as well as a DJ.
Club Cavo Paradiso
There is no shortage of things to do after dark in Mykonos! Cavo Paradiso sits on the side of a hill with an amazing view of the sea.
The island attracts all kinds of DJs and nightlife talent, so stop by the club and dance until the sun rises.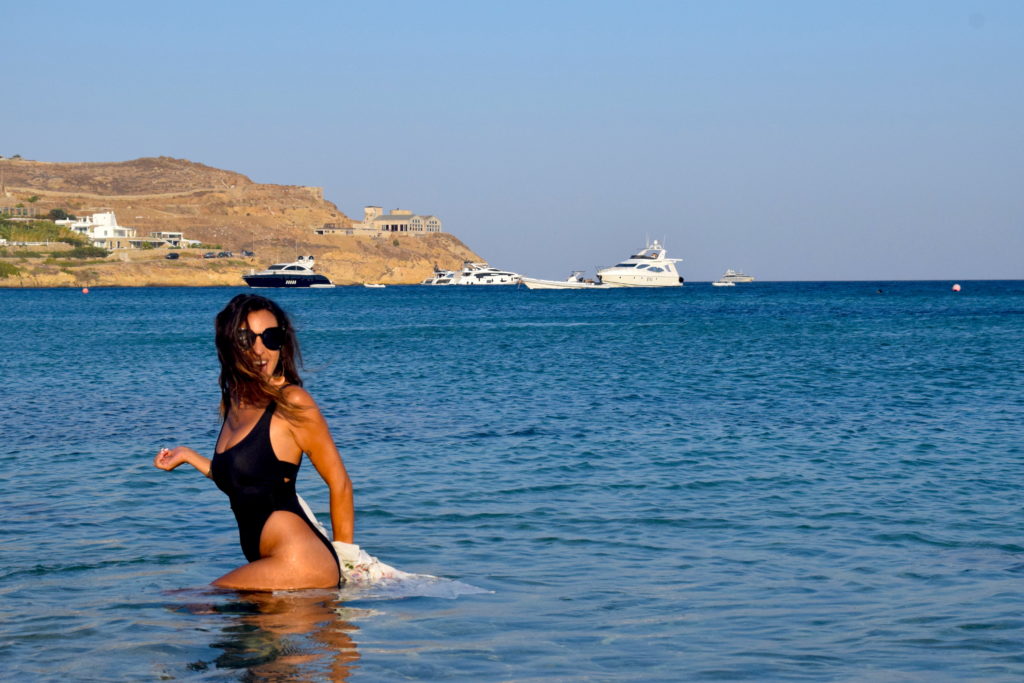 Frequently Asked Questions about Things to Do in Mykonos
If you still have questions, let me know in the comments!
Relax on the Mykonos Beaches!
Whatever you decide to do in Mykonos, just make sure to relax and enjoy yourself. It's a vacation, after all!
For more travel tips, subscribe to my Youtube channel and follow me on Instagram
---
RELATED VIDEOS