"Your tickets haven't been paid for."
These are not the words anyone wants to hear at the beginning of their OCONUS PCS. But from there, it just got crazier and crazier for Megan and her husband. They were supposed to take the AMC Patriot Express flight, but they ended up taking a commercial flight instead.
After a series of unfortunate events, they finally made it to USAG Bavaria. Megan was kind enough to share her experience with us, as well as some tips about how to make your journey less stressful!
About the Patriot Express Flight
It's not the most luxurious flight, but it will definitely be the cheapest one. And for that reason, it's the most common way for people to PCS to Germany.
In fact, you might be required to take the Patriot Express. Check your orders to confirm before booking yourself a commercial flight. The most common exception is non-availability, but you need a rare or extreme circumstance for a commercial flight to be approved.
The Patriot Express aka "The Rotator" or "Cat B flight" is a Department of Defense (DoD) contracted, commercial charter flight operated by Air Mobility Command (AMC). It is responsible for transporting passengers on official military travel orders – especially for military families with Permanent Change of Station (PCS) orders to overseas assignments.
However, Patriot Express flights will often have a combination of "PCSers" (those going to & from new/old duty locations) and those on leave flying "Space-A."
Space-A travel is the process of allowing eligible travelers to fill vacant "Space-Available" seats on aircraft flying missions on official business.
Like most commercial aircraft you've been on, the Patriot Express provides comparable amenities such as assigned seats, in-flight meal service (special meals with advanced request), civilian flight attendants, movies, headsets, and pet shipment.
Pacific Routes: If PCSing to the Pacific region (such as Japan, Guam, & Korea) then these flights originate from the Seattle-Tacoma International Airport in the United States.
European Routes: If PCSing to the European region (such as Germany), then routes originate at the Baltimore International Airport in the United States. If PCSing to European regions outside of Germany, then your Patriot Express flight may originate from Naval Station Norfolk, VA.
One of the upsides of taking the Patriot Express is that everyone on the flight is in the same situation you are. So when everyone lands at Ramstein Air Force Base, everyone is given instructions for what to do and where to go next.
So if you're really nervous about missing a step or getting lost, this flight can help make that transition to Germany a bit easier for you.
But that doesn't mean it's an easy process! It is, however, the same process for everyone.
Important tip: You can reserve your Patriot Express flight for you and your pets up to 90 days before your report date (RNLTD)
Getting on the flight
The Patriot Express only goes from Baltimore (BWI) to Ramstein on specific days. No matter where you are in the US, you need to get yourself, your family, and your luggage to BWI in time to make your flight.
The travel office at your current duty station can take care of arranging your flight itinerary, but be sure to double triple check that your flights have been booked and paid for!
Speaking of luggage, Patriot Express is more generous than commercial flights:
• 2 pieces of checked luggage no more than 70 lbs
• 1 standard issue B-4 duffel bag no more than 100 lbs
• 1 45-inch hand carried item (small suitcase, garment bag, backpack) that fits in overhead or under the seat
• 1 hand carried personal item (purse, cosmetic case, briefcase) that fits in overhead or under the seat
And that's per person. Keep in mind, however, that you'll still have to lug it around from airport to airport, on the bus, and then to your hotel!
Get Our FREE Checklist! ✅
Arriving in Germany
After your 9-hour flight, you'll land in Ramstein, which is on the opposite side of Germany from USAG Bavaria. Once you collect your luggage, you'll either check in at the Ramstein Inn (located across the street from the terminal above the Ramstein SUPER BX) or you'll stay in a town nearby (get with your unit or sponsor about accommodations).
Important tip: If you take the Patriot Express, you do not need to book your transportation from Ramstein to Grafenwoehr/Vilseck when you land. USAREUR (the Army command in charge of operations throughout Europe and Africa) is in charge of that.
After a good night's rest (hopefully), a bus will take you to Grafenwoehr/Vilseck. It's a long drive and will likely take all day.
Yes, all day. You may see on Google maps that it's less than 5 hours, but because you're on a slow-moving bus, and that bus driver will take breaks, the drive will take all day. Keep in mind, per German law, all pets must be in their crate under the bus for the entire ride. You can let them out to potty when the bus takes breaks.
But once you get to building 244 at USAG Bavaria Grafenwoehr, you'll start in-processing and meet your sponsor.
Can you avoid the bus? Good question. Although uncommon, you can ask your sponsor to pick you up at Ramstein. If they're kind enough to give you a ride, offer them gas money for the drive and make sure their vehicle is big enough for your entire family, luggage, and any pet crates.
Patriot Express: Community Experience
Every once in a while, incoming families will take the time to thoroughly share their Patriot Express experience. This is so helpful because it gives you a realistic perspective of what you might expect from BWI to Ramstein.
Meet Emily Poplawski and her military family of 5 (+ dog) who took the Patriot Express in June of 2022.
"We flew out of BWI. We are a family of 5 with 3 of us being small children (8,6,2)...
We had 8 checked bags, 5 carry ons, 5 back packs (personal items), a stroller, a carseat, and a large dog in a 48″ Impact crate. We arrived to BWI obscenely early (because we are anxious people). We arrived at 10am.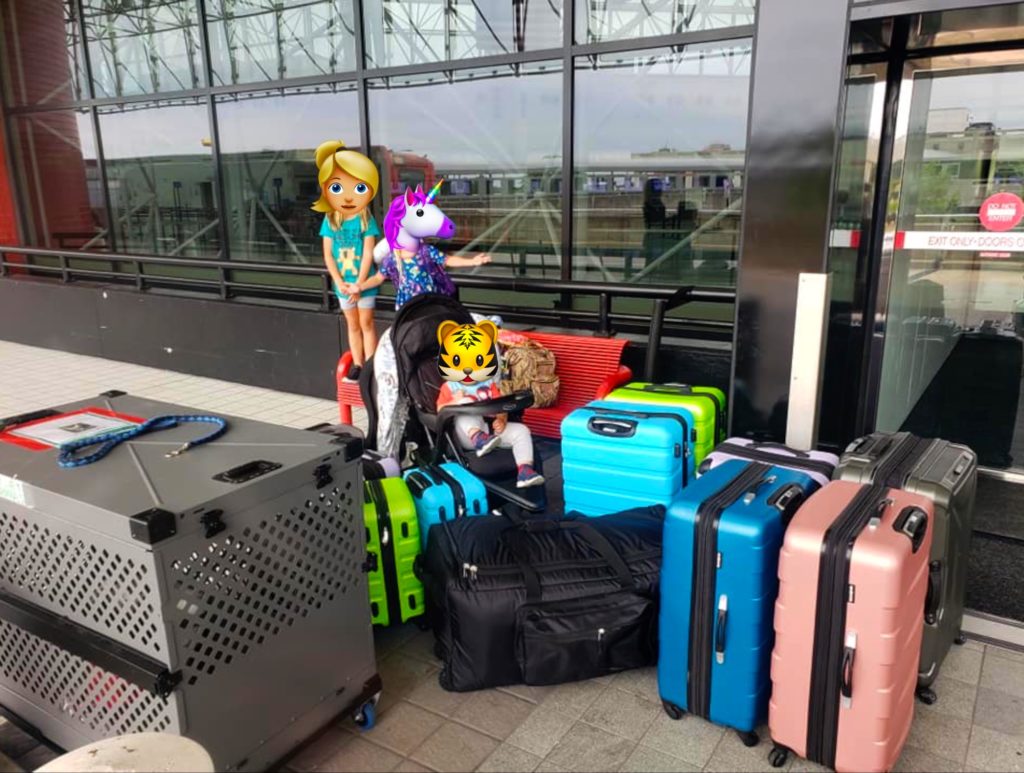 We got dropped off at the AMC door and my husband went in and downstairs to the USO to find a volunteer and a cart. We were so early that the USO volunteer wasn't upstairs just yet. The carts are to the left when you walk through the airport doors. The USO lady directed us to sit on the first bench. The benches diagonal across from the AMC desks is where they start lining families up. While waiting at the bench you will get luggage tags for your checked bags and papers to fill out for the health screening. You can go downstairs and get snacks and food from the USO while you wait but someone has to stay with your bags at all times.
At 13:20 they started the health screenings (general questionnaire with COVID questions). For the families, a member of the health care team comes to the families and checks the paperwork and looks at vaccine cards.
***Heads up if you had J&J and you can't prove you got a booster you will need a negative PCR. There is a health care facility in the airport next to the Starbucks that can complete a PCR in roughly 30 mins. Tricare will cover the PCR cost, otherwise it's $250.
Once you clear the health screening the military member takes the forms to a white table set up in the corner of the terminal near the carts. The family is directed to move into the lines for the check in counter. Familes and pets are the only ones in this line. For our flight there were two agents checking bags.
Once called to the counter the agent will ask for cac card, orders, nato orders, 7 page bilingual doc aka health certificate (for pets), and no fee passports (make sure they are signed). They weigh every single thing you are flying with. One of our checked bags was over weight but our agent was super nice and didn't charge us.
Note when we went to check our dog at 18:00 familes were walking in and just starting the process. The line was completely gone and they went straight to the counter. I know they made the flight.
We had a dog so the next step is for families with pets. If you don't have a pet jump down to security. So once we checked our bags we were instructed to stay on this side of security until 2 hours before the flight so we could turn in our dog. When you walk into the terminal the pet turn in area is to the left of the counter. Across from the white table from the health screenings. Our flight was at 20:05 so they started accepting dogs at 18:05. We were the 4th of 6 dogs to get checked in. The process is super quick. They are checking to ensure the kennel is appropriate for the flight and the dog fits correctly. We flew with the largest collapsible Impact crate that is made. We had the tsa rails, backs, and front piece added to make it flyable. Our dog is a 66 lb Siberia husky. We had no issues.
Once we said good bye to our dog we headed to security. Military members and dependents are TSA precheck approved, so skip the long line. The agents can direct you to the right spot. Have your no fee passports and boarding passes ready. You have to remove shoes, ALL electronics, liquids. It was a pain but not the worst ever. If you have a stroller they roll it through a gate and inspect it. Don't collapse it or they will get rude with you. I had milk for the baby which was check but had no issues with anything. Honestly super easy security imo.
Once we got thru security we headed to our gate. We had about an hour and a half until the flight so I ran to the snack shop and bathroom with the kids. There are water bottle refill stations all over so bring empty water bottles. The one I used is by concourse E right next to the pub and women's bathroom.
Flight took 8ish hours and was uneventful. You are served 2 drink services, a dinner service, and a sandwich service. Food for dinner was chicken with veggies (yummy) or pasta with red sauce (bland). The chicken came with sides of cole slaw (yummy), a roll (yummy), black beans and corn (didn't eat, personal preference), and a slice of pound cake (delicious!!!). Sandwich service was turkey or roast beef. I was asleep but my husband got roast beef and said it was good. There are little tastes for watching movies and TV shows. The movies are all older but it was a good selection. Lots of choices for the kids.
Landed in Germany and was directed to security and customs. The first area will check the active duty members orders and sign the leave form. Gate checked items (like our stroller) are picked up in baggage claim. Once you get through customs (which just wanted no fee passports and cac card) you go to baggage claim. The pets are already unloaded and on the far left of the conveyer belt. The gate checked items will be near the pets in the back left corner if you are facing the conveyer belt. Carts are to the left under the stairs in front of the conveyer. None of our luggage was damaged and was easy to locate because we put red duct tape on all the bags.
*** Be prepared you have to go down 2 flights of stairs to get to customs. We were not prepared for this and had to carry all 10 items we carried on plus the carseat.
Once you get all your luggage you are directed through the USO (and a lobby for single passengers needing a bus) and escorted to where the sponsors are waiting. The staff at the airport are extremely friendly and accommodating."
Go to the FULL Facebook post here.
Flying Commercial
If you choose (or if you're forced with an Exception to Policy "ETP") to fly commercial when you PCS to Germany, you may be more comfortable, but you'll need to manage more of the logistics yourself.
Getting on the Flight
You need the following documents before booking your flight:
• your orders
• command sponsorship
• passports for every family member
At minimum, you'll need your tourist passports. Ideally, you'll have your SOFA stamps as well! You should also have your EFMP screenings completed by this point.
You can book the flight through SATO, which is very familiar with the PCS process. You can also use your local travel office or do it yourself.
Keep in mind that you should not be paying for these flights out of pocket! Use your government issued credit card to book your transportation. And make sure your card is active before embarking on this journey.
Also, many of the airlines have global partnerships, so be aware when booking your flights and showing up to the airport. For example, Delta, Air France, KLM, and Virgin Atlantic have a joint venture. Always double check your tickets and flight information so that you know where to check in!
And speaking of check-in, commercial airlines have a weight limit of 50 pounds per piece of checked luggage. But if you show them your orders when checking your bags, they'll usually waive the fees for excess weight. (Key word: usually.)
Travel tip: Ask for a possible seat upgrade! When flying commercial from the United States, let the ticket agent know you're flying with US military orders overseas. Every once in a while you may get a nice ticket agent who will offer you a seat upgrade because of your military service. Americans are super patriotic, especially when it comes to serving your country overseas. My ticket agent bumped us up to first class on my PCS to Germany! You don't know unless you ask!
Arriving in Germany
As soon as you book your arrangements, let your sponsor know the details. Your unit will need to organize your transportation from the airport. Closer to your travel date, let them know:
• How many family members are traveling (including pets)
• How much luggage you will have
• Any changes to the flight schedule
• Which airport you're arriving at!
It may also be a good idea to send a couple pictures of your family so that your sponsor can easily find you in a crowd.
Need Airport Shuttle Service? Check out Airport Runner or Rita's Airport Shuttle for pick up/drop off shuttle service at Ramstein/Kaiserslautern & Frankfurt Airport/all other airports in Germany.
After you land, you'll go through customs before you reach baggage claim. Have your tourist (fee) passport, your no fee passport (with your SOFA stamp), your military ID, and your orders readily available.
You don't need to hand the customs agent everything at once. But if they ask for more information, it saves you the trouble of sifting through your bags!
Flying Commercial: Community Experience
If you need to fly on a commercial flight, here is a friendly spouse that shared her experience, Sherrie Gerena writes,
"Sharing our Commercial Flight [experience] with a large dog from Atlanta to Frankfurt….for reference my dog is about 60lbs and we are Army.
Once we we're told no pet spot on the rotator my husband got an ETP (exception to policy) that said we could fly commercial. Next we had to wait for our EFMP clearance and updated orders to include all our names.
In the mean time I did all the research about dogs flying and found Lufthansa to be our best option. I looked at all our options of where to fly out from, direct flights, and flight times. I found flying from ATL direct to Frankfurt best, but Munich would have been closer. To go direct to Munich we would have had to drive to Dulles or JFK which is 12-14 hrs so not a great option. Into Frankfurt we did have a 3 hour drive to our house, but to me it was better than 12 hrs 🙃
Once updated orders came we went to the SATO office and I gave them my preferred flight numbers. Basically there was a flight every Monday & Wednesday out of ATL. Just to clarify this was a United Airlines OPERATED by Lufthansa flight. If you try and book just Lufthansa SATO will kick it back.
A few days later we got an itinerary in an email with instructions to call and pay for the flight. I called and was on hold for an hour (which is standard so be ready!) we gave them the gov. travel card and told them we needed to pay today and the tickets be issued today. Otherwise they wait until like 3 days before travel to purchase & issue. But you CAN'T book your dog unless the tickets are paid and issued! So just explain to them you have to book a dog spot and they'll go ahead and pay then.
Next I called Lufthansa, again expect to be on hold for an hour! I gave them our ticket Info, the size of our crate (which was a 500 series) and the weight of our dog and the crate (an estimate). They confirmed there was room for our dog and add the reservation. When I went back and looked at our flight info it did say dog reservation.
Last thing was to call and book her health certificate appointment, which has to be done within 10 days of traveling. We went to an on-post vet so it was all done that day. They checked her out, filled out all the papers, and gave me a 2 clear sleeves with her stuff. I was told one was for her crate and one was to keep with us.
Day of travel: showed up at the airport 3 hours before our flight. We checked in at the Lufthansa counter. We had her outside of the crate when we walked up. She looked over her paper work, gave me another form to fill out, and then the stickers to put on the crate. At the counter we paid the Excess baggage fee which was $293, which is the same amount I was told on the phone when I booked the reservation.
After we got the rest of our luggage checked in we walked over to Oversized Luggage to drop the dog. They checked her crate then told me to put her in with no collar or leash. We zip tied the 4 corners and they took her. I realized later that night I didn't zip tie the door shut, which most everyone says they do so I had a micro panic that her door would come open and she's get out 😆
Once we landed and made it through customs the crate was waiting with all the other oversized bags. No one was there or asked to check anything. We just got the dog and our stuff and left!"
Go to the FULL Facebook post here.
Tips from Personal Experience
After a rather eventful experience with Patriot Express and commercial flights, Megan (from the YT video above) shared her tips with us!
Double triple check your flights: there's no such thing as being too cautious! Patriot Express flights are posted one calendar month at a time on a standard set schedule. If you're taking a Patriot Express flight, you can check the Facebook page for updates. If you're flying commercial, stay up-to-date on the airline itself as well as your destination.
Roll Call: Depending on which Patriot Express flight you're on, you may have a roll call. Be present during possible roll calls when your plane arrives and/or when it's time to check in for departure. Get to the airport early and ask the Patriot Express ticket agent about roll call procedures.
Prepare to wait: The Patriot Express has a reputation for departing late. The shops and restaurants will not stay open, so make sure you have enough snacks and entertainment!
Plan ASAP for pets: There are limited spots if you take the Patriot Express. Call to reserve one as soon as you know which flight you're on! Your pets can also fly commercial or with a pet shipper. But regardless of how they travel, get started on the process ASAP. Also remember that if you fly with the Patriot Express and then take the bus to your duty station, you will have to put your pet in its crate under the bus for the whole ride per German law.
If pet slots are NOT available for your Patriot Express flight, you have a couple options.
– Your dependents can wait behind until there's a slot available on a later date.
– You can search for pet shipper options, which is a little more expensive, but some can ship door to door.
– You can fly commercial with an Exception to Policy letter (in order to get reimbursed). Make sure you reference page 19 of the Defense Transportation Regulation (DTR) I-103-19 section d.
Ask for HELP: Don't be shy to reach out to your gaining community for help with your PCS. Search within the Facebook group of "A Perfect PCS to Germany" for FAQs or ask your specific questions to community group members. We're all here to help 🙂
Upgrade your seats: Remember if you fly commercial, there's a chance you can upgrade your seats. Doesn't hurt to ask!
Prepare for the Wurst with a Smile
The biggest tip Megan has for people PCSing to Germany? Prepare for the worst.
We all expect long lines, overpriced airport food, and a crying child somewhere along the way. But when you're moving to another country on orders, the pressure is on.
So download an extra season of your favorite show and get comfortable! Eventually you'll look back on this moment as the beginning of an incredible chapter of your life.
Still stressed about PCSing to Germany? Get the Ultimate PCS Checklist to ease your worries!
RELATED VIDEOS