What's home without your furry companions? Your PCS to Germany may be stressful, and bringing pets can be another obstacle to overcome. But if you plan ahead, your PCS with pets to Germany can be less of a headache.
How to PCS to Germany with Pets
Since 2001, families PCSing to Germany are authorized to bring only two pets (unless you have an Exception to Policy wavier), which can either be cats or dogs. No other pet types are currently permitted by the DoD.
There are, however other ways to get more than 2 pets over to Germany.
Although not ideal, pets could be flown on separate planes. One set could be flown via Patriot Express, while the other(s) fly commercial.
You could have pets flown on separate tickets as well.
For example, if you have 2 dogs and a cat, you will more than likely get authorized to fly the two dogs through cargo/excess baggage on one ticket, and the cat could go in cabin through a ticket connected with your spouse or another command sponsored family member in your party.
Check with your transportation office for options, and make sure to look at each of your tickets to see how many pets you are authorized to bring, sometimes it's written right on there!
While there aren't any restrictions on cat breeds, there are a few breeds of dogs (as well as their crossbreeds) that cannot enter the country
Category I:
– Pit Bull Terrier
– American Staffordshire Terrier
– Staffordshire Bull Terrier
– Bull Terrier.
Depending on where you're stationed, the individual states also have restrictions on dog breeds.
There are other dogs that may be permitted to enter the country (Category II), but they have to pass a temperament test first. If they pass, they will still need to follow some additional restrictions (more on that in a bit).
Category II:
– Alano
– American Bulldog
– Bullmastiff
– Bull Terrier
– Cane Corso (Italian Mastiff/Italian Corso Dog)
– Dogo Argentino
– Dogo Canario (Perro de Presa Canario)
– Dogue de Bordeux
– Fila Brasileiro
– Mastiff
– Mastino Napoletano
– Mastin Espanol
– Rottweiler
– Perro de Presa Mallorquin (Ca de Bou)
And keep in mind that you won't be reimbursed for any of your pet's travel costs!
Go to the vet
Once you've determined that you can PCS with your pet to Germany, contact your local vet clinic.
Military vets will save you time and money over civilian vets.
If your pet isn't already chipped, you'll need to do that before updating your pet's rabies shots. And don't wait on this! If your pet needs a rabies shot, it has to wait at least 21 days before it can enter the EU.
But that's not all, folks. Your pet also needs a *USDA accredited health certificate issued within 10 days of departure. As if you don't already have enough going on.
You can download a copy here.
Ideally, the clinic knows what steps you need to take for a smooth process, but that's not always the case. Your vet may tell you that you don't need it, or that they can't do it. But you need the health certificate, so make the appointment no matter what, even if you have to do it at another clinic!
Contacting the clinic at your future post is a good idea, too. They will be able to prepare you for what to expect once you arrive.
Pet Shipper
If commercial airlines or the Patriot Express aren't working out for you, take a look at the International Pet Shipper options.
The right pet shipper will relieve so much stress for you and your family. As you saw in my video above, many military families are turning to Feathers & Fur Express to take care of their fur baby transportation needs.
This Georgia based company can help you with just about all things pet related.
Some of their included services:
– Measuring your pet & crate recommendations [VIDEO]
– Pet relocation and air cargo charges
– Meeting at the airport for flight check in
– All coordination and communication for health requirements
– Military discounts and raffle drawings to save big bucks
– And they even have optional add ons such as customs clearance and home pick up/delivery
At this point in time, if you want to just weigh your options, I suggest requesting a quote and taking advantage of their military raffle drawing!
Prepare to travel
Airlines (including the Patriot Express) have varying restrictions for how to travel with pets. For example, as of 2020, Lufthansa no longer transports snub-nosed animals in the cargo hold.
Remember: Pet travel expenses are NOT reimbursed by the government. So, whether you're flying Patriot Express with other military families or commercial airline, it's important to understand the specific pet rules for your chosen airline carrier.
One of the first things you need to do is buy an IATA (International Air Transport Association) certified crate that fits the requirements for your companion's weight and measurements. Do this early so you have time to crate train your pet in preparation for the long flight.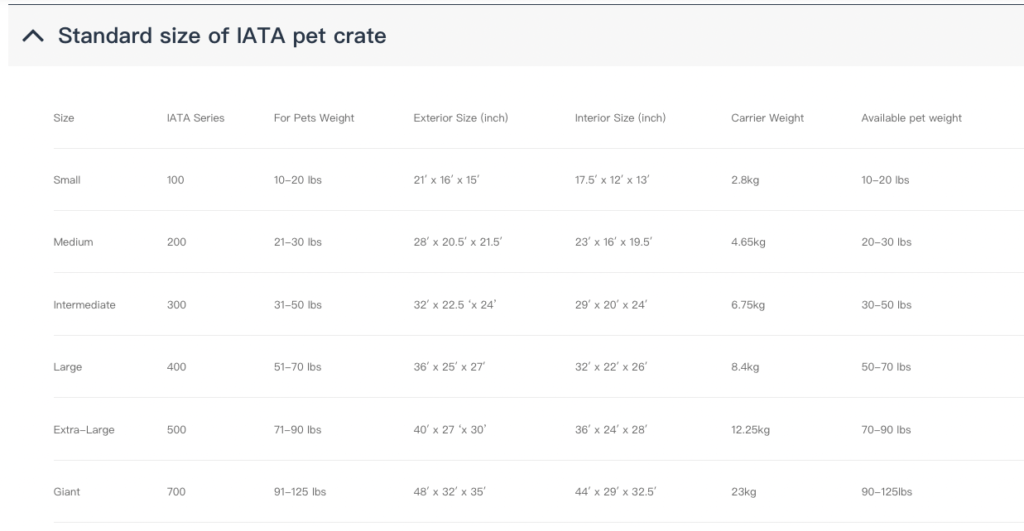 Small animals will more than likely go in the cabin. Most airlines treat in cabin pet kennels/carriers like carry-on baggage and will be stowed under the seat in front of you for the duration of the flight.
For travelers taking the Patriot Express, your in cabin kennel size must not exceed 20″l x 16″w x 8.5″h. Kennels must be large enough for you pet to stand up, sit down, turn around, and lie down with normal posture and body movement.
All kennels need to provide adequate ventilation on at least three sides.
Soft sided carriers are accepted in cabin only (for Patriot Express), and need to have leak proof/water repellent padded nylon with mesh ventilation on at least two sides.
For the Patriot Express, the combined weight of your pet and kennel must not exceed 150lbs. You can see all the associated weight fees (pet + kennel) for the Patriot Express here.
If you have a 2 piece kennel, make sure it's bolted by metal nuts/bolts as plastic clips are not authorized by many airline carriers. It's also recommended to secure the kennel door with a zip tie for additional safety.
The bottom of the kennel needs to have several layers of newspaper, shredded paper, cardboard or absorbent material (do not use any hay, grass, wood shavings, sand or soil. And make sure to give your pet proper exercise and potty breaks right before the flight.
A blanket inside the kennel with your scent also goes a long way for anxious pets (and anxious parents ☺️).
Important tip: You can reserve your Patriot Express flight for you and your pets up to 90 days before your report date (RNLTD)
Outside the crate, you'll need to provide "Live Animal" & "This Way Up" stickers (commercial airlines usually has extras, but ask ahead of time to make sure), a copy of the health certificate, general info about your pet (name, pic, last time fed, feeding instructions, etc), and a ziplock with food.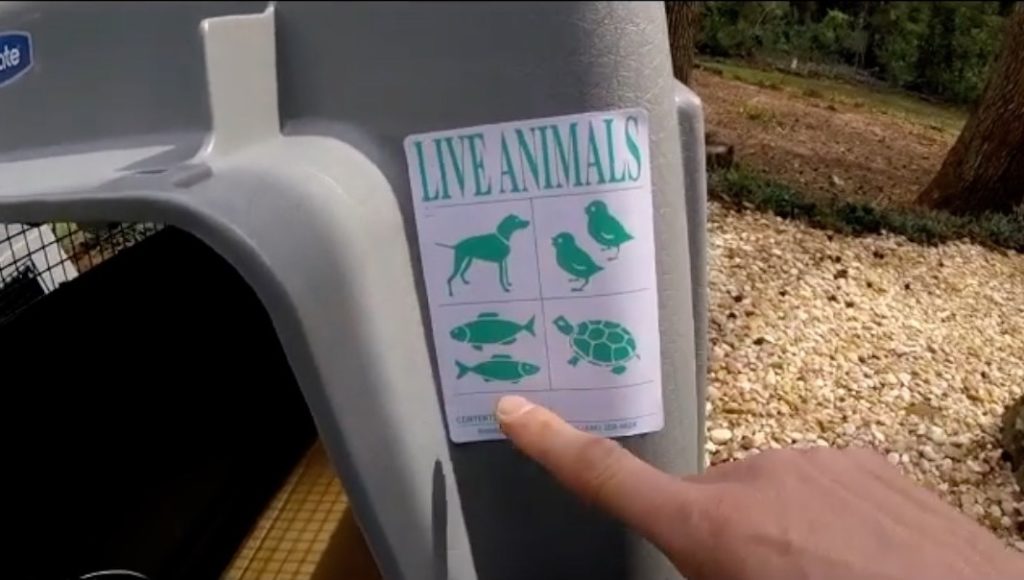 You must also provide food/water bowls which can be zip-tied to the door. If you're using a reversible drinking water bottle, make sure your pet is familiar with using it.
Pro Tip: Use metal/stainless steel food & water bowls (instead of plastic) so your pet doesn't have the opportunity to chew the plastic out of frustration during the flight. Check out the detachable bowls with clamps or the bowls with hooks.
In order to make sure you have purchased everything for your pet before travel, here's my "Pet Starter Kit" to keep you organized:
– Dogs: These crates are very popular for military PCSers going overseas. They are IATA certified, they come with "live animal" stickers, food bowl, and also removable wheels for easy transport.
– Intermediate Dogs: 31 – 50lbs IATA 300 series.
– Large Dogs: 51 – 70lbs IATA 400 series.
– Extra Large Dogs: 71 – 90lbs IATA 500 series.
– Giant Dogs: 91 – 125lbs IATA 700 series.
– Cats: These carriers are great for cat carry-ons and meet IATA standards. It can be opened on three sides, includes a bowl, and can be carried or used as a backpack.
– Metal bolts to secure 2 piece kennels
– Metal feeding bowls with clamps, and/or with hooks
– Zip ties
– Absorbent pads for accidents in the kennel/carrier
– Stickers: "Live Animal" & "This Way Up" Arrows
And, of course, don't forget to buy a pet ticket! The Patriot Express charges anywhere between $100 to 400, and private airlines may charge anywhere between $400 to 2,000.
If pet slots are NOT available for your Patriot Express flight, you have a couple options.
– Your dependents can wait behind until there's a slot available on a later date.
– You can search for pet shipper options, which is a little more expensive, but some can ship door to door.
– You can fly commercial with an Exception to Policy letter (in order to get reimbursed). Make sure you reference page 19 of the Defense Transportation Regulation (DTR) I-103-19 section d.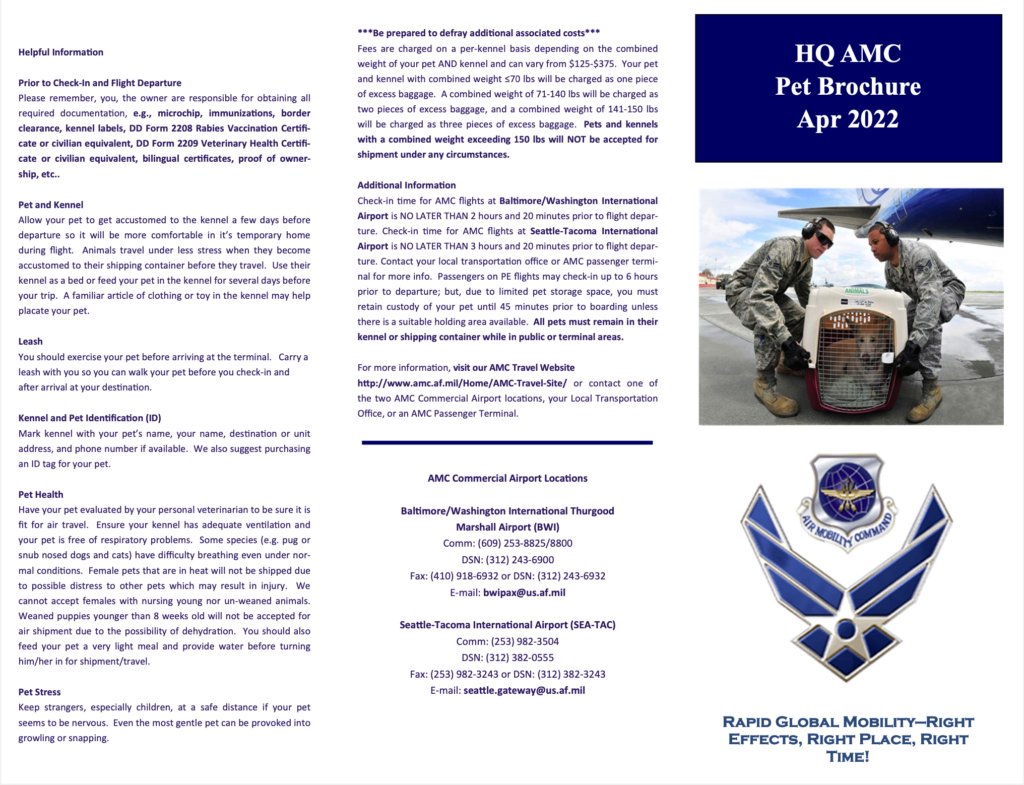 *Check out all the updated Air Mobility Command (AMC) – Patriot Express pet travel requirements here. If this government website doesn't cooperate, copy/paste this link: https://www.amc.af.mil/AMC-Travel-Site/AMC-Pet-Travel-Page/
Get Our FREE Checklist! ✅
Arriving in Germany with Your Pets
Once you land, you and your pet will be desperate to reunite (and probably have a bathroom break). But you'll have to pay the fees first.
Before you collect your pets, a vet will inspect them in quarantine. Afterwards, you may need to pay a fee up to €200 before you can take your furry friend with you.
Registering your pet
Once you arrive in Germany, you need to register your pet with the veterinary clinic on post within 14 days. If you don't, you won't be able to secure government-leased or on-post housing.
If you have a Category II dog, you will also need to register with your local Rathaus (town hall) once you have housing. Plus, they must wear a leash and muzzle in public areas. The municipality may also have a tax on your dog (Hundesteuer).
Additionally, the German government requires that you register your pet with TASSO. Whether you have a cat or a dog, TASSO can help you find your pet in case they get lost!
Adopting a Pet in Germany
Unlike the U.S., Germany doesn't have many animal shelters, probably because they have such rigorous regulations for owning a pet! They don't take pet ownership lightly, and neither should you. Be sure to discuss the costs and responsibilities with your family before adopting a new furry member.
And if you decide to purchase a pet from a German breeder, make sure you have a trusted third party translate the contract for you.
Pet Passports
You don't necessarily need a passport for your pet before you PCS to Germany. But if you don't fly the Patriot Express, some airlines may require it. We recommend contacting your airline to confirm their requirements.
If you plan to travel within the EU with your pet, you will need a pet passport issued by a licensed vet. We recommend contacting your local on-post clinic to find out more information.
Dog Care in Germany
As mentioned previously, the Germans take dog ownership very seriously. For example, while it may be socially unacceptable to leave your pet outside all day in the U.S., it's against the law in Germany.
And if you leave your dog home alone all day with no one to walk them or play with them, they may develop destructive habits or bark all day. If your dog barks or howls continuously for 10 minutes, it's considered a noise disturbance. As a result, you could have your dog taken away.
If you bring your dog out in public, they must be well-trained. It's expected that you wouldn't bring an untrained dog to a restaurant. If you have any doubt that your dog can't behave in public, just don't.
For information on pet sitters and boarding your pet when you travel (because you will definitely travel), the on-post vet is a great place to start. They have information about boarders throughout the area, as well as pet sitters.
And be sure to book your boarders or pet sitters in advance!
Like, as soon as you buy those plane tickets for the four-day weekend, book a reservation at a boarding facility.
"Dog Care" Kindergarten in Weiden
PCSing to Germany is stressful for everyone in the family. But it may be argued that it's most stressful for a dog, who has little understanding of the change that's happening.
Dog Care in Weiden offers day care Monday through Friday from 0700 – 1800. This certified (English/German speaking) dog care center employs staff who have training in dog behavior and pet first aid.
The space allows dogs to play inside and outside with plenty of toys and obstacles. The staff helps the dogs socialize and adapt to their surroundings.
Final Thoughts on Pet Ownership in Germany
When you PCS to Germany, seriously consider what it means to be a pet owner while you're stationed here. If you're not sure you can give your pet all the love it needs while you're stationed in Germany, consider re-homing them with family or friends.
And that goes for buying a pet in Germany, too. If you don't want to board your pet while you travel, or if you have an irregular schedule, this may not be the best time to introduce a new furry family member.
The rules in Germany are different from the U.S. It can be hard enough for adults and families to adjust to change, but imagine how your pets feel! If you don't help them adapt, they can develop destructive behaviors.
But there is certainly no doubt how much joy they can bring into our lives!
To learn more about PCS prep, stay prepared with my Ultimate PCS Checklist, or subscribe to the channel for more local insights!
RELATED VIDEOS