As an American living in Germany, there are a few highlights that you just have to experience: Oktoberfest, a Christkindlmarkt, Edelweiss Lodge & Resort, and the German-American Volksfest. But the Ramstein BX is a more recent, yet legendary place you have to visit.
And I get it, for some of you actually stationed in Ramstein, "legendary" may not be the first word that comes to mind when you think of the BX (especially on a weekend when lines are long and they're sold out of every size you need). But when you compare the size and amenities to literally ANY other Exchange in the armed forces (we won't name names 😊 ), I'd say you're in pretty good hands.
So, if you're craving a day of wandering around an American mall with American sounds and American smells, you have to check out the exchange at Ramstein!
About KMCC Exchange
Opened in 2009, the KMCC Exchange aka "Ramstein BX" (not PX) is the world's largest exchange at 800,000 square feet.
It has over 40 permanent and roaming concessionaires, a movie theater, a climbing wall, and a massive food court. It also has a hotel attached to it, which you may have experienced during your PCS!
Not sure whether to PCS via Patriot Express or commercial? Check out our blog to compare the experiences!
And what would an American mall be without WiFi? It's not the best, but at least you don't have to use your data while exploring the BX.
Dining Options
Obviously we have to talk about food. What's a mall without a food court and restaurants!
The Ramstein BX has more choices than any other PX you'll visit in Germany. The food court has classic American options like Boston Market, Taco Bell, and Popeyes, but also a few unique choices like Manchu Wok, Bun-D, and Wahlburgers.
You can find a rotation of different vendors and food trucks outside the BX as well. Plus, it has a few additional restaurants inside, such as the "Hofbräuhaus," Macaroni Grill, and Dunkin' Donuts.
Get Our FREE Checklist! ✅
Entertainment
This mall is so huge that the cinema has three theaters! So if you want to catch the next blockbuster on the big screen, but not at your theater on post, definitely check out the one at the Ramstein BX.
If you want to do something a bit more active, stop by the climbing wall and Ramstein Outdoor Recreation. You can rent equipment as well as book trips, as long as you're active duty, retired military, reserves, Air National Guard, a DoD employee, a dependent or sponsored guest.
Shopping at Ramstein BX
And now to review the main purpose of going to the Ramstein BX – shopping!
They have stores specifically for furniture and home wares, as well as shoes, clothing, jewelry, comics, and even Harley Davidson bikes.
And you may have noticed that your local PX doesn't quite have everything you need or want. The Ramstein Exchange, on the other hand, will pretty much have it all: cosmetics, supplements, linens, clothing, mattresses, shoes, toys, electronics…it's like shopping at your favorite tax-free Walmart or Target.
They also offer layaway plans, but they have some requirements:
• minimum purchase must be at least $25
• you must put down at least 15%
• clearance items, electronics $299 and up, major appliances, furniture, and outdoor living items are excluded
• 30 days for clothing, hand bags, and shoes
• 60 days for everything else (not jewelry)
• 120 days for fine jewelry
There's also a non-refundable $3 fee and a $5 fee for cancellations.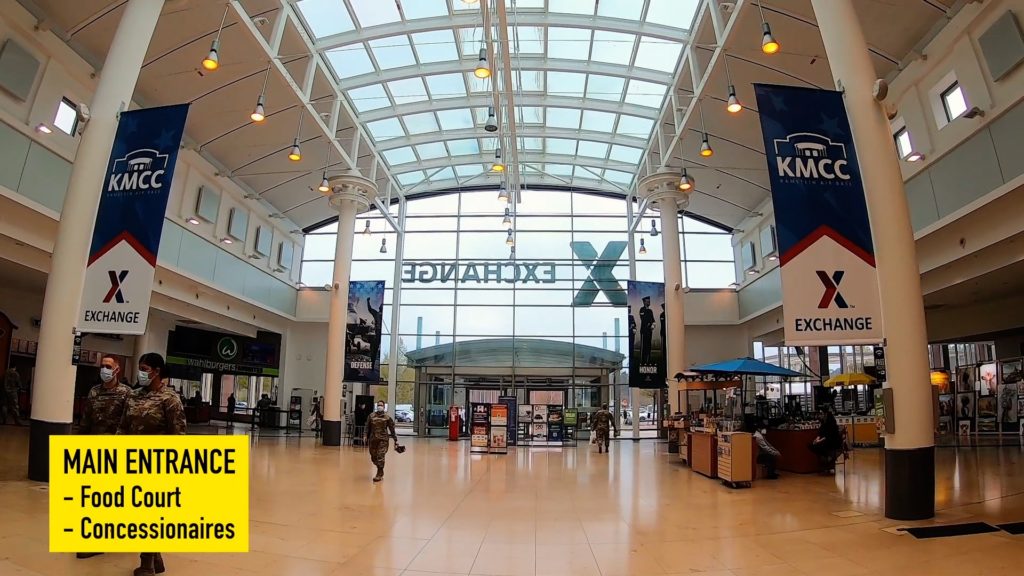 Services
There's more than one way to stay entertained at the Ramstein BX. You can get your haircut at the salon or barber shop, and then head to the spa to get your nails done and a massage.
You can also take your formal wear for dry cleaning and alterations, as well as your computers for repair. And if Ramstein BX is part of a longer road trip, consider renting a car at Entreprise or Sixt!
Treat Yourself at the Ramstein BX
The Ramstein Exchange is a one-stop shop for almost everything you might crave while living in Germany. It may not have a Spencer's gift store or an Orange Jubilee, but you can still have an American shopping experience that scratches the itch!
Are you preparing for your PCS? Subscribe to learn more about all your benefits as an American living in Germany, or get prepared for your move with our Ultimate PCS Checklist!
RELATED VIDEOS