Traveling during the pandemic was challenging, so my wife and I got creative and found 30+ Bavarian castles in our own backyard!
Pandemic or not, Bavarians are committed to spending time in the outdoors – walking, hiking, biking in literally all four seasons.
This got me thinking.
It's no surprise Bavaria is known for their incredible castles, but what many people don't realize is that you can actually enjoy them without even going inside. This also meant we could still travel during the pandemic without worrying about crowds of people, wearing a mask inside, or staying overnight in a hotel
So we decided to check out the all the incredible Bavarian castles around us. With my camera and Google maps in hand, we found 30+ Bavarian castles only 1-hour from our home in Grafenwoehr, Germany.
Americans Living in Germany: Know Before You Go
These 30+ Bavarian castles are close enough for a family day trip, but some may require a small fee. So you'll want to make sure you have cash (euros), plus, carry your military ID, passport, and vaccination documents (if necessary).
Wear comfy shoes.
To get to the castles, you'll have an uphill hike, but you'll notice some are wheelchair/stroller friendly.
How to find Bavarian Castles
No matter where you live in Germany, here's a tip to understanding the different types of castles in your area. A simple google search of "castles" will put you in the right direction, but here's the english translations of what you'll find on the map.
Good to know:
die Burg = The Castle

das Schloss = The Palace/Castle
What's the difference?
A "Burg" is essentially a castle, strategically built in the middle ages to protect citizens from its enemies. Not to be confused with "Berg" which is the German word for mountain. Although many castles in Germany have the word "Berg" in them such as "Schloss Heidelberg."
You may also see the word "Burgruine" which refers to the remains of a castle or "ruins."
A "Schloss" is also a castle but often referred to as a palace. These palaces were usually built after the middle ages as a display of wealth with no intention to help "defend" citizens. You will often see these castles near beautiful fountains & gardens, easily accessible by foot, and covered with expensive artwork inside.
*Click the address for the exact location!
Now on to the castles!
Best Bavarian Castles
1. Burg Dagestein
2. Burgruine Lichtenegg
3. Burg Pottenstein
4. Burgruine Hohenberneck
5. Burgruine Waldeck
6. Burgruine Weißenstein
7. Burg Falkenberg
8. Burgruine Flossenbürg
9. Burgruine Leuchtenberg
10. Hotel Burg Wernberg
11. Burg Trausnitz im Tal
12. Burgruine Kürnburg
13. Burg Stockenfels
14. Donaustauf Castle
15. Burg Wolfsegg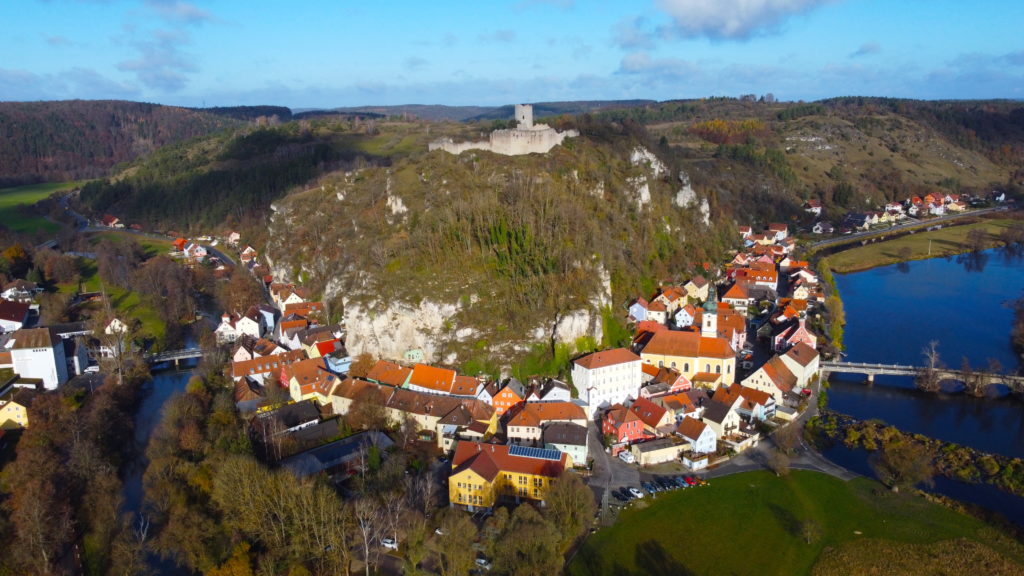 16. Burgruine Kallmünz
17. Burg Hohenfels
18. Burg Lupburg
19. Burg Parsberg
20. Burgruine Velburg
21. Burgruine Schöneberg
22. Burg Lengenfeld
23. Burgruine Wolfstein
24. Burgruine Haselstein
25. Burgruine Schellenberg (Oberpfalz)
26. Burgruine Liebenstein
27. Sulzbacher Schloss
28. Burgruine Poppberg
29. Schloss Neidstein
30. Burgruine Leienfels
31. Neues Schloss (Bayreuth)
32. Schloß Holnstein
33. Schloss Friedrichsburg
34. Burgruine in Simmelsdorf (Burgruine Wildenfels)
35. (Bonus) Burgruine Runding
Download these Bavarian Castles
We hope you enjoyed learning about all the castles within 1HR of your home. Whether you live in Bavaria or any other part of Germany, we encourage you to find all the castles in your backyard as well.
If you'd like a consolidated list of these castles, you can download my pdf for FREE here – Local Castle Travel Guide!
For more travel inspiration, check out our Ultimate Europe Travel Guide below, subscribe to the channel, or follow our video blogs for weekly content!
RELATED VIDEOS