Weiden in der Oberpfalz is less than an hour drive from Regensburg, Germany, and it's a perfect day trip for any Americans living in Bavaria! Fellow vlogger Andrew Smith and I met up with locals Annemaria and Thorsten to learn about things to do in Regensburg. But first, we stopped at Walhalla, Germany!
Walhalla Regensburg
In Norse mythology, Valhalla is the great hall where all the bravest warriors go after they die. Inspired by this story, Crown Prince Ludwig I of Bavaria commissioned Walhalla to honor various "politicians, sovereigns, scientists and artists of the German tongue."
And at the time, that didn't mean just people living in Germany. Anyone who was of Germanic descent or a significant figure in the Holy Roman Empire could qualify!
Does it look familiar? The structure is modeled after the Parthenon in Greece, but the sculptures on the sides of the building depict landmark German battles before the Napoleonic era.
The memorial holds 130 sculptures as of 2020! most people will recognize the names of Albert Einstein, Johannes Gutenberg, Mozart, Wagner, and Copernicus, but there are also numerous German figures who may not be familiar. So take the time to learn something new about German history!
And afterwards, enjoy a beautiful view of the Danube river. You'll find a small kiosk that serves beer, ice cream, and other small snacks. But you won't find any elevators, so wear comfortable shoes!
Things to Do in Regensburg
If you're at Grafenwoehr, Vilseck, or Hohenfels, Regensburg is an easy day trip! And even if it's farther than a 2-hour drive, anyone living in Germany should take a short weekend to visit this incredible Bavarian city.
The Regensburg Cathedral (also known as St. Peter Cathedral) is hard to miss! The landmark has gone through multiple renovations and restorations, but don't be surprised if you still see some construction happening.
For a great view of the Cathedral and the city, take a walk across the Stone Bridge! It's one of the original three bridges that spanned the Danube River (the other two are in Vienna and Cologne). The Bridge was originally made of wood, but after its destruction in World War II, they rebuilt it with stone.
And for more history, stop by the Roman Wall. It was built in 179 A.D., and pieces of it still remain today! Be sure to touch it and feel the history…
After exploring the city, take a bike ride into the outskirts of Regensburg. You can have a picnic along the Danube River, stop by a biergarten, or bike all the way to Vienna! Seriously: there's a cycling path all along the Danube.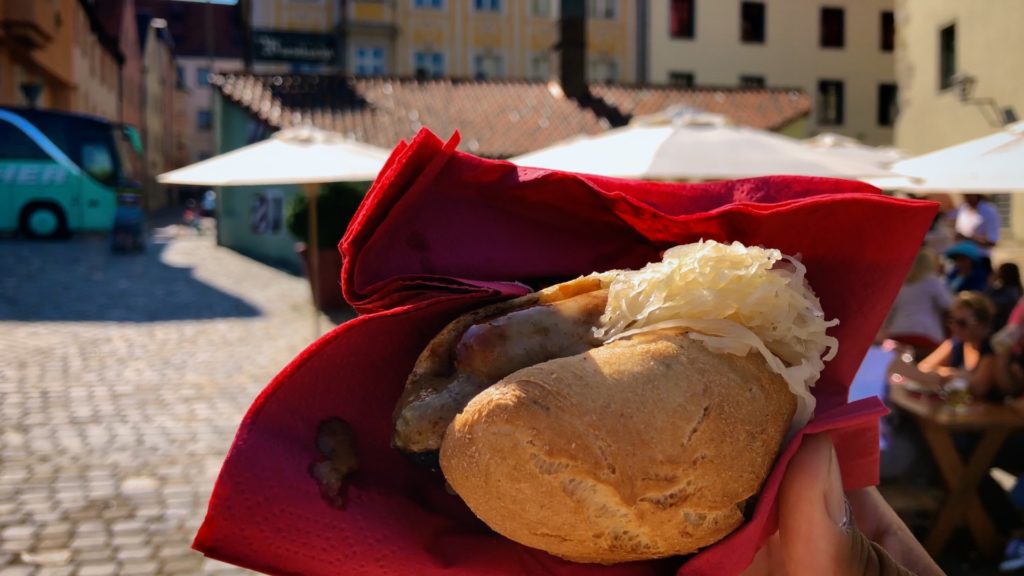 Regensburg Restaurants
If you're looking for a cup of coffee, stop by Cafe Prinzess. It's the oldest coffee shop in Germany! (Not like the coffee shops in Amsterdam.) They have a great assortment of chocolates, pastries, and cakes to go with your cappuccino.
Another historical landmark is the Wurstküche: the oldest fast food restaurant in the world. They serve up a classic brat on a bun, but unlike the rest of Bavaria, they serve their sausages on a soft, rectangular bun instead of a round semmel! Treat yourself to a wurst with a healthy serving of sauerkraut and a squeeze of mustard.
And don't worry – if you leave Regensburg on the bike path, you can still find great biergartens along the way! Relax with a beer and a plate of obatzda. What better way to enjoy an afternoon by the Danube?
Frequently Asked Questions about What to Do in Regensburg
As an American living in Germany, I've answered a couple common questions about visiting the capital of der Oberpfalz. Have a different question? Ask me in the comments!
What are some top Regensburg attractions?
Walhalla Regensburg is definitely a must-see when you visit. If you're interested in old, historical landmarks, I recommend checking out the Roman Wall and the Stone Bridge. But just walking around the city is worth the trip, too!
When is the best time to visit Regensburg?
You need to visit between May and October to enjoy everything to the fullest, especially the biergartens.
Living in Germany? Visit Regensburg!
This Bavarian city is a unique cultural experience for anyone living in Germany. The city has historical sites, great food, and all kinds of hiking and biking paths to explore. So go learn something new!
Looking for more local Bavaria tips? Subscribe to my Youtube channel!
---
RELATED VIDEOS