We have wanted a dog ever since we moved to Germany! But because we love to travel, we never had time to find one we could love, train, and give it the attention it deserves. But that changed in spring of 2020 when the COVID-19 pandemic kept us home for nearly four months.
Regardless of whether you're PCSing to Germany or living in the same house for 20 years, this list of puppy essentials will help any first-time puppy parents. Everything here is DTV and Baxter approved!
Americans Living in Germany: Know Before You Go
If you want to get a dog while living in Germany, we highly recommend going to a breeder. You won't find many animal shelters because of how strict the country is about pet ownership!
Ask your friends and neighbors for breeder recommendations. And if you know anyone who speaks German, have them review any paperwork and contracts from the breeder.
At your appointment, you'll meet the puppies and choose which one you love the most! Depending on how old the litter is, you may have to wait a few weeks for your new pup to grow a bit bigger.
But in the meantime, the breeder will send you home with a puppy supply list to prepare for your new furry family member.
Puppy Essentials from the Breeder
We found most of the recommended products helpful, but there were a few items on their puppy supply list that we don't recommend purchasing.
Best Puppy Essentials from the Breeder
All the dog healthcare items were essential and necessary! As first-time dog owners, Baxter's health was a priority from day one.
Deworming medicine is extremely important. While tapeworms can be easily transmitted by fleas, many common worms and parasites can actually come from the mother.
Definitely buy the medication in advance, in addition to ear care, dental care, and paw care items.
And other puppy care items like the shampoo, conditioner, rinse spray, and brush set have been extremely useful as well. No regrets buying the things that keep him handsome!
In addition to the basic puppy essentials for your dog's health, there are also some items that are crucial to your happiness as pet owners. The breeder knows what kind of food your new furball will enjoy, and as an American living in Germany, it's really helpful to learn about it from a local!
Pro-tip: In Germany, Wolfblut food is very popular. We highly recommend it!
Other essential items include the food and water bowls, dog crate, and leash. You may not need the exact brands that the breeder recommends, but they're necessary for your dog's everyday well-being.
And we definitely recommend walking your dog on a chest harness instead of a collar so you don't hurt their trachea.
Non-Essential Puppy Products from the Breeder
To start, we found the portable drinking bottle confusing and not worth the energy. Just bring a water bottle and put it in a bowl!
We also don't really use the safety seatbelt leash. There's no reason for Baxter to roam around the car while we're driving.
Instead, we suggest buying a car seat for the dog where they can stay comfortable in one position with their favorite blanket. And with a seat cover, so you don't have to clean all the seats as they walk around your car!
We also don't recommend anything wooden. We received a wooden puppy basket from the breeder and Baxter chewed it right up. It not only makes a mess, but the small pieces of wood can be a hazard.
What to Buy for a New Puppy: From the Owner
We talked to a lot of friends and did our own research on the best things to buy for a new puppy. Every family is different, but these are the things we love and the things we can live without.
Things Needed for a New Puppy
Toys might be some of the most important items for your puppy! You will, without a doubt, want to buy everything that your dog smiles at, but there will only be a few toys that endlessly entertain them.
Baxter absolutely loves the teething toys and tube snack, but he loves the pig ears even better. We didn't include them on the original list, but we buy a lot of them now!
These chew toys keep him quiet and busy for hours, but they get really gross. Every time Baxter slobbers on one, it collects a ton of hair and dirt.
So if you like having a clean house, you have to get puppy wet wipes! Somehow Baxter is always dirty: he loves to play in the sand, roll around in the dirt, and then pee on himself (not necessarily in that order). And these wet wipes are a quick way to clean his paws before he zooms through the house.
And speaking of dirty, we also love the puppy cologne. It just makes puppy cuddles that much nicer!
The odor and stain remover are also essential things to buy for a puppy. No matter how early you start training, there will inevitably be accidents.
And removing the stains doesn't just help your home smell better. It will also help prevent your dog from returning to the same spot to make the same mistake!
As for items you need when traveling with a puppy, I highly recommend clipping your poop bags to your favorite leash. That way you never have to worry about misplacing one or the other, and you won't forget to bring the poop bags. You definitely don't want any Germans yelling at you for not cleaning up after your dog!
Pro-tip: Most restaurants in Germany are very dog friendly and will give you a personal dog bowl with water.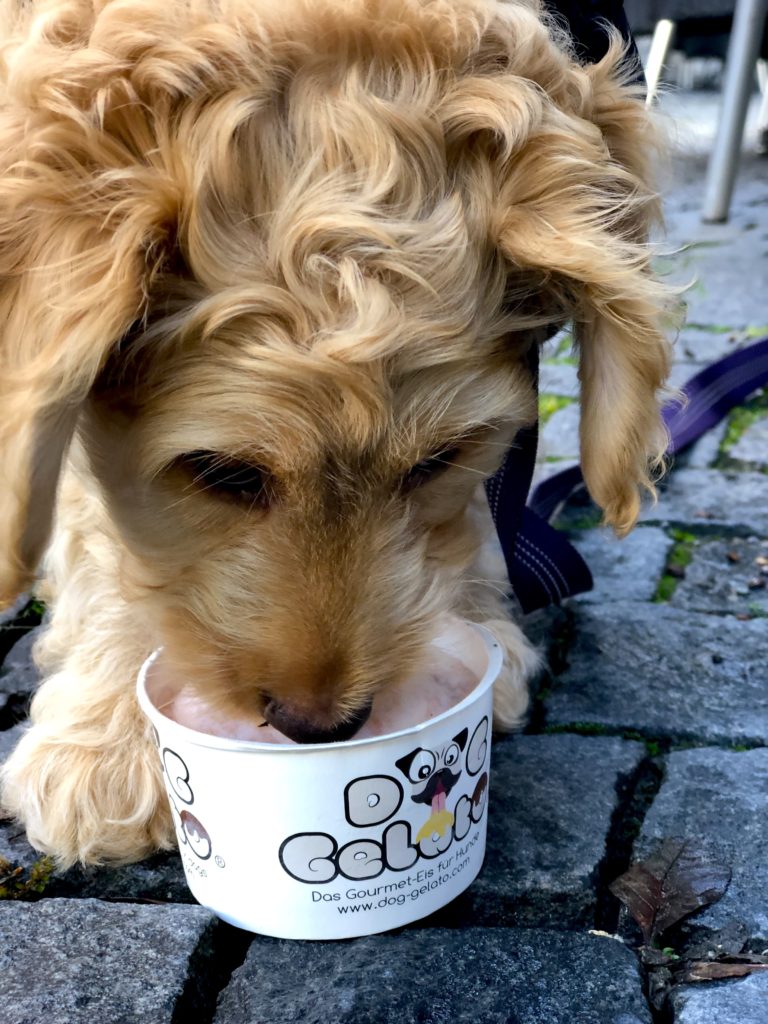 If you plan to travel with your puppy, I highly recommend buying a puppy stroller. We bought it spontaneously in Berlin from Koko von Knebel because Baxter can't handle himself in a huge city on a leash all day.
And the stroller is just as much for him as it is for you! The stroller carries all our stuff as we explore, like our bags and snacks. It also saves us from the hassle of Baxter trying to be friends with absolutely everyone.
In addition to the stroller, we also got a puppy travel bag so he can be carried over our shoulders. It's great for keeping him close while also having our hands free.
And last but not least, I have to recommend costumes and clothes.
I used to be the guy who laughed at the dog strollers and people who clothed their pets, but Baxter doesn't seem to mind any of it. The clothes are awesome and most people think it's cute, so I'm all about dressing him up! However, I don't recommend clothing your puppy on a hot day, the thick furry coat + the heat of the sun will cause overheating.
Things You Don't Need for a New Puppy
Overall, we are really happy with everything we bought for Baxter. But there's a couple things that disappointed us.
To start, the Snuggle Puppy toy was a let down. The puppy toy itself is great and Baxter likes snuggling with it, but the heart beat and heat pads are unnecessary.
I recommend just buying the stuffed toy, especially since it will eventually be destroyed!
The other big disappointment was the bitter apple spray. It only works for a limited time, so you have to spray every day if you want the dog to stay away from certain items.
Frequently Asked Questions about Puppy Essentials
What should be in your dog travel bag?
A lot. You may feel over-prepared, but you'd rather have something and not need it than need something and not have it! You will need:
• enough food for three meals a day
• medication
• a food/water bowl
• treats for obedience
• leash with poop bags attached
• a toy that keeps them occupied for hours
• wipes
• lint roller
• crate and blanket for overnight stay
• cleaner spray for accidents
• brush
• tooth cleaner spray
How much does a labradoodle cost?
The price of a labradoodle will vary depending on the breeder and the size of the puppy. You can expect the average labradoodle price to be between €1500 to €2500.
Bringing a Puppy Home? Make Your Puppy Essentials Checklist!
The basic care items like medication and food bowls are absolutely necessary for your puppy. But there are so many other toys and gadgets that will make your life easier as new fur parents!
Be sure to follow Baxter on Instagram as well as DTV.
And if you want more Baxter travel content, be sure to subscribe to my Youtube channel as well!
RELATED VIDEOS