My dear friend Stefan takes us on a free walking tour of the top 10 attractions in Munich, Germany! From biergartens to Englisch Garten surfers, these are just some of the best places to visit in Munich.
American Living in Germany: Know Before You Go
Munich is a 2 1/2 hour drive from USAG Bavaria Grafenwoehr, but just short of a 2-hour drive from Hohenfels. If you take the train, it's 2 1/2 hours from the Weiden in der Oberpfalz train station. If you're in Hohenfels, you could take the train from Regensburg, but it will make your trip much longer.
But if you take the train, you don't have to worry about parking! Your best option is to find a parking garage. It may say "frei," but that means there are parking spaces available – you still have to pay for parking.
Also, Munich may be a big city, but it still follows Bavarian time, i.e. many places will close between 6 and 10 p.m. And yes, they'll also be closed on Sundays!
Places to Visit in Munich
1. Augustiner Keller Biergarten
The city's third largest biergarten is located outside the main bus station – a great place to kick off your Munich walking tour!
Here you can enjoy a variety of Bavarian staples, including obatzda, which is a regional cheese dip (with a consistency and flavor similar to pimento cheese in the American South). A litre of beer, a king size pretzel (brezen), and a serving of obatzda will run around 15€.
And it's no problem if you have children with you – biergartens are for everyone!
2. Chinesischen Turm Biergarten (Chinese Tower)
The Chinese Tower biergarten – the second largest in Munich – has live, traditional Bavarian music and petting zoos when the weather is nice.
Like most biergartens, there aren't staff walking around to clear your table and take your order. You go up to a window either to order your beers, or you grab a tray and take the plates you want, cafeteria style. You're also expected to bus your own dirty dishes before you leave!
3. Hofgarten
After indulging in a few beers, take a walk through Hofgarten. This top Munich attraction is a beautiful garden full of trimmed trees, blooming flowers, and running fountains (when it's not under construction).
As part of the Holy Roman Empire, Bavaria saw a variety of art and architectural styles throughout the centuries – the Dianatempel at the center of Hofgarten is one example of this. You can relax on a bench or simply stroll, but if you're looking for a place to grill and throw a frisbee, scroll down to number 5: Englischer Garten.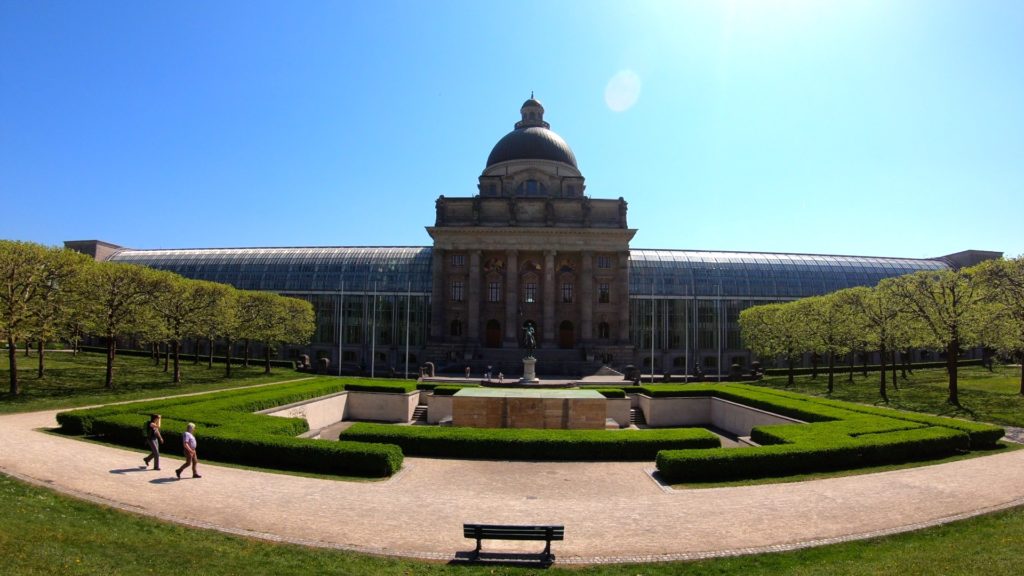 4. Bayerische Staatskanzlei
The government building serves as the office of the chancellor on the edge of Hofgarten. But it wasn't always the Bavarian State Chancellery. It was originally the Hofgartenkaserne (barracks for the Bavarian Army), and then converted into the Bavarian Army Museum until it was destroyed in World War II.
5. Englischer Garten
The English Garden is like the Central Park of Munich. You can find people running, strolling, kicking the ball around, and even sunbathing. The only difference between the English Garden and Central Park is that you'll find people (legally) sunbathing nude.
If you're trying to save a bit of money, pick up some snacks and beer at a market and have a picnic in the park! And no need to brown bag the beer – just be responsible.
6. Monopteros
This small circular colonnade is a great lookout spot in the middle of the English Garden, and serves as another example of Italian architectural influence.
Being ever-so resourceful, the Germans built this out of leftover material from the Munich Residenz construction. It was actually intended to replace a crumbling Apollo Temple nearby, but the name never stuck.
7. Odeonplatz
It all could've ended here.
Odeonplatz is where Hitler and the Nazi party attempted to seize power in Munich, but were defeated by the Bavarian polizei and arrested. It's also the traditional site for public events, such as the Oktoberfest parade.
A lesser known fact: there's a mini lion head that you should stroke for good luck.
8. Englisch Garten Surfers
The river forms a standing wave so that surfers can continuously surf. Unless you're an experienced or expert surfer, you are not allowed to participate – but feel free to take pictures!
9. Flying Fox at Olympia Park
After serving its purpose as the Olympic Park for the 1972 Munich Olympics, the city has repurposed it for multiple uses: concerts, World Cup screenings, music festivals, and art exhibitions, just to name a few.
As always, you can find beer, brezen, and currywurst throughout the park. And for 40€, you can zipline over the Olympic stadium.
10. Marienplatz
Shopping, food, street performers…if you're not into beer, this is the place to be! (But if you're not into beer, why are you in Munich?) Marienplatz has been the central square of Munich since the 12th century. Hundreds of thousands of people gather every year to catch the Glockenspiel show at the top of the Rathaus (Town Hall).
BONUS: Hofbräuhaus
The original Hofbräuhaus in Munich was founded by Duke Wilhelm V (one of the characters featured in the Glockenspiel show!), and is owned by the Bavarian government.
As one of Munich's top attractions, it's full of tourists from all over the world, and for good reason: it's huge, they have a biergarten, and they serve traditional German food.
RECOMMENDED: Go to a fest!
Oktoberfest is the most famous of them all, but there are so many more than that. I highly recommend Frühlingsfest, the fest that celebrates the beginning of spring.
After a cold, dark winter, all anyone wants to do is enjoy beer and sunshine! The springfest in Munich is great because it doesn't attract as many tourists, so you can easily find a table without a reservation, but still enjoy the spirit of Bavaria.
Frequently Asked Questions about Things to See in Munich
Did we answer your burning questions here? If not, let me know in the comments!
What are some places to visit near Munich?
From Munich to Dachau Concentration Camp Memorial site is just 40 minutes on public transportation, or you can easily drive from the city. You can also visit BMW's headquarters or head to the Allainz Arena for a Bayern München game!
What are some things to do in Munich in winter?
You definitely have to see the Christkindlmarkts at the beginning of the season. There's the Tollwood market and a market at the Chinesischen Turm to name a couple. Be sure to enjoy a mug of glühwein!
What are some of the best Munich beer festivals?
If you're an American living in Germany, you should go to Oktoberfest at least once. But the springfest is my personal favorite, and the Starkbierfest in the early spring is fun, too.
Ready to Visit Munich?
Whether you visit Munich for a day trip or a long weekend, there is plenty for you to do!
If you want more travel tips, subscribe to my Youtube channel and follow me on Instagram
---
RELATED VIDEOS