After PCSing to Germany, the first thing everyone wants to know is "Where should I travel first?" Because your three years will go by fast!
We've put together this complete travel guide for the top 10 places you have to visit (in no particular order) when you PCS to Germany. Most are within a 2-hour drive of USAG Bavaria Grafenwoehr, but we've included a few weekend getaways, too!
Table of Contents
Americans Living in Germany: Know Before You Go
As mentioned above, you can drive to all of these destinations. Parking, however, can be a challenge! If you see a parking garage that says frei, that means there's space available.
Kostenlos or gratis will mean free of charge.
Gratis street parking is sometimes available on weekends or in the evening, so keep an eye out for signs that explain the rules. The machines where you pay for parking should also list the chargeable hours (but in German).
If you travel throughout Bavaria, you can also buy the Bayern train ticket, which gives you unlimited travel on regional trains, the S and U-Bahn trains, most buses, and trams. It's great if you're traveling in a group to a city in the German state. Ticket prices range from €25 for an individual up to €53 for a group of five.
And if you drive to Austria or Czech Republic, pick up a vignette at the border. These stickers allow you to drive in the country for 10 days, 30 days, or a full year.
A vignette will cost anywhere between €10-20. If you choose to drive without one and you get caught, the fines can be up to €180.
Also, whenever you leave the country, bring your tourist passport and military I.D. Your SOFA status only applies to your time in Germany – you do not have the same privileges as an EU citizen!
And while border checks are nearly non-existent, you may still encounter a random checkpoint. Better to have your passport and not need it…
Places to Visit in Germany
You've heard of at least two of these places before moving to Germany. But there's so much more to explore!
1. Nuremberg
Just a 70-minute drive from Vilseck, Nuremberg is an easy day trip from USAG Bavaria Grafenwoehr. If you're craving a bit of culture or just something different to do on the weekend, just hop in the car or grab a Bayern ticket or the €49 "Deutschland Ticket".
There are almost always vendors in the Hauptmarkt, the main city square. Whether it's a festival or just a farmer's market, check it out! It's also where the Chritskindlmarkt takes place.
Sometimes you need to see a movie on a properly big screen with comfy chairs. Cinecittà Nuremberg screens the biggest blockbusters in English for a limited time, so plan your dinner and a movie in advance!
In the summer, the Nuremberg City Beach hosts Summer in the City, where they set up palm trees, beach bars, pools, games, and more! Plus, they organize live music and events throughout the season.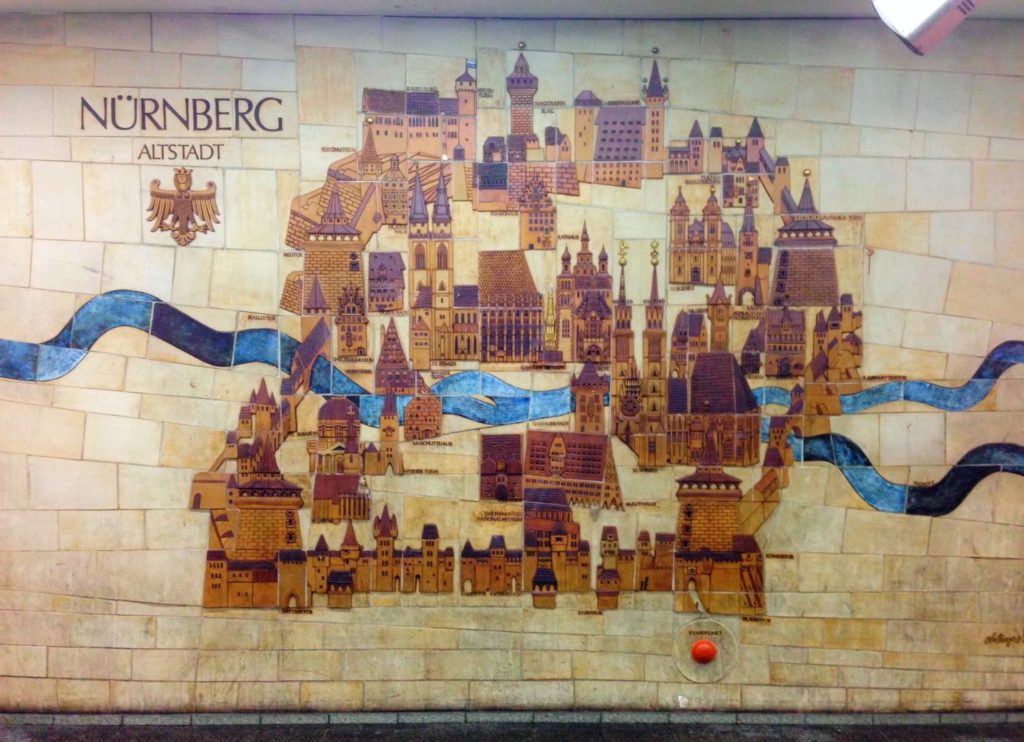 Nuremberg also has an annual Franconian Beer Festival where you can taste over a hundred local beers! It's less like a Bavarian fest and more like an American street fest with food stands lining the roads for blocks.
If you're looking for another summer fest, the Nuremberg Volksfest takes place at the beginning of September. It's the second largest in Bavaria, complete with rides, beer, music, and food.
And if you want to spend time exploring the museums and sites, you can easily stay for a whole weekend.
2. Garmisch
Anyone who lives and works at USAG Bavaria Garmisch knows this town has plenty of things to do!
If you're visiting, you should stay at Edelweiss Lodge and Resort if you are a member of the U.S. Armed Forces or authorized personnel. (And you should be if you're PCSing to Germany!)
They have a beautiful pool, comfortable rooms, American-sized laundry facilities, and equipment rental. And every activity around Garmisch is an easy drive from there.
Neuschwanstein Castle is a must-see when living in Germany, and it's just an hour away from Garmisch. You can also visit the lesser-known Hohenschwangau Castle where King Ludwig I stayed during the summers.
Another fun attraction is the Partnach Gorge. It was historically used as a way to transport lumber, but now its natural beauty can be shared (safely) with visitors from around the world.
Take a carriage ride up in the morning, tour the gorge, and then hike down just in time for lunch.
If you're looking for an all-day activity, I recommend visiting Zugspitze, the highest point in Germany. You can ski, hike, or just enjoy the view at the cafe up top!
3. Berchtesgaden
Berchtesgaden is a picture-perfect, quintessential town in the Alps. From Grafenwoehr to Berchtesgaden, it's a 4-hour drive, and it's just a 2 1/2 hour drive from Garmisch.
One of the most popular things to do is visit Eagle's Nest (Khelsteinhaus), which is where Hitler held important meetings with other Nazi Party members. Today, you can explore the museum and take a tour of the fortress.
Another place for a great view is the Gasthaus Cafe Graflhoehe Windbeutelbaron. Enjoy some sky-high cream puffs, cold beer, and beautiful scenery!
If you're staying in the Old Town, I recommend taking the ferry out on the Königsee and hiking around the lake. To beat the crowds, try to grab a boat tour as early as possible! It will also give you more time to hike and explore.
4. Munich
Munich has so much to offer that you have to visit more than once!
To start, there are hundreds of places to drink beer and eat traditional Bavarian cuisine. I recommend finding a biergarten and enjoying the sunshine during the summer!
Don't forget about your Dirndl & Lederhosen…
But if you go during colder weather, Augustiner Keller and the Löwenbrau Keller have indoor seating.
If you're just looking to shop and wander, head to Marienplatz. In addition to all the street entertainment, you will also find the old Rathaus (city hall) with its famous Glockenspiel show.
There is also an incredible amount of green space in Munich. The Englischer Garten is a beautiful park with tons of grassy patches for sunbathing, picnicking, or throwing a frisbee. If you visit during the summer, you can watch the "surfers" on the small stream that runs through the park.
Just like the rest of Bavaria, most shops and restaurants will close after 10 or 11pm. You can, however, enjoy the intense nightlife scene. Just keep in mind that there may not be many doner spots open for you to satisfy your munchies!
5. Regensburg
If you live in Hohenfels, this is an easy drive for you! But even if you live around Grafenwoehr, it's just an hour drive away.
The capital of the Upper Palatinate is big enough to be a city, but not so big that you're overwhelmed by crowds. You'll find a variety of restaurants, cafes, and shops to keep you entertained. Plus, there are some amazing historical sites, like the Stone Bridge and the Roman Wall.
And you definitely need to stop at Walhalla. It's a Greek-inspired building that Crown Prince Ludwig I of Bavaria commissioned to honor various "politicians, sovereigns, scientists and artists of the German tongue." Learn a little something about these historical figures and enjoy the view of the Danube River!
But if you just want a relaxing day trip with friends and family, bring your bikes (or rent them) and ride along the Danube.
And when you feel tired or hungry, stop at a biergarten for a refreshing beverage and a plate of obatzda cheese.
6. Bayreuth
Bayreuth is famous for the annual Bayreuth festival that celebrates the work of composer Richard Wagner. It's also a college town: there's no "big city" life or energy, but it's full of young people and trendy restaurants!
After visiting your local getränkemarkt a few times, you may have noticed the Maisel-Weisse brand, which is brewed in Bayreuth. I recommend visiting the brewery and restaurant, but be sure to arrive early or make a reservation. The restaurant fills up fast!
The Marktplatz has all kinds of cafes and restaurants to explore. And you won't want to miss this dinosaur statue. In fact, you really can't miss it.
And during the holiday season, Bayreuth has an incredible Christkindlmarkt. It may not be as big as Nuremberg or as enchanting as Schloss Guteneck, but they have all kinds of entertainment, as well as a wider food and beverage selection than your local Christmas market.
If you visit Bayreuth during the spring or summer, check out the Eremitage. Stroll through the gardens and old castle ruins, and then treat yourself to gelato and beer at Café Orangerie.
7. Würzburg
You may not be PCSing to Würzburg, Germany, but it's definitely a town worth visiting.
As the capital of the Franconian wine region, they host Weindorf, an annual wine festival at the beginning of summer.
And at the end of the season, they have a smaller Weinparade only for wine made in Würzburg. You can even tour the 300-year-old wine cellar under the Würzburg Residence.
Regardless of the season, I highly recommend drinking wine while you walk across the Alte Mainbrücke (Old Main Bridge). You can buy it right on the bridge before you cross!
You can also go to Marienberg Fortress, which overlooks the city and its vineyards. While it's undergone many repairs and reconstructions, you can now visit the museums inside to learn more about the city's history.
Easy Day Trips to Czech Republic and Austria
Depending on where you're PCSing to Germany, these destinations can either be an easy day trip or a budget-friendly long weekend!
8. Prague, Czech Republic
Prague is a city with so much history around every corner. And the Bohemian capital is the perfect weekend trip for anyone on a budget!
Because most of the area was spared from World War II bombings, you can still see original architectural feats like the Astronomical Clock, Prague Castle, and the Charles Bridge.
But this artistic city also hosts a variety of contemporary structures as well, such as the Dancing House and modern street art.
After walking from site to site, treat yourself to a beer and a platter of roast pork and dumplings. Pilsner Urquell is a popular choice, but if you see Budweiser on the menu, you have to give it a try!
And depending on what time of year you visit, there are all kinds of events to experience. Take part in the Prague Pride parade at the end of summer and party until the sun comes up!
And if you love Christmas markets, Prague hosts a few of them throughout the city.
9. Karlovy Vary, Czech Republic
Karlovy Vary is 2 hours from Prague, but just 1 hour from Weiden in der Oberpfalz. And this spa town is the perfect destination if you want to just relax and do nothing (but in a different country)!
A signature thing to do is go to a Czech beer spa. You can enjoy a beer or two while relaxing in a bath, but the bathtub isn't filled with beer! Instead, the spa adds hops and malts to the water, which have good oils for your skin.
But if a beer spa doesn't appeal to you, Karlovy Vary has other spas you can enjoy, like the Savoy Westend Hotel. They have more "traditional" spa services like facials and massages, as well as pools and saunas.
And in between your relaxation services, you can walk throughout the town and explore the old mineral hot springs. You can even drink from the mineral water fountains!
10. Salzburg, Austria
Home to Mozart and the backdrop for The Sound of Music, Salzburg has all kinds of activities for a long weekend.
If you visit during the spring or summer, I highly recommend taking a lake tour! The natural beauty of Austria is just breathtaking. Plus, the towns around the lake will charm your socks off.
You should also visit Mirabell Palace when the gardens are open. You can tour the building itself, but the gardens are the main attraction. It's also where the "Do-Re-Mi" scene was filmed.
The Salzburg Cathedral and Fortress Hohensalzburg house an incredible history of the city as well. Plus, there's a marionette museum inside the Fortress!
Honorable Mentions: Bavarian Villages and Small Towns in Germany
I wanted to keep this list to just 10 places, but I'm including these next two as well. You won't regret visiting them!
Rothenburg ob der Tauber
Rothenburg has some of the most well-preserved medieval architecture in Germany! You may recognize this famous shot from tour guides and other travel sites:
When you visit, you should climb the stairs and walk the perimeter wall! And while the city has many towers, I recommend going to the Town Hall tower for the best city views. But keep in mind that there's no elevator – you'll have to climb the spiral staircase.
And if you like collecting Christmas decorations, visit the original Kathe Wohlfahrt Christmas shop. You can also visit the Kathe Wohlfahrt museum where they explain the history of Christmas celebrations in Germany and how different customs developed in various regions.
Weiden in der Oberpfalz
I may be a bit biased because I live here, but you really do have to visit Weiden!
When you are PCSing to Germany, you should consider living in this classic Bavarian town. It has things to do all-year round for families, single soldiers, and newlywed couples.
To start, the marktplatz has a variety of restaurants and cafes. You can have mini pancakes at Edelweiss for breakfast, shop for groceries at the farmer's market, have a slice of pizza for lunch, enjoy a couple beers throughout the afternoon, and then have a hearty German dinner.
And don't forget a scoop of gelato before walking home!
But beyond just daily life, Weiden has plenty of recreation to offer as well. It has its own Volksfest, Frühlingsfest, and Christkindlmarkt throughout the seasons.
And during the summer, you can listen to live music in the park.
Weiden is less than a half-hour drive from USAG Bavaria Grafenwoehr – the easiest, quickest town to visit after you PCS to Germany!
Ready to Travel after PCSing to Germany?
Without a doubt, exploring Europe is one of the best parts of living in Germany. You have access to so much culture and history, all within a day's drive!
What's been your favorite place to visit since PCSing to Germany? Let me know in the comments! And if you want more travel tips, be sure to subscribe to my Youtube channel and follow me on Instagram.
---
RELATED VIDEOS