If you're just PCSing to Germany, or you've lived around USAG Bavaria for years, you've probably noticed that Grafenwoehr is a small country village.
We may have the luxury of living in the middle of Europe, but unfortunately UberEats hasn't quite made it to our neck of the woods (yet?).
Food options may seem limited, but I'm here to offer you a deeper look into the diverse range of available cuisine. If you look hard enough, you'll discover that there are so many Grafenwoehr restaurants to try.
Eating should be a delightful experience, whether you're dining to socialize at one of the best soul food restaurants in Europe, or just kicking up your feet by ordering from Grafenwoehr food delivery. Lucky for you, I have compiled a list of some of my favorite restaurants to share!
Table of Contents
American Living in Germany: Know Before You Go
First, whenever you search for something around USAG Bavaria Grafenwöhr, you will get the best results when using the umlaut or by spelling it "Grafenwoehr." You may still find results for Grafenwoehr restaurants without the umlaut, but the proper spelling is with the umlaut or spelled with "oe."
That being said, a key factor to remember when going out to eat in Germany: always bring cash with you! There will usually be an ATM within a few blocks, but it's much easier if you remember to bring it beforehand.
Also, restaurants don't often play music, and when you first arrive in Germany, it feels weird. Plus, they don't usually talk very loudly, and they don't appreciate other people being loud either.
They also don't do free refills of anything, and the beverage servings tend to be smaller than in the U.S. (except for beer). So if your children go through two drinks before their meal arrives, I recommend giving them some beverages beforehand to save you on costs. But don't bring your outside drinks into the restaurant – that's rude.
Also, be prepared for your dinner to take at least two hours. And it can easily take 45 minutes for your food to arrive at the table. German restaurants don't need to turn tables like in the U.S., so they won't attend to you every five minutes.
It can certainly be an adjustment, but after a few months immersing yourself in the culture and visiting Grafenwoehr restaurants, you may find a new appreciation for it.
The staff doesn't randomly drop by your table to ask how you're doing or try to upsell you on more dishes. They treat your meal as a private, personal experience. But it does mean that, if you need another beverage or the check, you may really have to wave them down.
Pro-tip: The German word for "bill" or "check" is Rechnung. If you ask for the check, they may be a bit confused because it sounds like you're asking for the country, Czech Republic!
It's also common to order everything at once. In the U.S. you may order your beverages, then ask for the specials, then order a couple appetizers, and then order your entree, Germans, however, like to take care of it all at once.
You may place your drink and food orders separately, but be sure to order your appetizers, sides, and main dishes all at once! Otherwise, you may never catch your server again.
And while taking food to go is acceptable (or at least commonplace), taking the leftovers home is less common than in the States. Generally, it's expected that you eat all the food on your plate. And it's frowned upon if you order something and only take a few bites.
But sometimes these German portions are just unbearably large, and you have to take home the leftovers! Restaurants in Grafenwoehr are familiar with the American practice of taking home food from restaurants, but as you get farther away from American communities around USAG Bavaria, restaurants may not have the to-go containers for you to save your leftovers.
Restaurants in Grafenwoehr
Where to eat on post
If you end up living in Grafenwoehr or the Netzaberg community, it's highly likely that you already know about the food court options. They have your classic fast food options like Taco Bell, Subway, Popeyes, and Pizza Hut.
If you're wanting a killer sandwich, I highly recommend the chicken teriyaki at Charley's. It is smothered in cheese, grilled bell peppers, and onions.
But if you want something a little healthier, check out BUN-D, which is right at the entrance of the Grafenwoehr PX. You can get fresh juice and smoothies as well as salads, wraps, and rice bowls.
For the coffee addict, Starbucks and the Java Cafe are not to be missed! And if Starbucks sells out of your favorite seasonal beverage (like the pumpkin spice latte), you can still get your fix at Java Cafe.
The Java Cafe also has great bar food like pizza, chicken tenders, and grilled sandwiches. And it's connected to the bowling alley – the perfect combo for families or a girl's night out!
If you really want to treat yourself, visit Louis Austin's Food Truck outside the PX. They've got brisket, mac n' cheese, ribs, potatoes, and everything you need for a comfort-giving, nap-inducing lunch! And there's no shortage of soul food around Grafenwoehr (more on that in a bit…)
The Chicken Man is another solid lunch option. You can occasionally find the truck outside the Grafenwoehr PX, but you can also find them off-post as well (we're getting to that, too!).
For a taste of Germany on post, check out the Kantine. The price-to-size ratio cannot be beat! They have limited hours, but when on a budget it will be your best friend.
Delivery options if you live on post
If you're staying at Army Lodging, don't have a car, or just don't feel like leaving post, you can still get delivery on the base! Lieferando is the equivalent of UberEats and Door Dash. The options include vegetarian, burgers, Italian, and more!
For some yummy hot pizza, I recommend Happy Food Delivery. And if you're craving some classic American diner food, you can order from Cheers outside of Gate 1.
You can also get delivery from Enjoy Sushi, which is located just off post. In addition to Japanese American restaurant classics like cucumber rolls, the Philadelphia roll, and tempura, they also have burgers, pizza, and curry! So if you're craving sushi and your spouse just wants a burger, it's a win-win.
Grafenwoehr Restaurants off post
Whether you're walking, biking, or driving, Grafenwoehr restaurants have so much to offer!
Asian Restaurants in Grafenwoehr
An unalienable truth about U.S. Army posts: you can almost always find good Korean food nearby! Bab Korean outside of Gate 1 is an easy walk from USAG Bavaria Grafenwoehr, or an even quicker drive.
It's a popular spot for small groups (8 people will be a cozy fit). You will normally see Americans in the restaurant, so don't worry about speaking German. The ramyun is a generous portion size, and the kimchi isn't bad either. Keep in mind that they close for a few hours between lunch and dinner!
Pro-tip: Want to make your own kimchi? You can get rettich (daikon) and Asia Kohl (napa cabbage) at the farmer's market!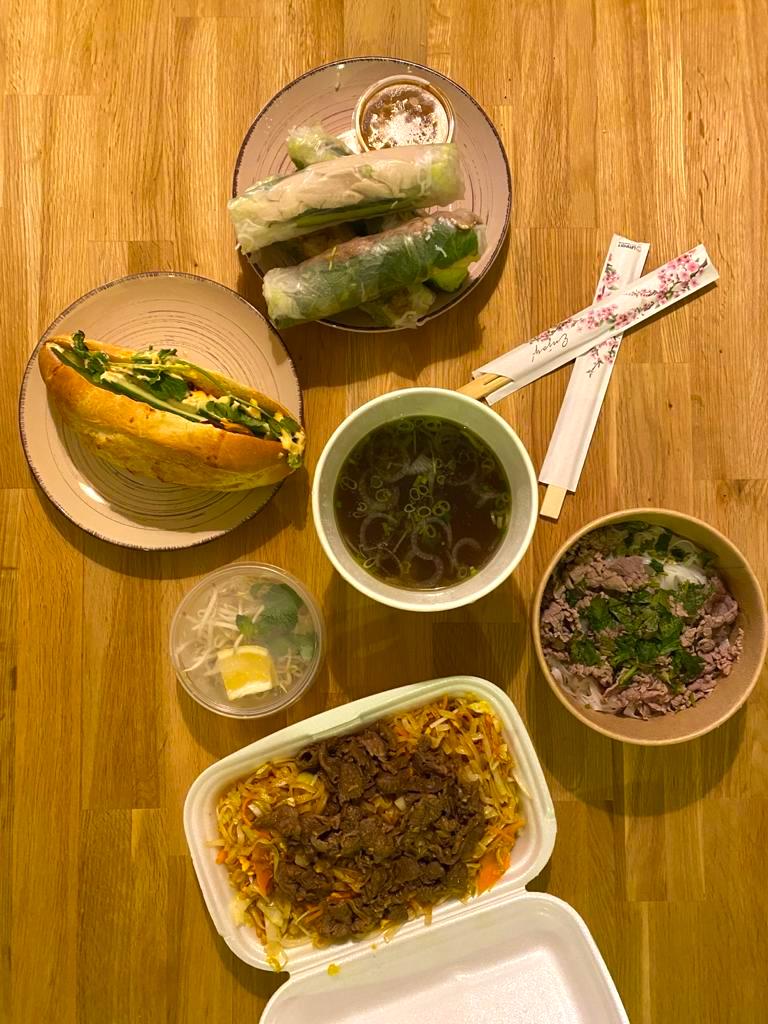 Phở Việt Grafenwoehr has authentic Vietnamese food right outside Gate 1. Try their delicious spring rolls, homemade peanut sauce, and rice noodle soup.
But another truth about Asian food in Germany: it's really hit or miss. But it can scratch the itch when you need it!
Fusion Garden on Bahnhorstrasse across from the Lidl is decent, especially for lunch. They have great combo dishes that include two types of stir-fried meat with vegetables, rice, and sauce. It's also a good spot for groups, but I recommend that you make a reservation.
Another Chinese restaurant closer to USAG Bavaria Grafenwoehr is The Chinese. It's smaller than Fusion Garden, but is another option for a cheap, filling lunch. You can also get your fix at Gourmet Garden outside of Gate 1 (but try the other two first).
If you're craving Indian food, Ganesha is a great option (and not just because it's your only one). It's a bit cozy inside, so if you feel claustrophobic easily, this might not be the place for you.
But their food is great! You'll find standard dishes like butter chicken, tandoori chicken, garlic naan, samosas, and mango lassis. And if you can't handle spicy, don't worry – neither can the Germans, so you're safe. (#sorrynotsorry) But even without the heat, their food is flavorful!
German Restaurants in Grafenwoehr
Whether you're looking for a lunch date spot or a place large enough for a holiday dinner, Böhm is a delicious and popular choice! But I highly recommend making a reservation in advance for groups larger than four people.
They serve traditional Bavarian classics like Jägerschnitzel, leberknödelsuppe, and a seasonal white spargelsuppe. And if you go for lunch, they offer a soup and salad special!
Another great German restaurant is Gasthof Hössl. They have equally large portions but a much larger space than Böhm, including a beautiful beer garden!
Italian Restaurants in Grafenwoehr
Pizzeria Santa Lucia II is a popular spot for families and single soldiers alike. They have classic pizza and pasta dishes, as well as main courses like beef steak or schnitzel.
And you can expect American portion sizes here! Even if you're really hungry, you won't finish an entire pasta dish (unless you want to feel uncomfortably full all day). The restaurant is familiar with taking food to go, so I highly recommend eating just half of your pasta dish and taking the rest home.
Pro-tip: Almost everywhere you go, you'll find schnitzel and fries on the menu. So if you're concerned about picky eaters, keep this in mind!
Da Peppino is another Italian restaurant in Grafenwoehr that serves generous portions of pasta and pizza. It's between Gate 3 and Gate 6 (closer to Gate 6), but not easy to walk to.
Pro-tip: Germans usually eat pizza with a fork and knife. It's not taboo to eat it by the slice with your hands, but the crust isn't as sturdy as an American pie!
Fast Restaurants in Grafenwoehr
If you're in a hurry, there are very few places to eat in Grafenwoehr. But we have a few recommendations nonetheless!
The Schnitzelstand outside Gate 1 is a no-fuss restaurant that serves schnitzel as well as burgers and currywurst.
If you're looking for a simple yet satisfying roast chicken, you have to go to Hertel Hähnchen, aka the Chicken Man. They're on the corner of 299 Neue Amberger Strasse and Alte Amberger Strasse every Wednesday from 9am to 6pm.
You can order a half or whole roasted chicken with pommes or kartoffelsalat for around 10€.
It's great for a hearty lunch, or you can easily stop by a truck on your way home to grab a chicken for dinner. You can find different trucks around USAG Bavaria Grafenwoehr, and they're all great. Sometimes they even sell cartons of eggs!
The Only Tex Mex Restaurant in Grafenwoehr
The holy grail of restaurants outside of the U.S. is, of course, the Mexican restaurant. If you just have to have it tonight, consider going to Tortuga for their fresh Tex Mex cuisine. But you definitely need a reservation!
They make all of their sauces (guacamole, salsa, cheese dips, pico) daily from scratch, and they locally source their meat, too.
It will scratch the itch if you want a simple dish of beans and rice, a plate of nachos, or a melty quesadilla. But if you want tamales or enchiladas, I don't think this will satisfy your cravings.
Greek Restaurants in Grafenwoehr
Greek food is another popular cuisine in the area. Go to Restaurant Anastasia for a hearty platter of gyros, pommes, and tzatziki! You'll have to drive to it, but it's a nice escape from the hustle and bustle of downtown Grafenwoehr (can you hear the sarcasm?).
In addition to classic Greek dishes like kebabs and souvlaki, you can also get currywurst with pommes in case you have picky eaters in your family. Speaking of families, it's a good place for families and groups, especially when the weather is nice and they open their patio. And check out their American breakfast options on the weekend too!
Caribbean Food in Grafenwoehr
If you need a comfort food fix, head to Caribbean Grill in Eschenbach! With roots in Trinidad and Jamaica, this spot serves up comfort classics with an island flare.
On any given day they've got fried plantains, oxtail, jerk chicken, rice n' peas, curry goat, and more. But occasionally their specials include mac n' cheese, pepper shrimp, and fried dumplings!
Where to Drink in Grafenwoehr
As I mentioned previously, Germans don't really play music or talk loudly in restaurants. And the same goes for bars or other drinking institutions like biergartens or a zoiglstubn.
Right in downtown Grafenwoehr you'll find one of the most traditional Bavarian beer pubs in the city. Zoiglstube Zum Adler serves local "Zoigl" beer which is a special type of beer that can only be brewed in a handful of Bavarian cities.
You should definitely check out their family sausage and sauerkraut recipes as well!
But if you're craving a classic pub experience, head to the Irish Pub in Grafenwoehr! It's on the Grafenwoehr Marktplatz and owned by true Irishmen. They also have classic pub food like fish and chips and shepherd's pie.
Restaurants in Vilseck
Angelo's Soul Food Joint is a local favorite owned by retired NCO Angelo Aldridge. If you need chicken fried steak, catfish, cornbread, or mac n' cheese, you better arrive when the doors open!
It's only open from 6 to 10pm Tuesday through Sunday, they don't take reservations, and they're cash only.
If you don't arrive when they open, there's a good chance you won't be eating there that evening. Everything is made fresh, so the few tables he has don't turn over quickly.
Pro-tip: Taking a day trip by train? Park at the Vilseck Bahnhof in the morning, and come back in time for dinner at Angelo's – it's right across from the station!
And to top it all off, they put ice in their sweet tea. If you just have to have his cooking, he also caters!
The Angus Steakhouse is another great restaurant that satisfies your need for a big beef steak. They have a variety of cuts, all of which are described in English!
You can order your steak with a baked potato, green beans, corn on the cob, and more. And for those who don't eat beef, they also have chicken, seafood, and pork.
And if you like the food at Angus Steakhouse, the same owners also opened Zum Südlager Burger Bar just a few blocks away! They offer some standard variations like the blue cheese burger and the BBQ bacon burger, but they also have other creative options like their hangover burger and nacho burger.
You can also get a side of buffalo wings! Plus, if you're just not feeling the burgers, they also have pasta, pizza, and schnitzel.
If you drive just 10mins south of Vilseck to a city called Hahnbach, you'll find 912 Wings & Things.
This is a Savannah inspired, soul food restaurant known for their delicious crispy and saucy wings. The owners come from both Germany and Georgia so they're very confident with brining their southern fixings to small town Bavaria.
And you have to try their strawberry cream cheese rolls!
Restaurants in Eschenbach
If you're craving sushi, Maki Maki is your best option! Parking isn't easy to find, but the sushi is good.
Treat yourself to classic starters like edamame and dashi tofu, and enjoy dishes like California maki, udon, and tonkatsu. But, like many Asian restaurants in Germany, they don't just serve one cuisine! They also have bibimbap and bulgogi.
But if you crave some Caribbean comfort, Rhaatid Authentic Jamaican Cuisine is the place to be! They have jerk chicken, escovietch fish, and curried shrimp, and if you save room for dessert, treat yourself to rum pound cake or warm cornmeal pudding.
Bonus Restaurants
There are a couple more Grafenwoehr restaurants I want to tell you about that are a bit further outside the area, but are definitely worth a visit!
Sai Nam
This Thai restaurant in Freihung feels like it's in the middle of nowhere – and it is. They have all the dishes to satisfy your cravings, such as pad Thai, Tom Kah Gai, and satay with peanut sauce.
Die Locke – Schnitt und Schnatterei
This is a unique restaurant in Pressath: they style your hair as well as serve a mean breakfast! It's the perfect ladies' brunch date in one location.
Frequently Asked Questions about Grafenwoehr Restaurants
After reading all about the restaurants in Grafenwoehr, you must have a few questions, right?
What are the best restaurants in Weiden?
Weiden in der Oberpfalz is just a 25 minute drive from USAG Bavaria Grafenwoehr, and they have plenty of great dining options!
What are the best restaurants in Vilseck?
Angelo's Soul Food Joint and Angus Steakhouse are your best choices for satisfying your American food craving.
What are the best restaurants in Eschenbach?
Maki Maki and Rhaatid Authentic Jamaican Cuisine, hands down!
Hungry Yet?
There are so many Grafenwoehr restaurants to enjoy! Which is your favorite? Did I skip your favorite? Let me know in the comments!
If you want more information about living in Germany, subscribe to my Youtube channel and follow me on Instagram
---
RELATED VIDEOS