Looking for a European town to visit that doesn't break the bank? Stadt Weiden in der Oberpfalz, Germany is within a 2-hour drive of Prague and Munich, and just a 1-hour drive from Nuremberg. And depending on the time of year, you may find yourself at a fest!
We entered this video into a contest to promote our home town in only 2 minutes. The video shows an overview of Weiden in der Oberpfalz to include what to do in Stadt Weiden, the annual Weiden Oberpfalz festival, and some of our favorite Weiden restaurants.
It was so well-received by the city that we were interviewed by the local television station Oberpfalz TV and then met the mayor of Weiden in der Oberpfalz!
About Weiden in der Oberpfalz
Weiden is one of the largest towns in the Upper Palatinate region. It's also a popular choice for Americans living in Germany because it's just a 20 minute drive from USAG Bavaria Grafenwoehr.
If you want to be within walking distance to the bars and restaurants, you can live in the apartments in or around the marktplatz! But if you want your own house with a private yard, there are quieter neighborhoods throughout the town as well.
Unlike many villages in the area, it has a large train station, numerous shops, and a variety of things to do.
So whether you want to move here or just spend a day in the town, there are endless possibilities!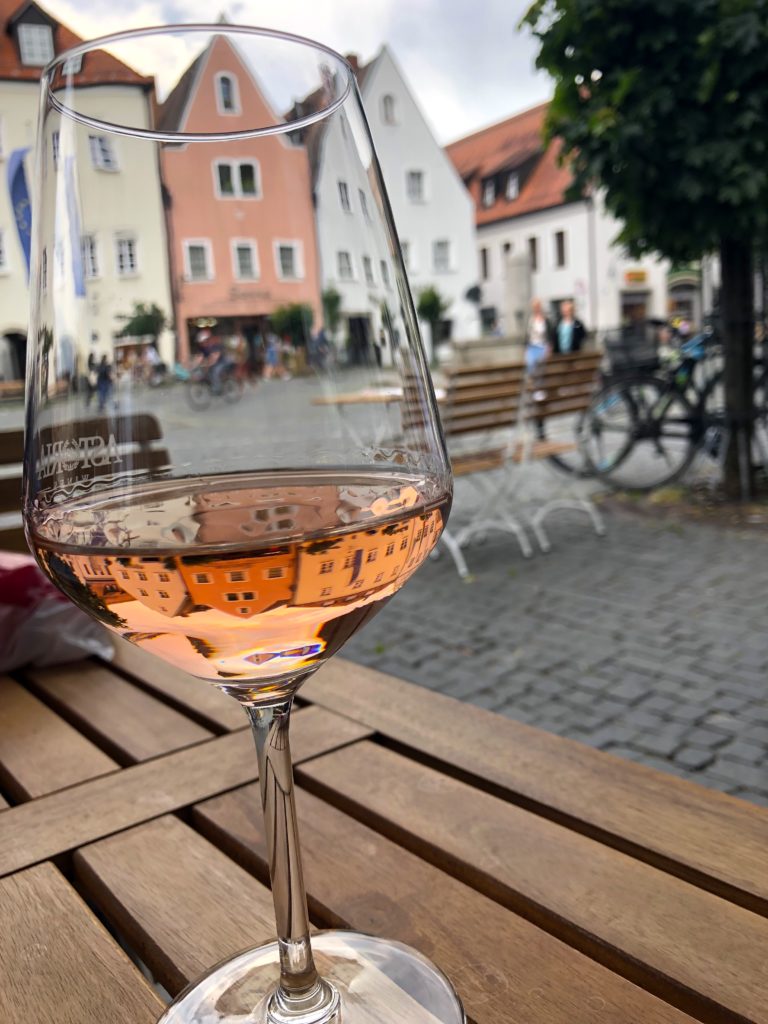 Weiden Restaurants
Weiden has a huge variety of dining options. Whether you're planning a cozy date night, brunch with friends, or a hail and farewell, you'll find a restaurant that fits your needs!
Zoigl stub'n
Zoigl beer is only brewed in der Oberpfalz, and nearly every town in the district has a stub'n. But most are only open one weekend a month, and when they are, they're packed!
They only serve the staples: beer, pretzels, meat, cheese, and schnapps. I recommend the dreiwurst (three sausages), which is served with their in-house sauerkraut (better than any you've had in the States – I guarantee it!).
But if you want to try something more traditional, order the brotzeitteller: the "bread time plate." It's a platter of meats, cheeses, and a few pickles, served with a basket of bread.
The Zoigl Stub'n off the Marktplatz is open every week from Thursday through Sunday (open on Wednesdays during Spring and Summer).
Hänsel & Gretel
If you prefer wine, Hänsel and Gretel offers a wide selection in its small boutique. They don't usually serve food, but you're welcome to bring food from other surrounding restaurants, like a pizza from L'italiano Pizza e Pasta Bar.
Occasionally, however, they host wine and food pairing events, and I definitely suggest you reserve your spot quickly!
Edelweiss
Named for the flower that grows at the highest point in Germany, Edelweiss is a small cafe on the Stadt Weiden Marktplatz. And on a beautiful, sunny day, their patio is a great spot for people watching!
They offer home roasted coffee, sweet and savory breakfast options, from mini pancakes (poffertjes) to a traditional German breakfast. And if you stop by late at night, they serve beer, wine, and cocktails as well.
Eiscafe Piccola Venezia
If the sun is shining, this ice cream spot inside the Altes Rathaus will be busy! It's the quintessential Stadt Weiden picture: drinking a beer and enjoying gelato in front of the Old Town Hall. And if there aren't any seats available, you can walk into the gelato shop itself and order a cone or cup to go.
But the best part is that they're open for breakfast. If you go to the farmer's market on Saturday, there will be people enjoying beer and ice cream first thing in the morning. Whether you're a resident or just visiting, you have to do it at least once! #Treatyourself
Things to Do in Weiden in der Oberpfalz
This Bavarian village can keep you entertained all-year round if you know where to look!
Fests
Every season has its celebrations! In the winter, check out the scariest, "family fun" event of them all with Krampus! Frühlingsfest celebrates the arrival of Spring with carnival rides, games, and food.
Oh… and don't forget about the Maypole rising!
Bürgerfest at the end of June celebrates its citizens in the Weiden Marktplatz with beer, food, and performances by the community.
And like Frühlingsfest, Volksfest in August celebrates the people with more carnival rides, games, and food. Herbstfest celebrates the arrival of Fall with a rubber ducky race in the creek.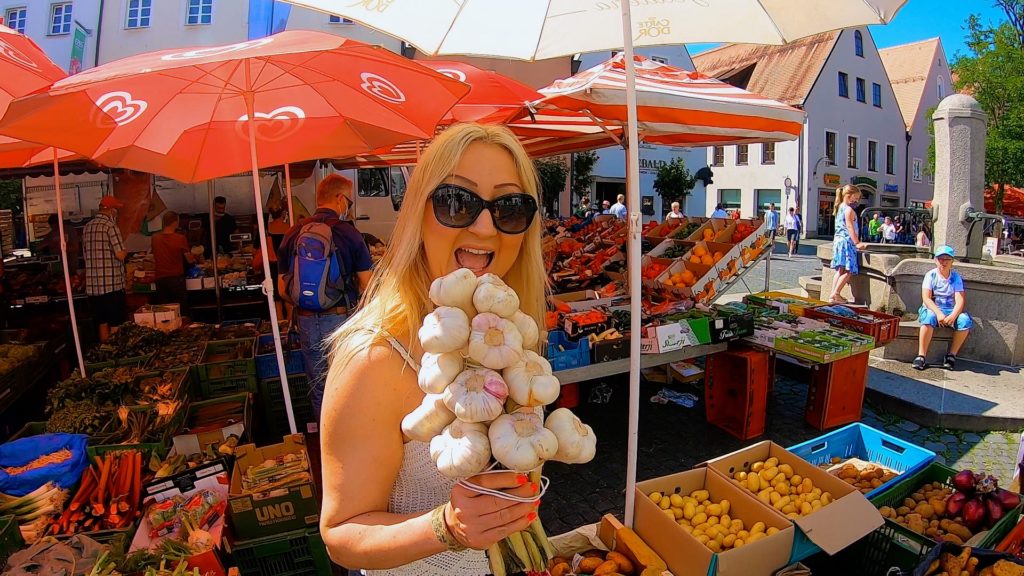 Weiden Farmer's Market
Every Wednesday and Saturday you can find the farmer's market in the marktplatz from 7:30am until noon. You can find farmers selling produce, butchers selling meats, bakers selling bread, gardeners selling flowers, or even a gentleman selling just sausages with mustard.
Weiden Shops & Local Businesses
There's all types of unique shopping and hometown businesses to support in Weiden. I encourage you to discover some of these local businesses and meet the people who work hard to provide their products &/or services.
Looking for a Friseur in Weiden?
Although there are great Weiden hairdressers all over the city, two of my favorites are Eightysixx-barbershop & Barberia Emilio Cafe & Friseur. Both these spots are friendly and do professional hair cuts for men.
Weiden Tattoo & Piercing
Ready to make some permanent decisions? How about a new tattoo? I get my work done from a Weiden tattoo shop called "Tattoo & Piercing by Jimmy & Andrea." Make sure you ask for Zed, the friendliest hard core face-tattooed gangsta I've ever met 🙂 These guys do great work and fill up fast, so make an appointment as soon as you can!
Unsere Heimat, Unser Bier – Our Home, Our Beer!
Chances are if you've been to a fest in Weiden, you've probably come across one of my favorite local brews – Gambrinus! If you haven't, I recommend trying their many flavors of beer, sodas, and non alcoholic brews. You can even call to order crates of real Weidner beer to be delivered to your doorstep. Gambrinus Brauerei has been a around since 1927, so they're definitely a well known hometown favorite.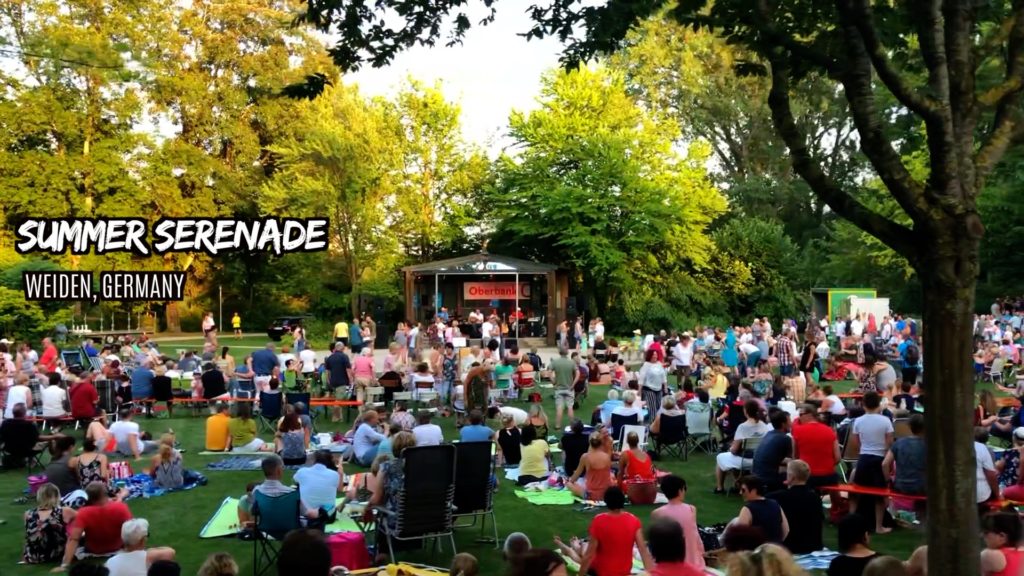 Seasonal Events and Programming
In addition to fests, Weiden has all kinds of programming throughout the year. During the summer, they have the Summer Serenades in the Park, where you can drink local beer while listening to local bands in the afternoon.
And, of course, there's also the Weihnachtsmarkt, also known as the Christmas market. For the four weeks before Christmas, the marktplatz transforms into a miniature winter wonderland. Plus, the Alte Rathaus becomes an advent calendar!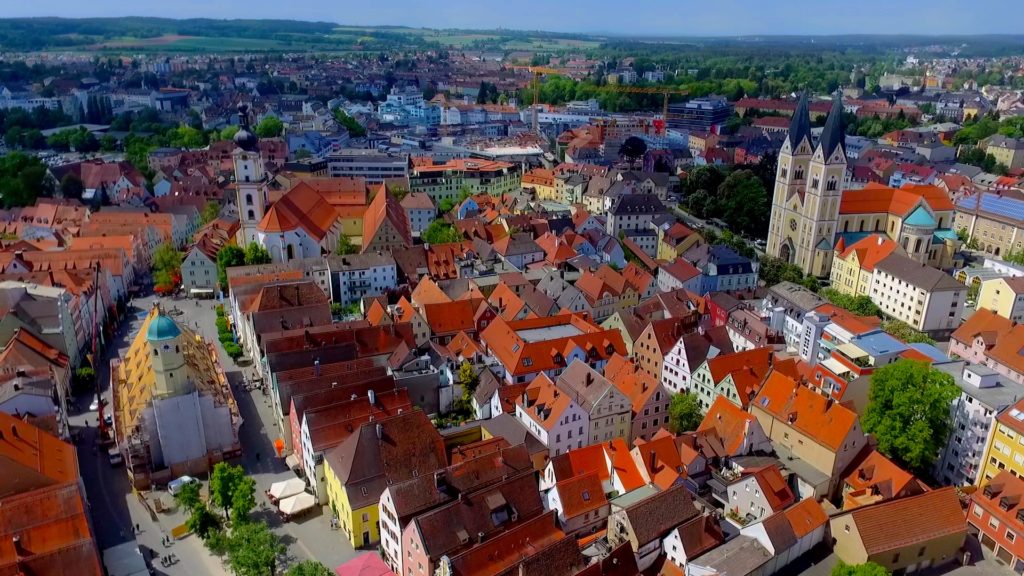 Visit Stadt Weiden in der Oberpfalz!
If you want a real taste of Bavaria, you need to visit Weiden! For more information about living in Germany, subscribe to my Youtube channel and follow me on Instagram
---
RELATED VIDEOS