Looking for a European town to visit that doesn't break the bank? Stadt Weiden in der Oberpfalz, Germany is within a 2-hour drive of Prague and Munich, and just a 1-hour drive from Nuremberg. And depending on the time of year, you may find yourself at a fest!
We entered this video into a contest to promote our home town in only 2 minutes. The video shows an overview of Weiden in der Oberpfalz to include what to do in Stadt Weiden, the annual Weiden Oberpfalz festival, and some of our favorite Weiden restaurants. It was so well-received by the city that we were interviewed by the local television station Oberpfalz TV and then met the mayor of Weiden in der Oberpfalz!
Weiden Restaurants
While the city offers a wide variety of restaurants, here are some of the quintessential options just off the Marktplatz!
Zoigl stub'n
Zoigl beer is only brewed in der Oberpfalz, and nearly every town in the district has a stub'n. But most are only open one weekend a month, and when they are, they're packed!
They only serve the staples: beer, pretzels, meat, cheese, and schnapps. I recommend the dreiwurst (three sausages), which is served with their in-house sauerkraut (better than any you've had in the States – I guarantee it!). But if you want to try something more traditional, order the brotzeitteller: the "bread time plate." It's a platter of meats, cheeses, and a few pickles, served with a basket of bread.
The Zoigl Stub'n off the Marktplatz is open every week from Thursday through Sunday (open on Wednesdays during Spring and Summer).
Hänsel & Gretel
If you prefer wine, Hänsel and Gretel offers a wide selection in its small boutique. They don't serve food, but you're welcome to bring food from other surrounding restaurants, like a pizza from L'italiano Pizza e Pasta Bar.
Edelweiss
Named for the flower that grows at the highest point in Germany, Edelweiss is a small cafe on the Stadt Weiden Marktplatz. They offer sweet and savory breakfast options, from mini pancakes (poffertjes) to a traditional German breakfast. And if you stop by late at night, they serve beer, wine, and cocktails as well.
Eiscafe Piccola Venezia
If the sun is shining, this ice cream spot inside the Altes Rathaus will be busy! It's the quintessential Stadt Weiden picture: drinking a beer and enjoying gelato in front of the Old Town Hall. And if there aren't any seats available, you can walk into the gelato shop itself and order a cone or cup to go.
But the best part is that they're open for breakfast. If you go to the farmer's market on Saturday, there will be people enjoying beer and ice cream first thing in the morning. Whether you're a resident or just visiting, you have to do it at least once! #Treatyourself
What to Do in Weiden
Markets and Fests
Every season has its celebrations! Frühlingsfest celebrates the arrival of Spring with carnival rides, games, and food. Bürgerfest at the end of June celebrates its citizens in the Weiden Marktplatz with beer, food, and performances by the community. And like Frühlingsfest, Volksfest in August celebrates the people with more carnival rides, games, and food. Herbstfest celebrates the arrival of Fall with a rubber ducky race in the creek. And last but not least, the Weihnachtsmarkt is just a miniature winter wonderland in the marktplatz.
Plus, there is a farmer's market every Wednesday and Saturday morning until noon. You can find farmers selling produce, butchers selling meats, bakers selling bread, gardeners selling flowers, or even a gentleman selling just sausages with mustard.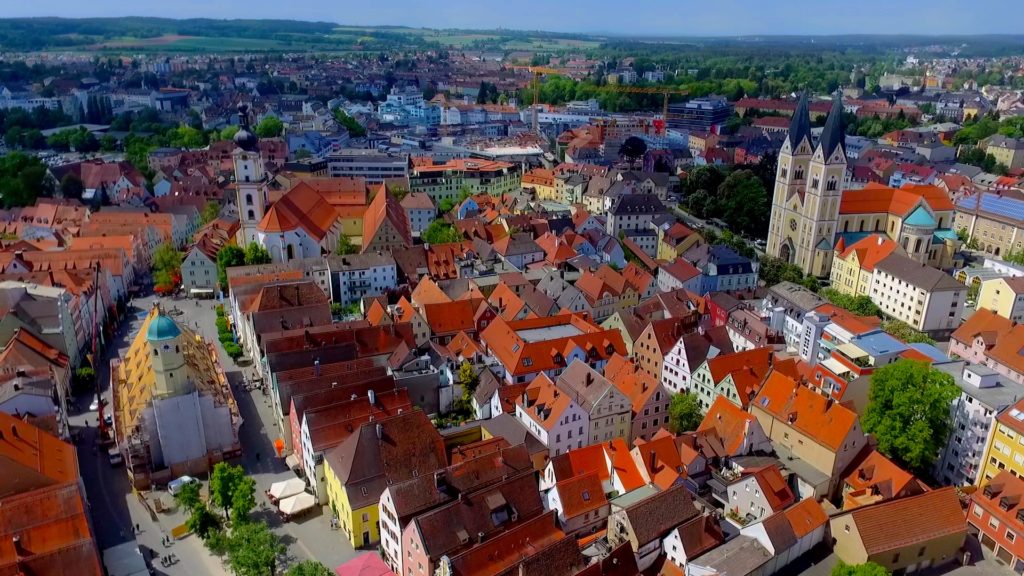 For the perfect Bavarian visit, come to Stadt Weiden in der Oberpfalz!
---
RELATED VIDEOS