Welcome to your quick resource guide, aka "cheat sheet" to Stuttgart, Germany!
Need a local mechanic? New hair dresser? Yummy foods?
Oh wait… orthodontics for the kids right?
Don't forget a pet groomer for your fur baby! 🐕
Table of Contents
Local Community in Stuttgart Germany
Once you PCS to Germany, you have to completely rebuild your trusted local community.
The good news: We already vetted your list of options for you!
I understand how intimidating it can be to move to a new foreign country. Especially when you're looking for a new "local spot" to take care of all your needs while living in Germany.
Kein Stress, "No Stress" as the Germans say.
I built this resource guide to provide you with a number of local businesses that will help you throughout your tour.
These are businesses that I literally use on a monthly basis.
In fact, we all do…
I've been living here since 2014, so over the years, I crowd sourced and cross referenced these recommendations in military spouse groups who have personally experienced them as well.
These are actual human beings that already have a personal investment in your well being while living in their country.
Each affiliate I recommend is hand selected.
I see them as "strategic partners"
Trusted by the community to provide you with a full range of products & services!
*Did I miss a business that needs to be shared with the American community? I want to hear about it!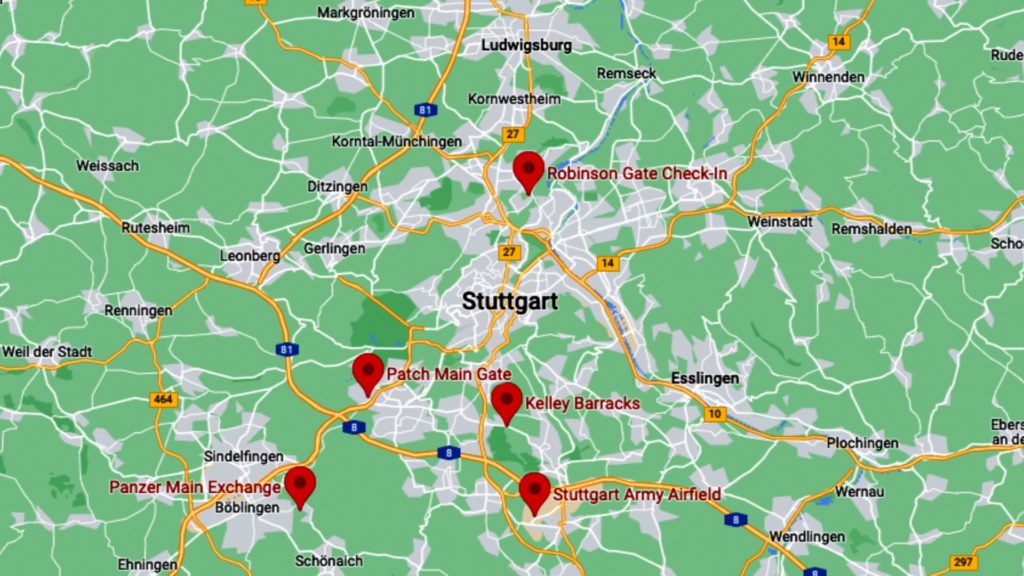 Stuttgart Germany First Look
First off, let's get you familiar with the basics.
Stuttgart is a joint service military community split into 5 main installations:
– Panzer Kaserne (25mins to downtown Stuttgart): PX & commissary, shoppette, fitness center, USO, bowling alley, Panzer hotel, post office, banks, MWR, VAT/UTAP, HUB teen center, child youth sports, child development center (CDC), etc
– Patch Barracks (18mins to downtown Stuttgart): Main commissary, thrift store, shoppette + gas station, library, movie theater, post office, car wash, clinic, outdoor track, Java cafe, arts & crafts, food court, casino, etc
– Kelley Barracks (13mins to downtown Stuttgart): Drama theatre, clinic, mail room, commissary, gas station, gym, child development center, car wash, outdoor recreation, wood hobby shop, laundry mat, etc
– Robinson Barracks (22mins to downtown Stuttgart): Commissary, library, furniture store, AFN Stuttgart, etc
– Stuttgart Army Airfield (18mins to downtown Stuttgart): Aviation arms for each command
Inprocessing = Panzer Kaserne (Garrison HQs)
US European Command HQs = Patch Barracks
US Africa Command HQs = Kelley Barracks
Stuttgart Transportation:
🚆 – The closest train stations are in the city of Böblingen (Panzer Kaserne), Vaihingen (Patch & Kelley Barracks), Stuttgart Hauptbahnhof, and the VVS Stuttgart Regional Transit
✈️ – The closest airports are Frankfurt (~1hr 50mins), Munich (~2hr 10mins), Nuremberg (~2hrs 30mins), Frankfurt Hahn (~2hrs 40mins)
🚘 – Closest highway (autobahn) = A8, A831
🚌 – On base "Duty Bus"
DODEA Schools at USAG Stuttgart Germany
There are 5 schools total on different bases + CDC:
– Stuttgart & Patch Elementary School and Stuttgart High School (Panzer Kaserne)
– Patch Middle School (Patch Barracks)
– Robinson Elementary (Robinson Barracks)
– Child Development Center (CDC): child care for ages 6 weeks – 5yrs old (pre-school)
See a list of all DoDEA Europe Schools by district here
Adult Education in Stuttgart Germany
The Stuttgart Education Center consists of a learning center, testing program, and two major colleges:
– University of Oklahoma
– University of Maryland Global Campus
Stuttgart Germany Cheat Sheet
Below is your official Stuttgart Germany cheat sheet categorized by industry.
Make sure to tell them DTV sent you! 😉
*Keep in mind, most of these companies speak English and accept VAT forms.
PCS to Germany: Cheat Sheets
*Stay tuned for additional cheat sheet information
Automobiles
Tax FREE Vehicles! Custom Builds! Pre Order from the States!
Just imagine… a gigantic red ribbon on top of your brand new BMW, ready to hit the autobahn for your first family vacation overseas!
The ONLY company I'd recommend turning this dream into a reality is Bavarian Motor Cars. I've been working with this company from the very beginning. Since 2014, they've sponsored all my events, they've put my friends in new cars, and they've become family for my wife and I.
This is what you can expect when you walk into a BMW dealership right outside of base.
Here's the deal, if you just want to start fresh with a new car for your family, you have to check out all the special offers they provide:
– Tax Free, military discounted offers
– Pre ordered, custom builds guaranteed to be ready before you even arrive
– VIP delivery service (Free one night stay in a beautiful 4 star hotel, or get it delivered right to the base with that red ribbon 😉)
– Stateside trade ins, meaning they can trade in your old car while you're still in the US
– Loaner car programs & much more!
If this is something you're interested in, I highly recommend checking their inventory or contacting one of their representatives with your questions. 
Tell them "DTV" sent you!
PMA is the largest military pre-owned car dealer in Europe, and they've got offices right outside most bases in Germany & Italy.
This is what you can expect when you walk into their dealership… [Video]
Some other fun facts:
– They have a "1st time buyer program" for US spec vehicles to help you afford a POV
– You can BUY, SELL, or TRADE-IN vehicles
– In-House Financing
– They have a guaranteed buy back program for EU spec vehicles (for the end of your tour)
And… we've partnered up! This is a company I've worked with, I trust, and I can personally vouch for.
PMA is offering $300 off ANY vehicle in stock when you mention "DTV!"
Take a look at their inventory or contact them directly with your questions/concerns. 
Spearheaded by two of England's finest; brother's David and James Sweeney are co-founders of Used Car Guys.
We're two brothers with a history of car sales and customer service, working alongside the U.S. Military in Germany for over 23 years. We are from a large Irish family and grew up in Cambridge, England – check it out!
Family First, Community Always!
We founded Used Car Guys in January 2012 on the principles of providing great quality cars, superior customer service and being all-round good guys.
We want to be the car dealers that you would recommend to your boss, your buddies and your grandparents. We wanted to build the company our mum would be proud of and the company that you would recommend to your mum – And plenty of people have recommended them.
To speak to them directly, go to their contact page.
Facebook, Instagram, Twitter, or message them directly on Whatsapp 0172 7129046.
POV Shipping
Bringing that 2nd POV overseas? Need to get your cars safely back home in the US?
With nearly 40 years of experience and over 100K+ customers, Shipoverseas is "America's #1 International Car Shipping Company."
And Germany is their most frequent destination for military POV shipments!
As a military member, you don't have to worry about import/duty taxes for your POV. Shipoverseas will walk you through the process of shipping your car (or anything else you want to ship) to & from the US.
Their services to military members include:
– Cars, RVs, motorcycles, boats, motorhomes, campers, trailers, buses, construction vehicles, and heavy machinery shipments to Europe, Latin America, Africa & the Middle East
– Cost effective "RoRo" (Roll-On Roll-Off) shipping
– Breakdown of costs (handling charge, storage fees, marine insurance, etc)
– US customs clearing & shipment preparation checks
The best way to get started is to Request a FREE Quote, or you can contact them directly with your specific questions.
Get a $50 Military Discount when you put "DTV" in the "Additional Notes or Instructions" section of the Online Quote! 🫡🇺🇸
USA Tel: (858) 547-0840
Toll Free: (888) 805-4994
SMS Text Message: (858) 451-7281
Language & Culture
I remember I couldn't wait to start learning German when I first got here. I thought I would for sure be fluent within a couple years, but quickly realized that all I needed was "Survival German."
Listen, unfortunately your time is short in Germany (3yrs for AD, and 5yrs for Civilians).
Don't expect to be fluent in a few short years, instead learn the basics through a crash course with Nadja!
For years, Nadja has been helping military families with "Survival German" by creating an all in one course that covers everything you need to know for your short time here (#survivalskills).
Her comprehensive course includes:
– Pdf printouts, videos, modules, quizzes, exercises, and even flash cards (also available on your phone!)
– The basics: pronunciation & vocab, greetings, important phrases, alphabet, numbers, etc
– Important topics: At a restaurant, grocery store, German brands, transport, emergencies, travel, etc
I've taken the course, I can tell you this is exactly what I was looking for when I first got here. The course allows you to set your own tone and provides you with the perfect resources to learn when ever and where ever you are.
And… she has a military discount! Use the coupon code, "Military" at checkout for $100 OFF!
Learn more about the course, hear from students, and take advantage of her course before you even arrive here!
Travel
If you're like me, your Euro plan is to make long lasting memories by visiting as many countries as possible with your family.
Well then, let me introduce you to EuroTrip Adventures.
This budget friendly travel company provides unique opportunities for you to see all of Europe!
Primarily through extended bus travel, but they also offer a handful of flights to top European destinations.
And they're super convenient for military personnel with pick up locations in:
– Grafenwoehr, Kaiserslautern, Wiesbaden, and Stuttgart
Other locations include:
– Nuremberg, Munich, Ingolstadt, Mannheim, and Frankfurt
I've been on a ton of their trips, so naturally, I made an entire review blog of them here.
Get to planning with their upcoming destinations here, check out all their reviews, or contact them directly with your questions.
EuroTrip Adventures: +49 172 4557667
Budget friendly military airfare! For your official military travel, leisure travel, or if you just want to price match airfare (even with SATO), Sascha and his team are here to help!
They provide the best rates I can find to/from the states, and fantastic customer service (check out the reviews).
Who can fly with US Flights24?
– US service members, Government employees, Civilian contractors, Veterans, Retirees, & they even have non-military special rates
Although their main offices are in Grafenwoehr & K-Town, US Flights 24 can help you with your travel plans no matter where you're stationed.
Here's what you can expect when you walk into their office.
The best way to find competitive rates is to get a hold of their team directly through email, or "WhatsApp them" with your flight information.
I created an entire "how to" video blog with their company here.
PS: Get €30 Off your first flight when you mention "DTV"
US Flights24: +49 1704705597
Restaurants
A little piece of Italy in Stuttgart. This is one of those spots where you'll walk in as a customer and leave as a friend.
And I'm not the only one who feels this way.
My first visit was incredible [Video].
Marco, a native to both Germany and Italy, is extremely welcoming and passionate about his service to customers – especially the strong community of Americans stationed in Stuttgart.
He imports a GIANT selection of some of the BEST Italian products you've ever tasted.
All his products come from the Lazio Italian region. Marco can create simple dishes with the ingredients in his shop…
Italian meats & delicious cheeses, hand picked olives and various vegetables (paprika, chilli peppers, chilli marmelade, cooked grapes), all types of pastas, Italian coffee, Italian chips, honey, fruit juices, Italian beers, sweet Italian cookies, Italian prosecco zonin, and of course… a ton of Italian wines from (mostly) the Lazio region.
I was so impressed by all his Italian imports that I had him record me a message to explain everything he offers!
Although not your traditional "sit down" restaurant, Marco offers anti-pasta dishes coupled with wine tastings. And he'll make sure you and your friends drink plenty of wine! Trust me 😉
In fact, Marco's Mama poured me my first glass and drank with me!
Follow him online for one of his famous wine tasting events, or call him up for your next birthday party, hail and farewell, or just a girls night out!
ANYONE & EVERYONE is family when you step into Da Marco!
Newcomers! Marco is giving you 5% off your first purchase when you mention "DTV"
Da Marco: +49 173 6275283
Banking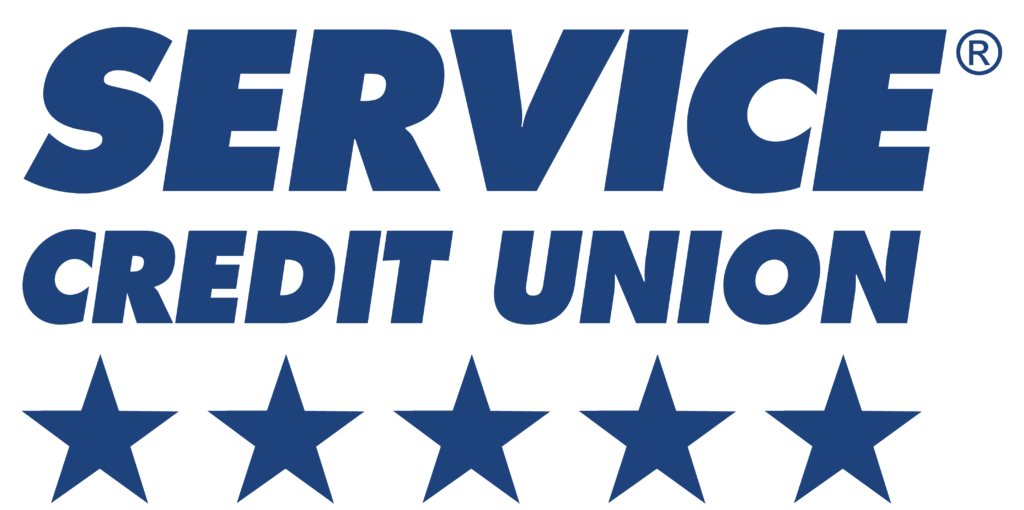 Service Credit Union & Community Bank
Every base in Germany has these two on-base banking options.
These banks will have ATMs on-base (only) and also at Edelweiss Lodge & Resort.
You don't need to cancel any banking in the US while living in Germany (unless your lienholder won't allow you to ship your POV overseas).
Both banks are convenient, have great customer service (especially over the phone), and speak English for any in-person banking needs.
For example, I have my main bank accounts and insurance through USAA, but I pay my German house rent and monthly phone bills through Service Credit Union.
But… you don't HAVE TO use these banks! In fact, you'll find that the conversion rates for these banks can be a lot higher than a German bank off-base such as Volksbank.
Coming Soon…
Cheat sheet for:
More restaurants, Car Rentals/Junking/Towing/Detailing, Health & Beauty, Pet Services, Hotels & Temporary Lodging, Real Estate, Translators, Transportation, Home Based Businesses, Entertainment, & so much more!
*Did I miss a business that needs to be shared with the American community? I want to hear about it!
FREE Stuff for your PCS to Stuttgart Germany
If you're moving to the Stuttgart area, you have to take advantage of all my FREE stuff.
It literally cost nothing and will be super valuable to you during your PCS to Germany.
1) FREE PCS to Germany checklist
No matter if you're Active Duty or Civilian this checklist will go over the most important and most expensive items to take care of first!
In fact, this checklist is applicable to ALL military installations in Germany, and it's a living document – which means it's ALWAYS relevant to you and your family.
2) FREE Guide – 30 things you MUST Know before PCSing to Germany with the US military
This is by far my most popular download (and blog post) on the internet.
The title gives it away.
I've been here since 2014, so I categorized the 30 most important "things" you MUST know.
After downloading the guide in #2, watch the corresponding webinar where I literally break down each topic.
You might want to take out a pen and paper for that one because it's PACKED with helpful information.
For more content on PCS prep, travel, or local life as an American living in Germany, subscribe to the channel and I'll catch you in the next one!
PCS to Germany: Cheat Sheets
*Stay tuned for additional cheat sheet information
RELATED CONTENT