Kiev, Ukraine is one of the most beautiful cities I've ever visited. There's been a bit of unrest over the past few decades, but I felt safe when I visited in 2019. After touring the city with a few locals, I put together this Kiev Travel Guide so that you can enjoy your trip to the fullest!
Is Kiev Safe?
Overall, I felt safe in Kiev (also spelled or known as Kyiv, Ukraine). Our local guides didn't need to take any extra precautions or measures, and we freely walked around during the day and at night. That being said, I don't recommend that you leave your wallet or passport hanging out of your pockets – it's still a city!
And as of 2019, radiation is not a major concern either. The water in the city is safe to drink, the air is safe to breathe, and the food is most definitely safe to eat.
Kiev Attractions
You can visit all kinds of breathtaking architecture in Kiev!
Golden Gate
The Golden Gate was originally constructed in the 11th century, but the structure that exists today was built by Soviet authorities in 1982. No one really knows what the first gate looked like because, like many walls and gates, it was damaged in multiple battles.
St. Sophia Cathedral
St. Sophia Cathedral in Kiev was the first UNESCO site in Ukraine, and it's easy to see why! Designed in Kievan Rus style, it towers over Sofiyivska Square. You can still see some of the original mosaics and frescoes inside the Cathedral.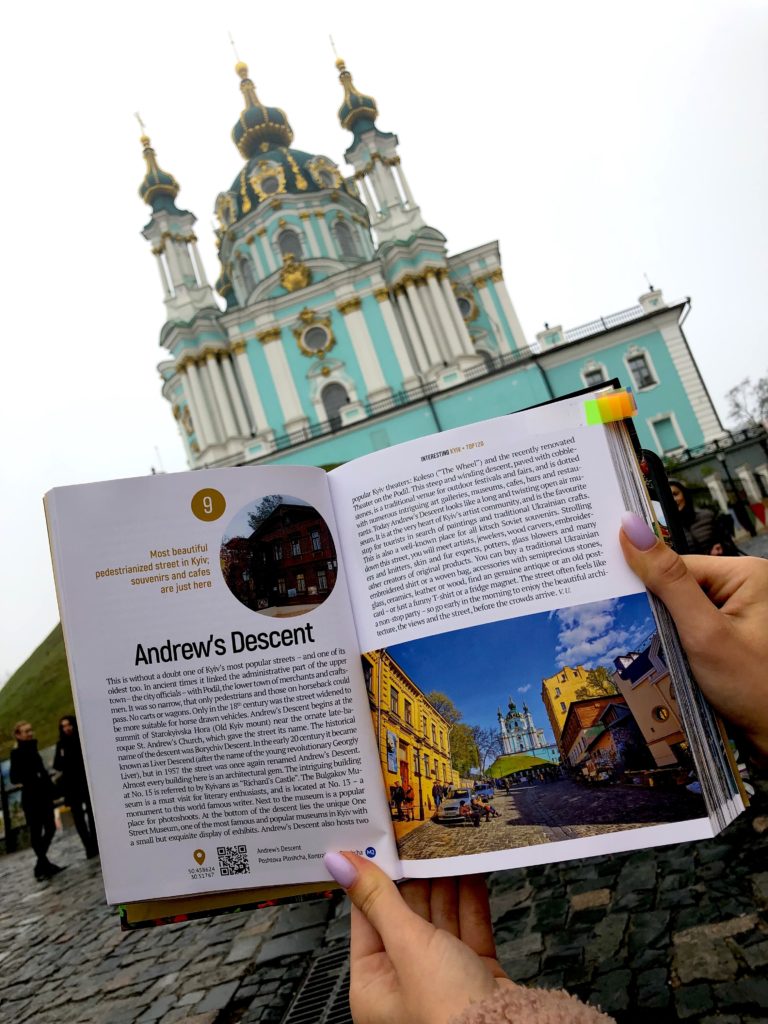 St. Andrew's Church
St. Andrew's was built in the mid-1700s by Italian architect Bartolomeo Rastrelli, but in the Ukranian Baroque style. It was originally constructed to be a personal place of worship for Empress Elizabeth, which is why there aren't any church bells or parishes. I highly recommend walking up to the church for some beautiful views of the city!
St. Michael's Golden-Domed Monastery
The Monastery is named after the patron saint of Kiev: St. Michael the Archangel. In the early 1930s, Soviet authorities ordered its demolition to make room for administrative buildings. But after the fall of the USSR, its reconstruction started and the Monastery reopened in 1998.
Kyiv-Pechersk Lavra
According to my local guide, this is the holiest site in Europe! (Don't @ me) Holiest or not, it's certainly one of the most beautiful structures in Kiev.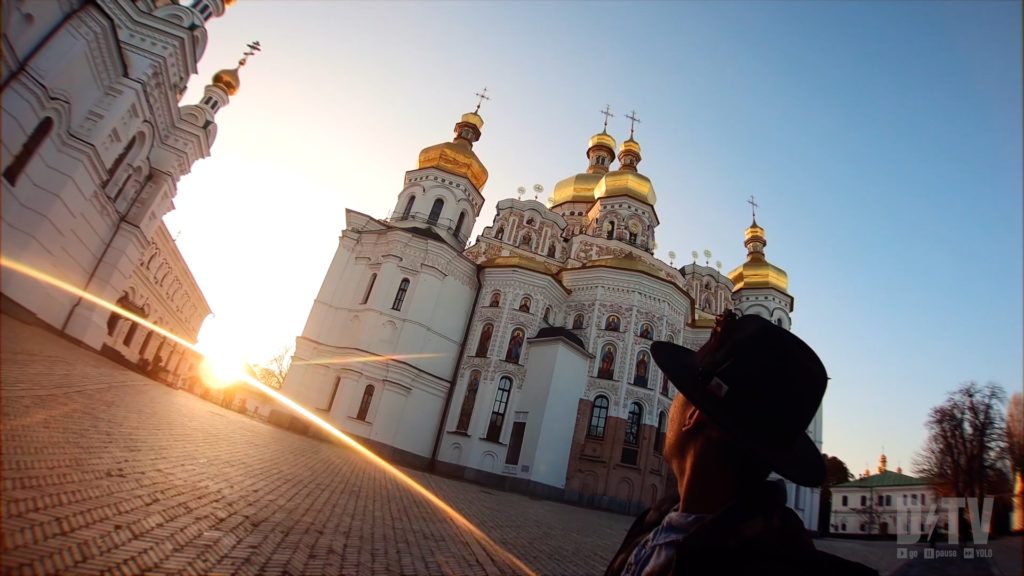 Reverend Anthony decided to settle in one of the caves and founded the Lavra in 1051. And "the incorruptible relics of more than 120 saints" reside in those caves. You can tour the monastery or simply explore on your own.
Motherland Monument
The USSR commissioned the Motherland Monument war memorial in the 1970s to be built almost entirely from stainless steel. While it's definitely magnificent, it's caused controversy over the years. Many people want it disassembled so that the steel can be repurposed.
Kiev Food
After all that touring, you'll be ready for a delicious meal – and there's no shortage of good food in Kiev. As soon as we arrived, our local guides greeted us with Salo, which is just cured pork fat. Delicious when paired with bread!
And that was just the beginning of our culinary adventures in Kiev…
Korchma Taras Burba
Our first restaurant stop was quite an experience. Before we even sat down, we saw people dancing and singing in Ukrainian garments and headdresses.
Luckily, our locals ordered a ton of food for us to try, some of which we never would have ordered ourselves! We tried a variety of dishes like cabbage rolls, pork fatback with garlic, and vrenyky (stuffed dumplings).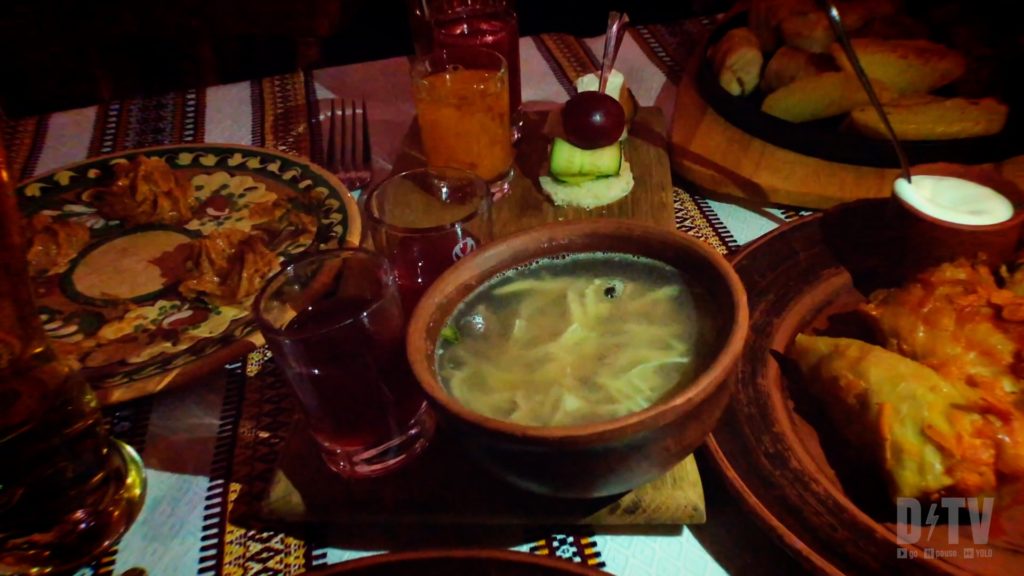 I definitely recommend ordering the deruny, which is essentially a potato pancake (and who doesn't love potatoes?). And if you feel adventurous, you should try the kholodets, which is cooked meat suspended in gelatin. The aspic jelly trend disappeared in the U.S., but it's alive and well in Europe!
Kanapa
Before you start touring the city, treat yourself to a hearty (and affordable) breakfast at Kanapa! They have classics like oatmeal and eggs benedict, or you can treat yourself to a platter of pierogis.
But you definitely need to get the syrniki! Made with quark or farmer's cheese, these delectable little pancake clouds of heaven go perfectly with a little sour cream and jam.
Drunk Cherry
Based in Lviv, Drunk Cherry makes a delicious cherry liqueur that you can drink on its own or mixed into cocktails. It's called a liqueur, but you can easily enjoy it like a glass of wine. Stop by any of the three locations in Kiev for a quick drink!
Rebernia
I know this might be a controversial statement, but I'm saying it anyway: these are the best ribs I've ever had! Watch the ribs smoke over an open fire and dine with just your hands.
That's right – they don't have utensils! (Sound familiar?) They bring the ribs over and chop them for you. I definitely recommend that you accept the bib, because you're going to make a (delicious) mess!
Kyiv Food Market
Most European cities have a food hall with kiosks serving up all types of cuisines, usually at more affordable prices than traditional restaurants. And Kiev is no different!
We tried dishes from Cooper Burgers, Santos Tacos, Milk, Bao Nam, Senpai Sushi, and Thai Sabai. While I enjoyed most of it, I definitely recommend the burger, the Thai noodles, and the sushi. And if you have a sweet tooth like me, you have to try the dessert waffles at Milk!
Chernobyl Zone
As you can see, there are plenty of things to do in Kiev, but visiting Chernobyl may be a highlight. If you haven't already watched the HBO series, here's a quick summary:
In April 1986, a nuclear reactor exploded during a safety test, which caused a fire that burned for days. It released dangerous levels of radiation throughout the area, even registering in Sweden and Germany. In 2017, the New Safe Confinement was completed, and the nuclear clean-up is supposed to be finished by 2065.
You can visit Chernobyl today as part of a tour group. The Chornobyl Tour will safely take you around Pripyat and the Chernobyl zone to learn more about the incident and the lasting effects of the nuclear disaster. I highly recommend you dedicate an entire day to this visit because it's 90 minutes outside of Kiev, and there's a lot to take in from the tour.
FAQs about Visiting Kiev
Now that we've covered sites, food, and Chernobyl in this Kiev Travel Guide, I'll answer some of the most common questions about visiting Kiev.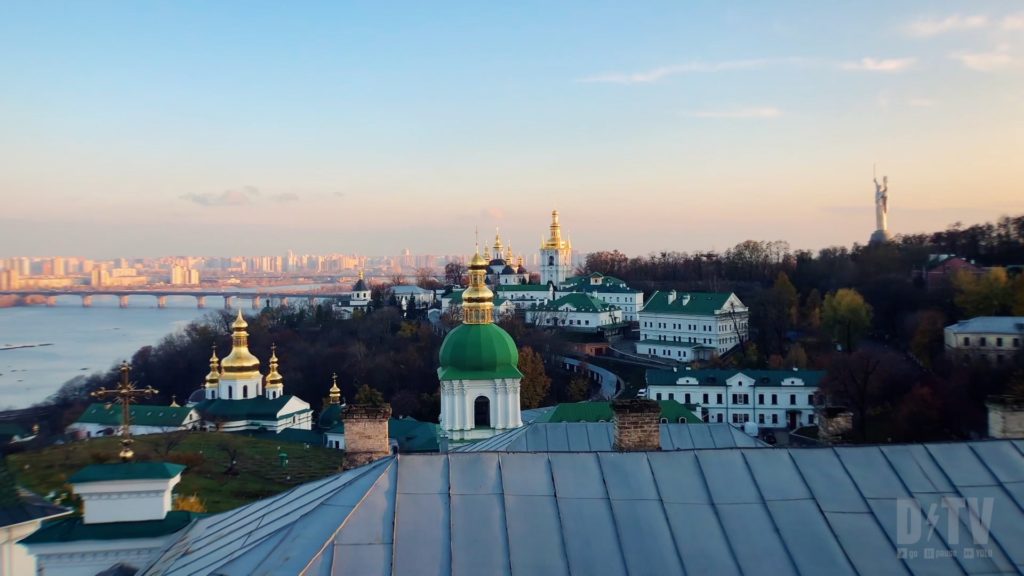 Is Kiev worth visiting?
Absolutely! The city is gorgeous, the people are friendly, and there are plenty of things to do in Kiev. You can easily spend a long weekend in the city and still not experience everything it has to offer.
And if you don't agree after reading this guide, let me know why in the comments!
Is Kiev safe to travel to?
Yes. As I mentioned above, I felt safe in the city. But as of 2020, Russia still occupies the Crimean peninsula, so I recommend checking the news for any protests or incidents before going on your trip.
Chernobyl today: Is it safe to visit Chernobyl now?
Yes, but be smart while you're there. Don't take any rocks home with you or lick any doorknobs (which is a good rule of thumb anyway). You'll learn on the tour that, while it's safe for you to walk through the sites, it's dangerous to consume anything grown in the area or swim in the water.
In early 2020, forest fires broke out near the Chernobyl zone. The government reported safe levels of radiation throughout the area, but any after effects remain to be seen.
Kiev Travel Guide: Poyekhali!
When you visit Kiev, I highly recommend connecting with a local so that you can fully experience the city and the culture. It's safe, affordable, and delicious! What more could you want from a travel destination?
If you like my Kiev Travel Guide, be sure to bookmark it, Pin it, or send it to your travel buddy! And for more travel guides and information, subscribe to my Youtube channel and follow me on Instagram.
---
RELATED VIDEOS