Salzburg is the birthplace of Mozart, but there are so many other attractions to see! Salzburg has art, history, and nature just waiting to be explored. No matter what time of year you visit, Salzburg has plenty of things to do.
Salzburg Attractions
Mozartplatz
Mozart was a prolific Austrian composer in the late 18th century. You may not be able to name his famous works, but you would recognize many as soon as you hear them!
Mozartplatz is in Salzburg Old Town. The buildings around this square are all tied to Mozart's life in some way. If you're looking for Mozart's birthplace, head to the charming Getreidegasse where you can learn more about the genius composer.
Salzburg Cathedral
The city's most sacred building is home to the Roman Catholic Archdiocese, as well as some of the most beautiful interior art. Over the centuries, the Salzburg Cathedral has been damaged and rebuilt due to fires and war.
It's an easy walk from Mozartplatz – you can't miss it!
Sphaera Sculpture
German artist Stephan Balkenhol installed this sculpture in 2007. The man on top of the golden globe is expressionless and plain, inviting a range of interpretations.
If you're traveling with a group, this can be a great meeting spot – it's almost nine meters tall!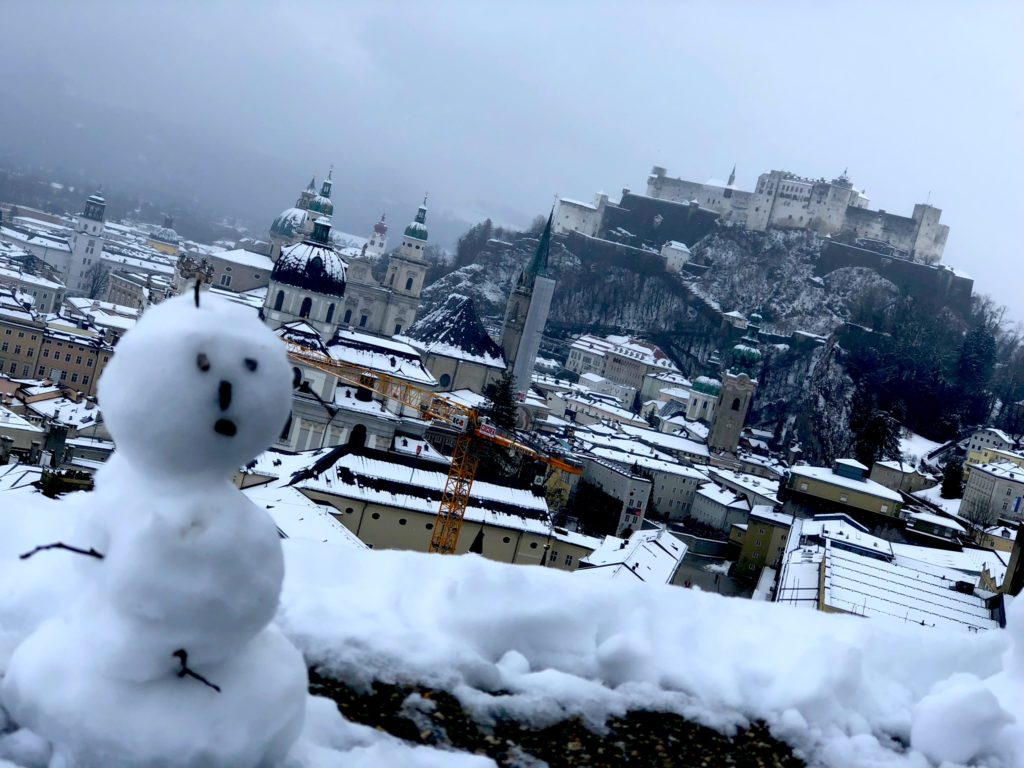 Fortress Hohensalzburg
The biggest, fully preserved castle in Central Europe has an incredible view of the city (as any castle should). And to this day, the fortress has never been captured by foreign troops. Once you reach the top by tram, enjoy museums, restaurants, lookout points, and the World of String Puppets!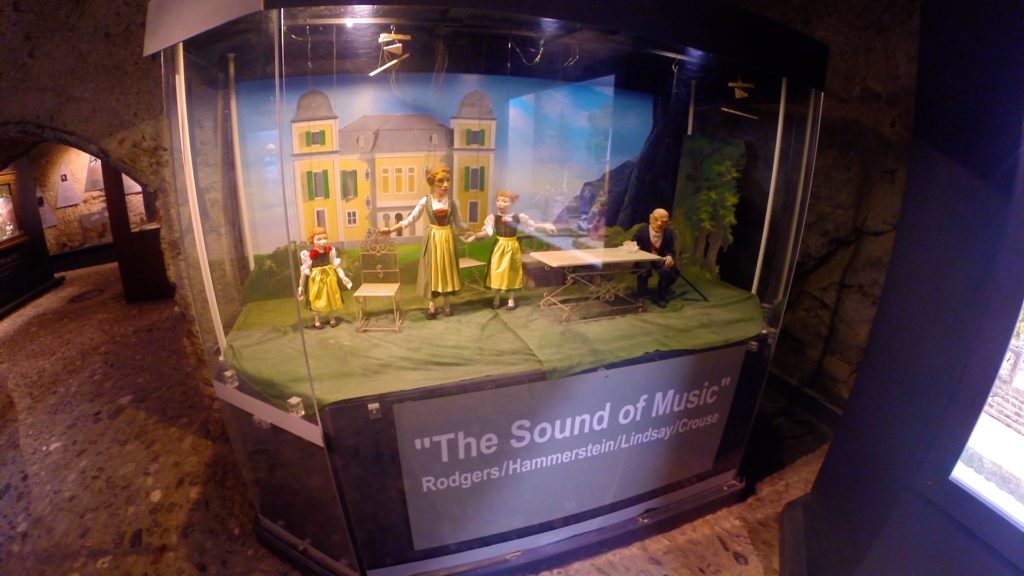 Welt der Marionette
The World of String Puppets in a quirky little museum inside Fortress Hohensalzburg. Many of the puppets are in dioramas depicting historical events or movie scenes.
As you may know, the musical The Sound of Music was filmed in Salzburg. You can book tours to visit all the sights of your favorite scenes, including the Mirabell Palace gardens!
Mirabell Palace
Prince-Archbishop Wolf Dietrich Raitenau built the original palace for himself and his mistress in the early 1600s. But when his successor Mark Sittich von Hohenems came to power, he changed the original name of Schloss Altenau to Schloss Mirabell.
Most of the "Do-Re-Mi" movie sequence from The Sound of Music was filmed in the Mirabell Gardens, which are a must-see if you visit during warmer seasons. But if the gardens are closed, you can still tour the Marble Hall inside this cultural heritage monument.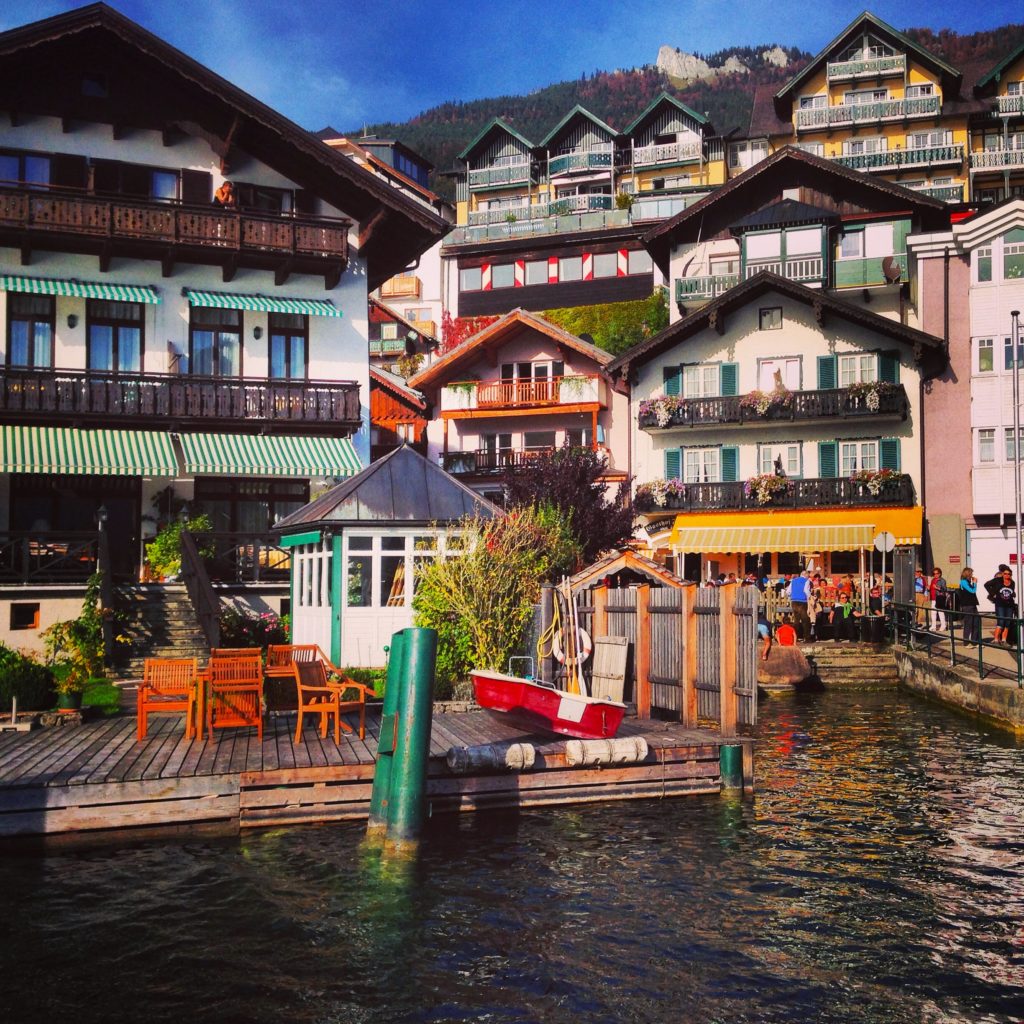 Lake Tour
Right outside of Salzburg Old Town, you will find an abundance of beautiful Austrian lakes. You can grab a bus to Wolfgangsee, and then ride a boat from St. Gilgen to St. Wolfgang! It's a great way to experience the natural beauty of Austria.
M32 Restaurant
M32 is an intersection of modern art and a traditional Austrian dining experience! And this is more than just a restaurant that offers a view of the city – there is also a museum one floor down!.
Stolperstein
Throughout European streets, you may find these small gold placards with names, dates, and locations etched into them. Each stolperstein (stumbling stone) records the birth date and persecution date of a Nazi victim.
It's not exactly on the list of best things to do in Salzburg, but I recommend you keep an eye out for them. They are usually installed in front of apartment buildings, and each one is handmade.
Frequently Asked Questions: Where to Stay in Salzburg?
My favorite place we stayed at was Hotel Stein. It's in the middle of the city with a picturesque view of the river. Enjoy your breakfast on the roof with amazing views of the castle and city!
And after exploring the city all day, freshen up at the hotel and then enjoy a cocktail on that same rooftop.
I've also stayed at the Wyndham Grand Salzburg Conference Centre. It's a bit farther from the Old Town, but it's across the street from the train station.
Ready to Visit Mozart's Birthplace?
Salzburg, Austria has a variety of cultural and historical things to do in a weekend. If you enjoyed learning about these top Salzburg attractions, be sure to subscribe to my Youtube channel and follow me on Instagram!
---
RELATED VIDEOS