When you want to get away from the loud and crazy pace of city life, visit this calming mountainous region in the Swiss Alps. Its pristine beauty is the stuff of fairy tales! We went during the summer, but no matter what time of year you visit, there are plenty of things to do in Grindelwald.
American Living in Germany: Know Before You Go
If you travel by car, Grindelwald is 7 to 8 hours from Grafenwoehr, almost 6 hours from Garmisch, and 5 1/2 hours from K-Town. And just like Austria or Czech Republic, you will need to purchase a vignette at the border.
But Switzerland only sells annual vignettes, whereas other countries sell 10 or 30 day passes. As of 2020, the annual vignette for Switzerland costs 40 Francs.
Speaking of currency, you may want to pick up some Swiss Francs before your trip! But some places will accept Euros, such as gas stations and tourist shops. You can easily withdraw cash from the ATMs in Switzerland, or pay by card wherever you go.
And, of course, don't forget to bring your tourist passport! Having a SOFA passport doesn't give you the same travel privileges as an EU citizen.
Grindelwald First and Other Things to Do
The Swiss Alps have some of the most breathtaking landscapes in Europe. It doesn't have fancy cathedrals, statues, or famous attractions other than its trees, mountains, and lakes. I recommend staying in Grindelwald for at least three full days to enjoy the region to the max.
Hike Jungfrau (or Any Other Mountain)
The Swiss Alps have definitely earned their reputation for being a bucket list destination. Every mountain peak has all kinds of activities to do, as well as a beer garden with views. And who doesn't want to sit on top of a mountain drinking beer?
But of all the mountain tops, you should definitely visit Jungfrau, which is also nicknamed the "top of Europe." At 3,454 meters above sea level, it has one of the best views of the region.
Visit Grindelwald-First
Whether you're staying in Grindelwald, Interlaken, or any of the other surrounding villages, you'll want to visit the Grindelwald First – Top of Adventure building. The facility offers four different activities, and I recommend you do all of them!
Pro tip: On Google maps, the building is called "Jungfrau Ski Region – Grindelwald – First," and the address is Dorfstrasse 187, 3818 Grindelwald, Switzerland
Start with a beautiful gondola ride up, and each activity is an unforgettable experience that takes you on a scenic trip down the mountain. You can also just buy tickets for the gondola ride up with no activities – the view is spectacular!
First Cliff Walk
If you're feeling brave, walk across the First Cliff Walk, a metal bridge stretching 45 meters off the side of the mountain. You can find this first activity on the observation deck near the mountain restaurant.
First Flyer
Once you're at the very top of the mountain, the First Flyer (pronounced "feerst") will zipline up to four people 800 meters down at 84 kilometers per hour! Dangling your feet over the Swiss countryside is a truly thrilling experience.
First Glider
This activity is bizarre but truly amazing. You and three other people lay flat on your stomachs and glide with a huge bird at 84 kilometers per hour forwards and backwards! If you've ever been too scared to hand glide but always wanted to, this may be a great step towards that dream.
First Mountain Cart
Have you ever wanted to play Mario Kart in real life, but without the banana peels? That's what it feels like as you race a small 3-wheeler down and around the mountain sides. Make sure to stop along the way to snap a few pictures.
First Trottibike
Your last activity involves a foot scooter down to where you first started! You stand on the scooter bikes, but they're designed to roll comfortably down the rocky paths.
Pro tip: Check the availability and weather conditions before going up. You want to make sure you can actually get on the zipline and glider before going!
Interlaken
Interlaken is simply breathtaking. I recommend staying in the small town and then taking a day trip to Grindelwald from there.
We went from Interlaken Ost to Grindelwald by train, which is only 42 minutes and is one of the most beautiful train rides through the mountains! You'll pass over small towns, mountains, and lakes – it's like riding through a living postcard of a place you always dreamed about.
Fly-Line Pfingstegg
If you enjoy cruising over spectacular views, check out the Fly-Line Pfingstegg! Take the gondola up and then ride the zipline roller coaster down.
Paragliding Jungfrau (Top of Paragliding)
You will see paragliders everywhere when you're visiting Grindelwald. It may look scary, but the experience is so peaceful and quiet when you're up there. Definitely do the tandem option if you're unexperienced.
Luftseilbahn Grindelwald Pfingstegg
Simply taking a gondola lift up a mountain is one of the coolest things to do in Grindelwald! The Pfingstegg mountain is gorgeous and it's worth the ride just for the pictures. But trust me – the view is unforgettable.
And once you reach the top, you can ride the toboggan run!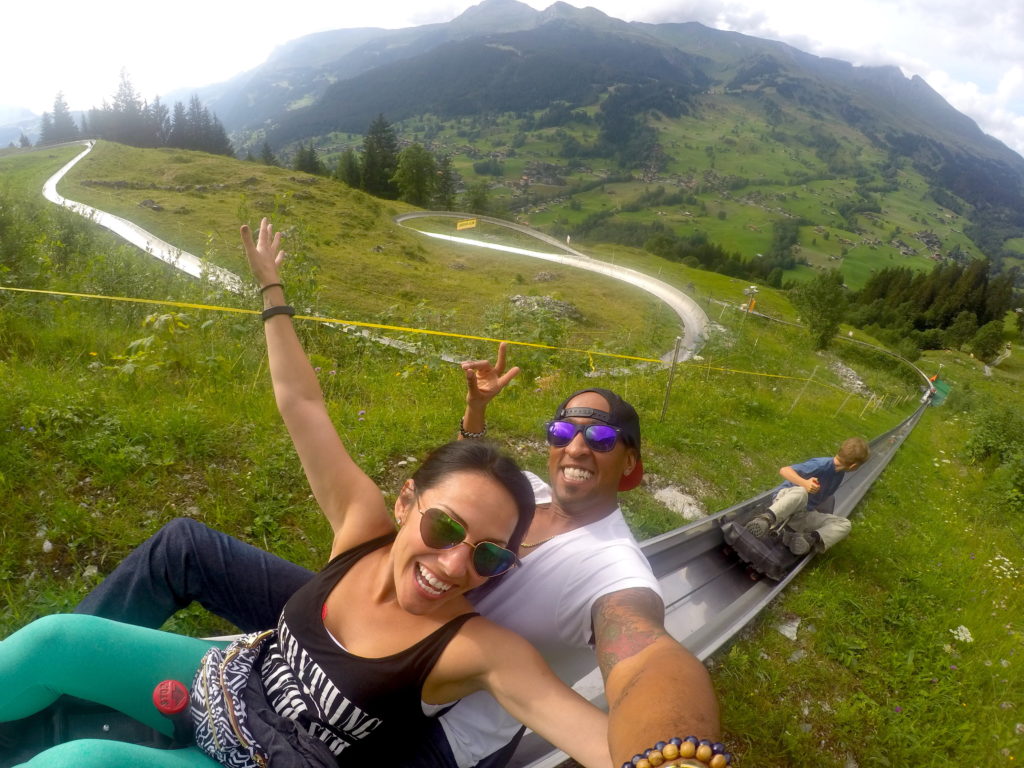 Pfingstegg Toboggan Run
Both the ride itself and the views from the toboggan run are incredible. It also has some amazing Instagrammable views looking down into the Grindelwald valley.
Plus, there's a great hammock up there (which I love). Just recline and enjoy the view!
Gletscherschlucht (Glacier Gorge or Glacier Canyon)
If you don't enjoy walking up mountains, hiking through Gletscherschlucht may be the perfect activity. Walk along the gorge to see the Lütschine River, and then stand right above it on the "Spider Web" netting! You can also swing across the gorge and traverse their indoor ropes course.
Frequently Asked Questions about Things to Do in Grindelwald
Still have questions about things to do in Interlaken or Grindelwald? Let me know in the comments!
From Interlaken to Grindelwald: Your Swiss Adventure Awaits!
The Grindelwald-First activities were definitely the highlight of our trip. But if those activities aren't your cup of tea, riding the Pfingstegg Toboggan Run or relaxing in a boat ride on Interlaken are great options, too. No matter what activities you choose, you'll fall in love with the gorgeous surroundings of Grindelwald's natural beauty.
For more travel tips, subscribe to my Youtube channel and follow me on Instagram!
---
RELATED VIDEOS